By Brian RIll
"Falling leaves from the winter trees, the secrets kept of you and me, all the things you said before were true. Hold on tight to what's inside and make the best in all we try; never let me separate from you. Because baby you are the one." You Are The One is the first song you will be introduced to when visiting The Lost Silhouette's web page www.thelostsilhouettes.com. The lulling vocals and smooth acoustic guitar might leave you feeling like you are falling from a soft cloud. Harmonies rain down from a pregnant space of the human soul.
Producer/Songwriter Jeff Zacharski is a Sesac recording artist who often drives the road from Colorado to Nashville. I met him years ago at a songwriting convention in Boulder. Soft spoken with a humble smile and delicate fingers, he grabbed his guitar and sang a song. Intricate and detailed, the notes vibrated above the strings with precision as Jeff sang in a harsh whisper that perfectly caressed the chord structure with aplomb.
Jeff's album, Crepe Paper Moon, released in December 2017, creates a cadenza of lullabies that will cradle your ears with the soft sound of cello, violin, acoustic guitar and vocals. With only six songs, three of which are instrumentals, the album flows like a rivulet down a slowly graduating slope, then the instrumentation expands like a warm waterfall pooling into a great lake. As a producer, Jeff has a way of starting with a single instrument and then slowly adding layers of harmony and accents of tone to build an almost orchestral sound, only to return to the single melody line at the end. This ebb and flow offers an amazing dynamic in an otherwise subdued style and really captures the emotional attention of the listener, causing in rare instances chills down the spine and goosebumps on the skin.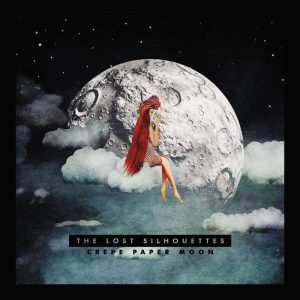 You will find yourself moved by the orchestral string arrangements that could easily be mistaken for the most enveloping movie soundtrack. You may want to hum along to the melody as it passes slowly enough for anyone to follow with ease. There is something about Jeff's music that makes it the perfect accessory for your vehicle when you're parked for a lunch break, rolling up the windows then putting on the heater and lying back for thirty minutes, closing your eyes and being slowly transported into a replenishing dream world that you awaken from feeling refreshed and more emotionally stable.
I personally wonder if Jeff's work as a life counselor soaks into the refrain, somehow allowing his music to heal deep mental wounds and offering respite, if only temporarily, from despair. In his book, The World In Six Songs, author Daniel J. Levitin describes how sad songs can help us heal. "Sad songs are the most common form of comfort songs, but so are lullabies and blues. Comfort songs' benefit to our evolution is that they cause the release of prolactin, a tranquilizing hormone that comforts us, among many other purposes. Obviously, comfort during times of stress, or even just more comfort in good times, benefits our survival."
Brian Rill is a teacher, performer, activist poet and award-winning Latin songwriter voted Salida's best musician 2009.