Back in the mid-1950s, Salida entrepreneur Elmo Bevington, and former Gunnison Sheriff George Cope, leased land on the top of Monarch Pass from the United States Forest Service (USFS) to construct a gift shop and restaurant.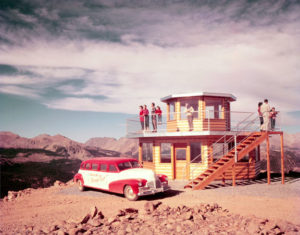 It was completed in 1954. Bevington then decided to develop an old trail near the building site which went up to the Continental Divide. He put in a road where the trail was and offered rides to tourists by bus and jeep to the top. Business soon picked up, and Bevington and his brother Mac decided to put in an aerial tram from the gift shop parking lot to the top. They then built the octagonal observatory seen in this photo. From its height, visitors could see as far as Utah, Pikes Peak and six mountain ranges.
Apparently Bevington got into a dispute with the USFS over the location of the observatory and had to tear it down. The five-sided foundation can still be seen from the newer outlook at the top of the tram (at left).
The cover photo is part of a large collection of slides and negatives donated to the Salida Museum. It was digitally scanned by Joy Jackson at the Salida Regional Library.