By Julia Michel
On a hill of dry ground, quietly keeping its secrets, stands a white, one-room church with a hand-painted sign in front: Howard's First Church, 1889. Around the side of the building is a small patch of iris with one in bloom: a splash of lavender on a cold, windy, spring morning. (Iris seems to be that plant that all pioneer women must have kept – one that speaks of survival and the need for something beautiful, if only for a brief bloom of one day, maybe two.) Inside, the church is as simple and understated as the outside. No frills, not even pews, just a basic room with windows and a tall ceiling. A place with stories.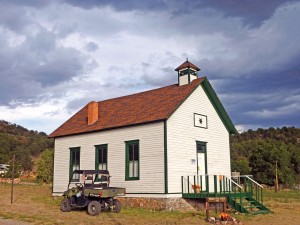 One of the stories takes us back to 1807 in Dumfriesshire, Scotland, where Thomas Harrison Vipond was born. Thomas graduated from St. Andrews College in Edinburgh at an early age. Like so many others of his era, he left Scotland and sailed for America. First he settled in Canada, making his home a place of refuge and freedom for the fugitive slaves of the Underground Railroad. Sometime during the 1850s he left Canada and became a resident of the United States. At the onset of the Civil War he enlisted in defense of the Union and served as a nurse in federal hospitals.
In 1860, the Free Methodist Church came into being. The "Free" Methodists opposed slavery and also the common practice of renting or selling church pews, which left the poor to sit on benches in the back of the sanctuary or stand. The Free Methodists offered free seats for all and relied upon tithes and offerings to support the ministries.
Sometime later, Thomas Vipond moved to settle in Hillside, Colorado and devoted himself to the ministry of Free Methodism. Around 1886, the Colorado conference of Free Methodists was forming as more people were moving west. Howard, Colorado was booming and plans for a new church were being made. On a Sunday in June, 1889, the Rev. Thomas H. Vipond and his wife attended the dedication services of the new Free Methodist Church in Howard. While Thomas Vipond was not the regular minister at the Howard church, he became known as "Father Vipond." He had great influence in the area and was highly respected and loved, according to all written accounts. Sadly, he was already quite old and in June 1, 1902, Father Vipond died in his home in Hillside.
Many other ministers followed in Father Vipond's footsteps, without incident or ill will, until 1935. It was during the Great Depression; times were hard; money and faith were difficult to come by. A notice posted by Rev. W. G. Ketcheson, pastor, read, "AUCTION SALE on Monday, August 19, 1935 to sell the Free Methodist Church, Land, and Parsonage at 7 p.m." The minimum reserve price was set at $290. The people of Howard did not have $290 but a crowd gathered to await the auction. According to reports, a count of "1, 2, 3, GO!" rang out – and rotten eggs and vegetables began to fly at high speeds in the direction of the pastor! He tried to make a run for his car but the crowd blocked his way. To escape, he locked himself inside the church he had wanted to sell. The auction was postponed indefinitely. After some lengthy legal and monetary persuasion, and no doubt a lot of fundraisers, the Howard church was saved from an outside sale.
Time passed and a new church was built, leaving the small one-room building standing neglected, memories fading with the paint, keeping its secrets and stories quiet – until a small group of people came together to form the Western Fremont Historical Society (WFHS). Efforts to preserve the little church in Howard began, with hopes and intentions that one day it would become a museum and history library.
Color photo by Mike Rosso. Insert photo shows the Howard Church, August 1988 before restoration, courtesy of the Western Fremont Historical Society.
This article originally appeared in The Pleasant Valley Newsletter, May 2011.