By Mike Rosso
We all need a vacation from time to time. But what about a vacation back in time? A time of ducktail hair, poodle skirts, sputnik and Elvis? It's easy to do if you live within driving distance of the Royal Gorge. Five miles west of Cañon City and just south of U.S. 50, on the road to that famous suspension bridge, is the Starlite Classic Campground, the only vintage camper park in Colorado.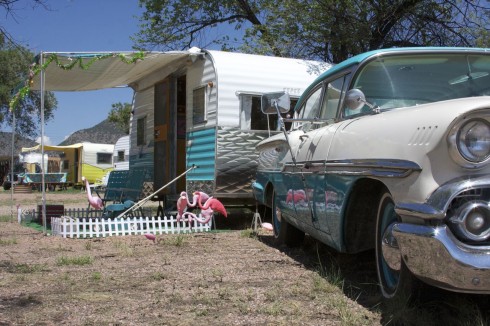 Guests of this unique campground can rent a variety of classic trailers including a fully restored early 60s-era Shasta or even a 1970s Kencraft – a 26-foot aluminum time capsule complete with lava lamps, shag carpet and bead curtains. A taste of the South Pacific awaits travelers who stay in the TIKI BAGO, a Classic 1973 Winnabago turned Tiki Lounge.
It's hard to avoid the retro aura of this place. Pink flamingos, tiki torches, plasticwares and teal, lots of teal. And more than a few guests like to get into the spirit of the place bringing their own vintage touches in the form of dress, food and attitude.
This unique campground is the vision of Larry Hill and Sylvia Davids, two proclaimed vintage trailer fanatics who share the same self-professed case of "aluminitus" – an addiction to aluminum trailers.
Hill is the founder of the Southwest Vintage Camper Association, formed in 2003 for folks interested in restoring, collecting, displaying and camping in trailers built before 1970. It hosted its first event, The Trailer Trash Bash near Albuquerque in 2004, a gathering of like-minded trailer enthusiasts. In 2011 the event was moved to the Royal Gorge campground location and held on the weekend of August 12-14. At least 30 vintage trailers arrived from across the west to partake in the festivities which included an open house and yard sale, a community potluck featuring genuine trailer-trash food (SpaghettiOs anyone?), and the highlight of the event, the competition and crowning of the Trailer Trash Queen.
Fans of the old TV series I Love Lucy may remember the 1953 movie, The Long, Long Trailer, featuring Lucille Ball and Desi Arnaz who hitch up a 40-foot trailer for a honeymoon trip, which this pair easily play up for plenty of laughs. That trailer was a 1954 New Moon, and Hill found an identical trailer in New England and had it trucked to Colorado as part of the fleet. It is quickly becoming their most popular rental.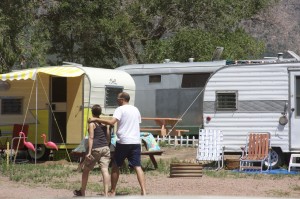 It was at one of the early Bashes in Chama, New Mexico that Hill and Davids met. She had a love for all things retro and did a fair share of buying and selling 50s memorabilia on e-Bay and once caught a glance of a neighbor's vintage trailer in tow through the curtains of her home. She was hooked. She began to buy and sell old Shastas and Aljoas. It was inevitable that these two should meet, and what better way to fulfill their common addiction then with a campground of their own? They then spent four years traveling around the West in search of the perfect location for their ever-increasing collection of vintage trailers. On top of being a collector, Hill also had a trailer restoration and repair business, Retro Restoration, that specialized in top to bottom restoration of classic "canned ham" travel trailers from the 1940s through the mid-1960s, so they had a sizable number of restored trailers with no place to put them.
They finally discovered a vacant camper park just off U.S. 50 near the Gorge. It had been abandoned for at least five years, and when their offer to buy it was accepted the Starlite Classic Campground was born. Cleanup and restoration of the campground began in earnest in 2010, and they were soon open for business.
"There were a bunch of weeds out in the field and when we cut them down we discovered an old miniature golf course," said Hill. "We decided not to fix it up and made it free to play."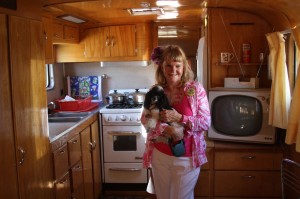 Along with mini-golf are a swimming pool, showers, an enclosed dark park, dog kennels, a playground, cabins and tent sites as well as pull-in sites for more modern RVs. But it is the vintage trailers which have the biggest draw. By next May there will be eight restored vintage trailers available for nightly rental all including a picnic table, canopy, firering, bedding, bath towels, complete sets of kitchenware, and free paper plates upon request. Rates for the "canned hams" range from $73 per night for an 11-footer to $109 for the Long, Long New Moon they have dubbed "the Honeymoon Suite" complete with a twin bed and red and white polka dot bedspread.
The gift shop is full of kitschy 50s paraphernalia, retro sodas, and they even have their own do-it-yourself "s'mores" kit featuring chocolate wrappers depicting some of the vintage inventory at the campground.
Visitors are always welcome, but Hill and Davids are quick to add that the campground is "not a spectator sport" and they've had the occasional rubberneckers peering in the windows of occupied trailers, so if you plan to visit, please check in at the office first.
The Starlite season ends this year in early October but will reopen on May 4, 2012 with even more fully-restored aluminum time capsules in which to spend a nostalgic summers' evening.
The Starlite Classic Campground
30 County Road 3A, Cañon City, CO, 81212
619-467-3876
Some related websites:
www.starliteclassiccampground.com
www.swvca.com
www.retrorestoration.com