By Ericka Kastner
Sometimes in life the places we travel to are geographic, an actual destination we can pinpoint on the globe. At other times though, the places we go exist only in our minds; they are mental attachments, places we wander to in times of great joy, or senseless fear.
My relationship with mountain biking over the last 20 years has been one such place. I first discovered the joys of riding singletrack while living in Lawrence, Kansas, tooling around unaccompanied along the levy on the banks of the Kaw River. It was my only sanctuary in the woods those days, as forests are hard to come by in Kansas.
But somewhere along the way, I began to ride my bike for others; most often for someone I was dating. First adding toe clips and straps to my pedals to look like I had "the gear," (yes, I'm referring to the early 1990s) and eventually, frantically struggling to keep up on technical downhill sections so as not to appear too lame; all the while wishing I could unclip and just ride at my own pace. The frenetic headspace that I'd enter on these rides very quickly began to erode away at the singletrack joy I'd once had, turning it into fear.
Admittedly, no one took me to this panicky place; it was something I did to myself slowly, over time. Worrying what others thought about my riding skills eventually kept me from experiencing actual places on my bike as I began to trade in biking for hiking, a realm where I felt confident and sure of myself. Ultimately, I stopped riding altogether.
About nine months ago all of this changed. Save for one very short double-track ride along the Arkansas River, I realized last fall that I hadn't been on my mountain bike for almost two years. I decided then that it was time to either sell the bike or actually start riding it. Through a series of what I've come to see as fortunate events, I didn't sell the bike, but instead chose to return to old school flat pedals without clips. This one decision, made with unashamed disregard for what anyone else would think, gave me renewed confidence in finding balance on technical trail sections and has transformed my previously negative cognitive associations with biking.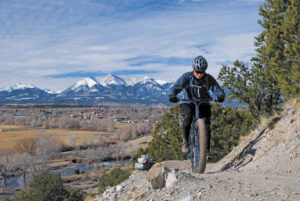 I've ridden more in the past two months than I have over the past five years. I spend more time now exploring places in Central Colorado on my bike than I do exploring places of fear and anxiety in my head. Whenever I start to get jittery or let my mind wander, my mantra has become "Be on the Ride."
So this month's Places column is a dare. I dare you to get back on your bike and investigate the local trails in your neck of the woods on two wheels instead of on two feet; you'll see them in a whole new light. The routes described below are just beyond downtown Salida and, for many of us, right in our own backyard.
Little Rainbow: This five-mile long, mostly machine-built trail just southeast of downtown Salida is a fabulous, gently rolling beginner route in the high mountain desert, flanked with piñon trees and yucca. Run it as an out and back, starting at the trailhead on CR 110 (south of U.S. Hwy. 50 in Salida), or if you need to bail, exit halfway through where CR 108 cross the Little Rainbow and roll back into town, hailing a taxi for the ride back to your car. Alternately, come down 1.5-mile-long Race Track at the east end of Little Rainbow and ride back to town before grabbing a ride back.
Chicken Dinner: The newest family member to the Arkansas Hills Trail System, multi-use Chicken Dinner serves up climbing turns, rollers, berms and rock gardens, all without being too technical. Salida Mountain Trails crewmembers opened this two-mile section of trail in December 2016. Even at 7,000 feet, this system of south-facing trails gets a lot of sun exposure and stays mostly dry in winter; they are the closest trails to downtown Salida. The downhill route for Chicken Dinner is accessed via Sweet Dreams trail; for beginners, this is best reached by starting on Frontside (check local maps for detail). If you're looking for just a little more challenge and a whole lot of smiles, cook up a ride on Chicken Dinner. Winner! Winner!
For trail maps, to get more information or donate time or money in support of local trail building, visit salidamountaintrails.org.
Logophile and Places columnist Ericka Kastner finds herself extraordinarily lucky to be paid to write. If you bump into her on a steep and loose section of trail, you'll occasionally find her hiking her bike, but you'll also see her grinning from ear to ear, because at age 47, her 29'er has her feeling 22 again.