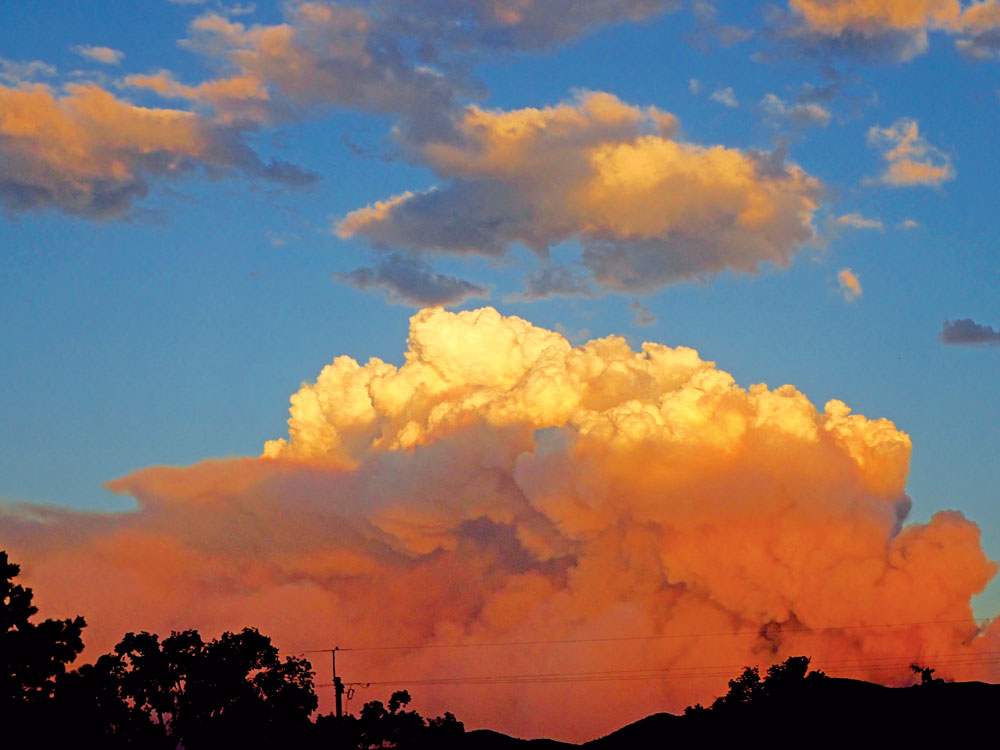 By Mike Rosso
It was first reported by a San Luis Valley resident on Friday, July 8. Apparently a fierce lightning storm had been swirling around the Hayden Pass area, high in the Sangre De Cristo mountains. The witness observed a strike and then a plume of smoke rising from atop the pass.

For the next few days, authorities tried in vain to visually locate the fire without success. Then came Sunday afternoon, July 10, when the hidden fire found its bounty of beetle-kill timber and combusted into a sudden inferno, with smoke visible for miles in all directions.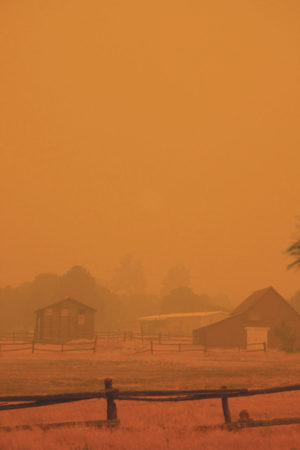 By 3:05 a.m. on July 11, heat detected by satellite estimated the fire at 5,000 acres and growing fast. The fire began in the San Isabel National Forest and quickly spread into the Sangre de Cristo Wilderness in the Rio Grande National Forest.
An Incident Command Center was quickly set up at Salida High School and an Incident Base Camp (IBC) was put in place at the Natural Resources Development Center Grounds at the U.S.F.S. Office east of Salida, where mess tents and showers were available. Nearly 3,000 meals a day were served at the camp at its peak. Many firefighters camped in tents on the grounds of the high school and at the IBC.
Mandatory evacuations were then put into place for all of Hayden Creek Road (County Road 6) south of County Road 45 and for the Fox Creek Subdivision. Cutty's Campground was completely evacuated. Offers quickly came from the Chaffee County Fairgrounds to shelter livestock being evacuated from the area.
By July 12, command of the fire was transferred from the local Type 3 Incident Management Team to the Rocky Mountain Type 2 Blue Team. A Type 3 Team is trained to respond immediately to a major, widespread emergency or catastrophic event anywhere in the nation and help manage any incident that would extend to multiple days. Type 2 is a self-contained, All-Hazard or wildland team, ranging from 20 to 35 individuals, deployed to manage regional incidents like wildfires, according to emergencymgmt.com.
That same day, 118 campers and 65 staff members of the Rainbow Lutheran Camp in Custer County near Hillside were evacuated. That exact camp had been evacuated before, in 2011 during the Duckett Fire. A total of seven wildfires were burning in Colorado that same day.
By Wednesday, July 13, the fire had grown to nearly 13,000 acres and had created many challenges for fire crews. Among them were limited communications and dangerous safety zones, where firefighters are allowed to stand a safe distance away from the fire. At this point, the fire was considered by authorities to be the number one priority fire in the nation.
Efforts were focused on construction of fire lines on BLM and private lands around the fire with an emphasis on saving structures. Thirty mph wind gusts and high temperatures contributed to the expansion of the fire that day as it bore down on the Mosher Creek drainage.
By the 14th, the fire had expanded to 14,774 acres and the Mosher drainage became an area of focus as winds shifted to a westerly direction. Newly arrived firefighters were assigned to the Duckett area to build an indirect line to slow the fire's southward growth. At that point, there were 625 firefighters employed and containment was still at 0 percent.
That same day, five firefighters who had been working the Cold Springs Fire near Nederland, Colorado, were injured in a car crash on Interstate Highway 25 as they were heading south to work the Hayden fire. They were all released from the hospital later that day. Concerns were also raised about a rare fish, the Hayden Creek greenback cutthroat, feared to be lost in the fire. This particular fish group shares an interesting genetic coding with a specific green cutthroat trout found in Twin Lakes in 1889, according to Kyle Davidson with Colorado Parks and Wildlife SE Region, and thrives along a three-mile stretch of Hayden Creek's south prong.
Authorities eventually had to close Fremont County Road 1A in both directions to vehicle and foot traffic due to people stopping to view the fire. Stopping along U.S. Highway. 50 through Coaldale was also prohibited.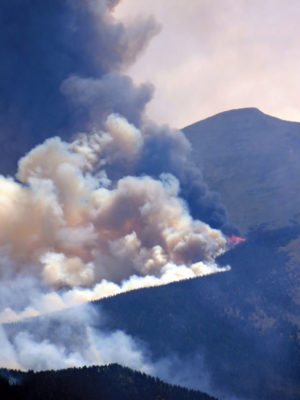 The fire had burned approximately 15,700 acres by July 15 and was spreading south towards the Lake Creek drainage and west of the Duckett fire scar of 2011. To date, only one structure had been lost to the blaze, a small hunting cabin.
Three hot shot crews, a Type 1 handcrew of 20 firefighters specially trained in wildfire suppression tactics, were sent out on July 17, supported by three engines and two dozers, and began to work for several days at the 10,000-foot elevation between Balman Reservoir and Rainbow Lake. A chipper was taken to Hayden Creek Pass to shred trees cut down during suppression activities.
Questions were raised about why infrared Multi-Mission Aircrafts (MMA), used to find fires early, were not called in sooner, but Bruce Dikkens, Unit Chief of the Colorado MMA Team said they were not notified of the fire until the afternoon of July 10, when the fire was already quite large. An air tanker equipped with fire retardant was placed into use after it was ordered up by a fireline supervisor through the division boss. It made several slurry drops to help halt the spread of the fire, but the helicopters dropping water were the most effective in battling the blaze, according to Mike Smith with the U.S.F.S.
Through July 19, firefighters, with the help of cooler temperatures and increased humidity, managed to reduce burning within the containment lines around the entire fire except for the western wilderness side, which remained in monitored status. Containment was now at 45 percent. Evacuated residents of County Road 1A, Eagle Peak, Fox Creek, Mosher Creek and County Road 40 began returning home after mandatory evacuations were rescinded. Residents of County Road 6 were allowed re-entry on July 21.
A crew of fisheries personnel from the Colorado Dept. of Parks and Wildlife conducted a cutthroat trout removal operation on July 20, netting over 200 fish for temporary caretaking at a local hatchery until the Hayden Creek waters become clear of soot and debris. Estimates of over 1 million gallons of water were dispensed onto the fire by air support to date. By July 22, the fire had burned 16,489 acres and was 55 percent contained with a total of 470 fire personnel working the event.
Firefighters and support personnel began decamping the Salida facilities on July 22 and set up a smaller camp at the Custer County Fairgrounds in Westcliffe, where they will remain until the fire is contained.
As of June 22, incident commanders report minimal creeping and smoldering and plan to continue mop up and rehabilitation in all divisions. The burn area will remain closed to the public until further notice, including the Rainbow Trail from Kerr Gulch to Big Cottonwood. They will continue to monitor fire progression in the Sangre de Cristo Wilderness and are estimating the containment date to be early October, 2016.