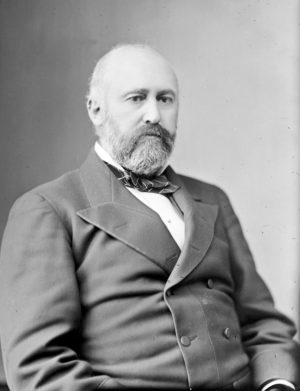 By Nancy Walters
In September 2006, my husband Ken and I signed papers to purchase a lot in the Buffalo Hills subdivision of Chaffee County, Colorado. At the time, I was chafing at the local pronunciation of the county name, with a long ?. My family always pronounced the surname of my maternal grandfather, Arthur Chaffee, with a short vowel æ. That's the phonics rule, right? A vowel before two consonants is pronounced as a soft vowel. I asked Gordon Sloat, our realtor, about this, and he assured me that locals always pronounce "Chaffee" with a long ?. Over time I adapted to local custom, not wanting to be heard as an outsider.
Still, I was curious about a possible connection between my grandfather and the first senator from Colorado, Jerome Bunty Chaffee, for whom the county is named. In a lame attempt at using the internet for genealogy, I discovered that both men were born in upstate New York, sixty-three years apart. Jerome was born in 1825 and my grandfather in 1888. I didn't look much further. Other interests in my new county soon took over.
In the spring of 2015, however, when we were preparing to move to California, unfinished business was on my mind. While my son's family was visiting from Denver, I casually mentioned that I'd always wanted to find a connection between the two Chaffees. I began showing my grandchildren artifacts from the family's past: an 1850 quilt with a mariner's compass pattern, a family a history on my maternal grandmother's side dating back to 1650, and a large leather-bound bible listing births, deaths and marriages, including the birth of Arthur Chaffee. Twelve-year-old Lauren pored over the listings, pointing out connections she found between names. I left her to the intrigue and research, announcing that I needed a nap.
Later I returned to the family room and my son called out, "Hey, Mom, did you see that Lauren found a connection between your grandfather and Chaffee County history?"
"What? No! Really? Show me!"
Lauren produced two handwritten pages delineating generations of Chaffees from 1610 through 1923. The first generation starts with Thomas Chaffee and his wife Dorothea. Both emigrated separately from England to Massachusetts in the early 1600s. From there the lineage takes two paths. One line descends from their son Nathaniel. It spans seven generations and leads to the birth of Jerome B. Chaffee in 1825. The second line descends from son Joseph. It spans ten generations and leads to the birth of my grandfather in 1888. Using a genealogical calculator I discovered that my grandfather and I are sixth cousins of Jerome Chaffee; my grandfather is three times removed and I'm six times removed. Jerome died in 1886, before my grandfather was born; the two would never have met.
So, while I napped, Lauren had used her iPhone and an app called WikiTree to trace the two branches. Now I could claim a familial connection to Chaffee County, though I needn't feel too proud. According to www.govtrack.us/congress/members/jerome_chaffee:
"Chaffee missed 383 of 669 roll call votes, which is 57.2 percent. This is much worse than the median of 30.7 percent among the lifetime records of senators serving in March 1879."
I also learned that almost every family in the United States and parts of Canada with the surname of Chaffee or its variations – Chaffe, Chaffy, and Chafe – is probably descended from Thomas and Dorothea Chaffee. I was thrilled anyway. I have a distant connection to the senator, and I decided not to fuss over local pronunciation.
That is, until I started exploring the history of my new home in Ventura County, California. At the Olivas Adobe built in 1841, I discovered murals depicting the county's past. The artist, Marguerite Hardemann, is listed as the granddaughter of the first mayor of the City of San Buenaventura, whose name happens to be Walter Scott Chaffee.
Mayor Chaffee shares the same lineage from Thomas and Dorothea Chaffee as my grandfather. All three men – Jerome, Walter, and Arthur – were born in the 1800s, in the same region of upstate New York, not far from Syracuse.
Although numerous people with the Chaffee surname settled along California's central coast, the latest Ventura County phone book lists only two entries under Chaffee: one for Chaffee Tile and Stone, the other for Ted Chaffee, a dentist in Simi Valley. Both Michelle at the tile company and the voice on Ted's answering machine pronounced Chaffee with a long ?.
It appears that only my family uses the contrary pronunciation; so really, let's just call the whole thing off.
Nancy Walters retired from a career in technical writing and web architecture. While living in Chaffee County, she hiked numerous mountain trails; now she explores the beaches of Ventura County.