by Hal Walter
Last spring, when coach Jack Swartz asked my son Harrison if he'd like to be on the middle school cross-country team this season, I really had no idea where it would lead.
Harrison answered "yes" by nodding his head enthusiastically. He'd had finished a few 5K runs and also had proven himself an accomplished long-distance hiker and cyclist, so it made sense. However, my mind embarked on an internal dialog – autistic kids tend to be a tad altruistic, and while cross-country is an individual sport, it is also a team sport. In the final analysis, I decided not to worry about it. The season was, after all, a full summer away.
But summers have a way of going by too fast. I thought over the months that while I'm not the type of parent to push his kid into a sport, I was actually thrilled he wanted to run cross-country. Before I'd had much of a chance to really think about all the extra work this would entail, the first week of practice was upon us, starting a few days before the academic year began. Summer came to a real, abrupt end with a 7 a.m. Monday morning practice.
I knew this was going to be difficult for Harrison, and probably even more difficult for me, so I tried to make a fun outing out of it by "camping" out in the living room. We set out the running clothes and shoes so they'd be ready to jump into when the alarm went off.
Despite these efforts, it didn't go well getting out of the house that morning, and as we were driving into town I could see the rare morning black thunderstorm rolling in off the mountains with its slow, thick lightning bolts literally standing on the valley floor. For some reason, when we arrived at the track, Harrison really lost it, and when the storm drove us inside it just got worse. It seemed like an eternity before he calmed down and started to participate in the warmup drills.
And thus began the roller-coaster of practices that we would experience for the next few weeks. I was asked to attend and participate in some of these workouts, especially those off school grounds requiring additional supervision. In this way I could help keep an eye on Harrison and also share my own running background and experience with the other kids. It only seemed natural. We took a few field trips away from the school for training on some nearby trails and the local golf course. On the trail runs, I ran with the lead kids and provided them with directions and a turn-round point using my GPS watch to measure the distance. Coach Swartz started calling me "Coach Hal."
Throughout these practices, Harrison was at best inconsistent. He would sometimes run and sometimes not. The first competition was looming, and I really had no idea whether he would run when the gun went off.
The first meet was the Battle Mountain Husky Invitational in Beaver Creek, a long drive from here. The team bus was leaving Westcliffe at 5:15 a.m. Recognizing the impossibility of this, we made arrangements through the school to leave the night before in order to avoid the morning struggle.
The meet was well-attended, with 18 teams from schools all over the state. Runners were there from Denver, Grand Junction, Aspen, Durango, Colorado Springs, Steamboat Springs and other points between. The hosting Battle Mountain Huskies also fielded a huge team for their own meet, said to be one of the toughest courses in the state. Surely Custer County had the smallest team there, with nine varsity runners and only seven kids on the middle school squad. I knew from my coaching with the team that four of the middle school boys were very competitive, and in fact faster than many high school runners.
But in order to place as a team, the middle school squad needed five boys to finish the race, and that fifth boy was Harrison, challenged not so much physically as he is by his autism. Would he run? Would he throw himself on the ground kicking and screaming? Would he be able to follow the hilly 3-kilometer course start to finish?
None of us really knew what to expect.
The pre-race warm-ups did not go well, and I began to fear the worst. I decided that it would be best to just back off from the situation and see if his behavior would reset on its own.
The gun went off and he went. He ran by me smiling in the midst of the other kids and I got a picture. Then when he was nearly out of sight, I jogged along shadowing him over the course. I didn't really want him to know I was there, but I wanted to be nearby in case of any problem.
And so it was that I got a first-rate seat to one of the most inspiring athletic performances I have ever witnessed, as this young man, my son, overcame tired legs, side stitches, and his own limitations to finish the race. Near the end there was a big hill, and I watched as he trotted right by some other kids and then turned downhill toward the finish line.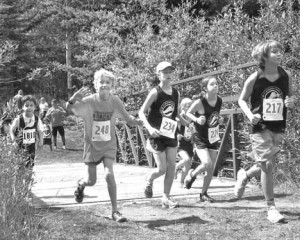 He wasn't anywhere near the frontrunners, but his finish as the fifth boy proved very important to his team as they placed second overall in this highly competitive meet.
During a discussion about the meet following practice the next week, Harrison blurted out, "But I didn't win!" Immediately the other kids responded clearly that they would not have placed as a team without him. It was amazing to see them acknowledge and value his effort.
It's been said that sports are a metaphor for life. If this is true, an experience like this paints an amazing picture of empathy not only for Harrison but for those who are his teammates, both present and future. That in itself has made the roller coaster of this team adventure well worth the ride.
Hal Walter is a 30-year resident of Custer County and the author of Full Tilt Boogie – A journey into autism, fatherhood, and an epic test of man and beast.