By Mike Rosso
If you've traveled in Colorado's national forests over the past 15 years, chances are pretty good you've seen some of Bob Rohrich's handiwork.
Rohrich is a Recreational Technician with the U.S. Forest Service and based out of the Salida shop on East 3rd and C Street. He has been designing and hand-crafting most of the wooden signs found at campgrounds, trailheads and other sites in San Isabel National Forest and other forests statewide since 2005.
With a background in aviation mechanics, Roerich moved to Maysville from Chicago in 1973 and briefly worked at Salida Airport at Harriet Alexander Field. In 2005, he was approached by then-district ranger Charlie Medina, whom he met at church, about taking over signmaking duties at the Salida shop. Rohrich was then introduced to the late Brett Beasley, who soon became his boss at the Forest Service. Rohrich had previous experience with woodworking while building his own house in Maysviile.
Before Rohrich took the position, there were two others making signs at the shop, Roy Thompson, who passed away the year Rohrich started, and Bob Davis, who worked at the shop for another five years, or so, until he retired.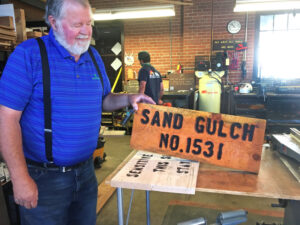 Since he began, Rohrich has produced thousands of signs, many of which can be found in the San Isabel, Pike, Rio Grande and Gunnison National Forests, as well as national forests in Oregon, California and Utah. Most of the handcrafted signs designated for the national forest are MDO plywood which is routed and painted with exterior latex but signs destined for wilderness areas are created from solid oak, as federal law requires hardwood materials in those areas. No paint or sealer is allowed so the lettering has to be burned on with a torch.
"The wood belongs in the woods," he said.
Rohrich's largest sign creations are on Guanella Pass, between Grant and Georgetown, where large interpretive signs can be found constructed from 8"x10" cedar beams. Signs at the Four Mile Area near Buena Vista and the Collegiate Peaks Wilderness are his, as well as the interpretive signs found at access points to the Rainbow Trail. Signs found at the trailheads for the Colorado Fourteeners Initiative can also be traced to Rohrich, many of which he helped install. Most signs at Colorado Forest Service campgrounds can be traced back to the Salida shop.
Early on, he and Beasley did location scouting as well as sign installation.
"We started with shovels when I first came here, then it came down to backhoes, and now I don't even touch that stuff," he said in reference to the larger interpretive signs which have been installed lately.
Signs are requested by various offices throughout the different ranger districts. Surprisingly, he said the nicer the signs, the less likely they are to be vandalized.
Rohrich is set to retire at the end of this year and a replacement for him has not been found at the time of this interview. He has sold his house in Maysville and plans to hit the road with his fifth-wheel and do some traveling. But he will have left a legacy along the back roads and trails in Colorado's national forests.