By Susan Feldman Foster
The classic white adobe structure sits alone like a regal throne on the crest of a hill at the base of majestic 14,049 foot Culebra Peak. For years, the unassuming one-story building was home to the only health care available to the approximately 3,000 residents of Costilla County, comprising 1,200 square miles of semi-arid mountains, forests, valleys and plains. I was lucky enough to spend several years working as a public health nurse in this best kept secret in the world. It was, in fact, paradise. Looking back, I am intrigued with the history of this simply-outfitted health facility, the center of public health and primary care services to the community for so many years.
Luther Bean, Adams State faculty member and civic leader, noted that in 1945, towards the end of World War II, a clinic was needed for San Luis and the surrounding communities (SLV Historian, 1997). Dr. Rosenberg, a medical doctor, and his daughter, Thea Adler, found their way to San Luis after having escaped Nazi Germany. Over time, Thea became a pastor at the San Pablo Presbyterian Church five miles from San Luis. Dr. Rosenberg and Thea became an integral part of the San Luis community.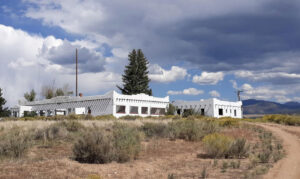 The community mobilized to raise funds for the proposed clinic. People collected coupons, tickets, and cereal box tops that were redeemed for cash. The money raised by community members probably was matched by an organization such as the Presbyterian Church. Ultimately, the adobe clinic was built in the late 1940s, and provided primary care, public health, with several beds that served as a maternity ward for two to three mothers at a time. The mothers and their babies could stay overnight as needed. Mental health services, also, were provided to the community in the basement of the clinic.
I recall doing inventory of the public health office during a blinding snowstorm one day. We came across an oblong oak box, smaller than a boot box. It was an electrocardiogram (ECG) machine, probably a vintage 1930s rendition, with a "PMS" tag nailed to the back of the lid. I have to wonder if the Presbyterian Medical Services provided such equipment to Dr. Rosenberg and others who followed him.
Ambulance services also were desperately needed. Community members had to rely on family or neighbors who happened to have a vehicle reliable enough to go as far as Alamosa, 50-60 miles away to seek emergency care. In addition to establishing emergency services to the area, the community worked tirelessly to raise funds to develop a small airstrip near San Acacio, which is located on the valley floor about eight miles west of San Luis, to provide emergency air services.
The clinic sat empty for some time before it was acquired for use by Valley-Wide Health Systems in 1977 when it began providing primary care services to the community. Dr. Robert Linden, one of the first of five physicians who worked with Valley-Wide, noted that they had to clear the rattlesnakes out of the building before they could open the clinic to patients! In 2004, the clinic moved to its current location in town as part of a county facility complex providing social services, public health, dental and primary care services. ?
The author wishes to thank all the people who contributed to making this story come to fruition by providing bits of history, contact information and encouraging words: Teresa Vigil, Charlie Jaquez, Jr., Freddie Jaquez, Vivian Gallegos, Jackie Scheidigger, Gary Gardner and Hazel Petty.
Our History of Hope: The Story of Valley-Wide Health System is available on YouTube at www.youtube.com/watch?v=_k71umvOyy0
While some take risks by attending superspreader events during a global pandemic, Sue and her husband, Cole, prefer to jaunt down indistinct dirt roads to nowhere (or maybe not).