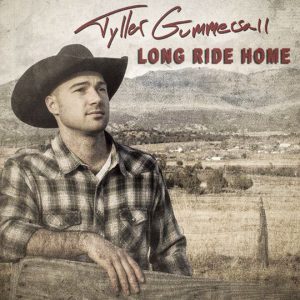 By Brian Rill
The Long Ride Home is a CD that saunters along with a rural twang. Eleven songs compile the noise of steel strings and fanciful voices within car windows, rambling down old highways filled with lonesome sounds of lullabies and sandy ballads, while idly running into some seriously talented hitchhikers along the way. Obviously a bighearted guy, Tyller Gummersall was born to flatpick and raised singing country tunes in a pickup truck. At age eight, he crooned beneath Colorado skies on rural stages beside legendary guitar wrangler, Gary Cook. While ambling between Nashville and Colorado, he was perfecting an empirically tender style to define his unique approach to songwriting.

"It takes two turns to get into town and there's no stoplight on the corner." With a steady rooted drawl, Tyller's voice sinks beneath the melody with a sentiment of nostalgia. "If you want a Walmart or a county jail, you gotta drive a little further." Long Ride Home is the namesake and provincial masterpiece of this homegrown, pastoral disc. "The cars may change, but these roads are still the same barren blacktop over gravel-covered wagon ruts and bones." Gummersall sings syrupy syllables, slowly purling lyrics over his tongue while mixing ingredients into bread and wine, "We all like to think we're pioneers in our own ways." Not surprisingly Gummersall opened for the king of southern songwriters, John Anderson.
"I barely know your name, you could be crazy, we could be crazy just the same. Destiny sure plays a funny game." Sing You A Song clearly proclaims the intention motivating this Lloyd Maines production, "I want to talk your heart into running away with me." Long musical scales from pedal steel guitars slide into submarine grooves on this album. Graceful notes drift in from outlands during summertime and project onto the deepest Arcadian daydream. After solstice, when longer shadows begin to fall from mountain heights, you will hear Gummersall's deep, healthy baritone vibrating off their shady summits, "With these red cliffs above me and deep green valleys, I can't help but recall your hair and your eyes."
"I can't seem to write you a love song, on the off chance it's a lie." Tyller dispels political pretense concerning any pop country stardom routine, embarking on a sortie into honest self expression. "Can you save me from the ghosts of my lovers?" A question is posed from the fearful heart of a songsmith. The maturity of Long Ride Home begins to coalesce into brilliant luminous wordplay, worthy of countrified credit. Play the single Ghosts on iTunes first. Then, if you become a super fan, purchase the whole CD where you can admire those aforementioned highways and reminisce among the fully-printed song lyrics. Announced in a bold advertisement to sell you the shirt off his back, Tyller writes the obligatory Faustian deal: "Can you love me without getting your heart broken? If you can't then I'll forever owe you mine." www.tyllermusic.com
Brian Joseph Rill is a detective, teacher and activist poet. He was voted Salida's Best Musician in 2009 and is an award-winning Latin songwriter.