By Brian Rill
A dry lake bed is perhaps the appropriate place for lighting a signal fire. That's just what Leadville, Colorado band Leadville Cherokee has done with the release of their first studio-length album How to Build a Fire. Out of a chilly 10,000-foot mountain town, they have coveted ingredients for combustion: a large cluster of superheated gas and rock grinding together in a vacuum. Producing a loud exclamation of exaggerated activity, they are blazing the trail to ignite a new star, in the form of lead vocalist Coco Martin.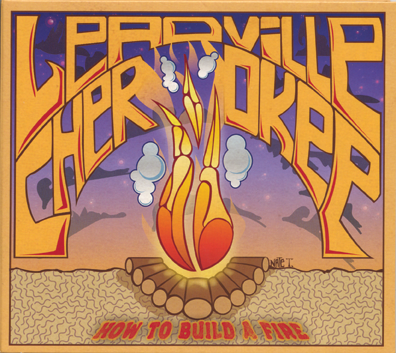 Leadville Cherokee's style of rock is immensely polished. An array of genres are clustered together that race at blurring speeds and dissolve into whirlwind jams. Each song weaves into another style leaving the listener wondering, what's coming next? In many ways it might be classified as a schizophrenic menagerie of rock, bluegrass, pop and country plus rhythm and blues – boldly expressing itself, while still trying to overcome a multiple personality disorder.
The sensation of organized chaos gives way when you peer deeper into the many layers of strata each player is bringing to their music. Vilous Fox attacks the drum set and flails tattered edges on the rhythm. Mikey Siebel carries the melody beautifully with his keyboards, allowing Pete Albrecht's crisp violin and the jazzy guitar stylings of Mark Niernberger to shine through. The mix gets critical with additional percussion from Gabe Guzman and the low tones of Brian Carter's bass guitar. At this point, six fusing instrumentalists inflame the smoldering vocals of singer-songwriter Coco Martin. Martin's anarchic voice arrives at the point of conflagration, flickering through the sterile mix. Crooning sacral screams, she strains to kindle the ember that might soon propel Leadville Cherokee into the stratosphere of immense popularity.
Scattered among the tunes on this compendium are remnants from a myriad of influences. Shadows of diverse artists such as Charlie Daniels and Lauryn Hill seep through the speakers, and the full flavor of large bands like Fleetwood Mac and Phish are also added to stir the pot. This production was made by Grammy award nominee Tim Stroth at Madhouse Recorders in Leadville. I personally find the lack of a well-defined kick drum surprising and wonder if this is why sometimes the divergent harmonies appear to waver unevenly.
One might want to question the power source fueling this band. A nuclear reactor will burn straight through the night: however, its radiation only decays. The atomic fusion Leadville Cherokee produces emits the potential to give birth to a dancing sun. Independently funded with generous fan support through a Kick-starter campaign, Leadville Cherokee has carved out a niche with this album and generously shares their blend of entertaining enthusiasm with the listener. This scintillation of energy may osmose into your brain for a time, illuminating the deepest rumination.
Sometimes great bands totter on the brink of mobocracy. The delicate balance can truly provide fertilizer for innovations, and this tumult may keep the alternative music scene afloat for the moment. You can really feel the heat exuding from this incandescent compilation. I'll toss it your way; maybe you will catch the tail of this burning star before it explodes.  http://leadvillecherokee.com
Brian Rill is a troubadour, composer and poet.