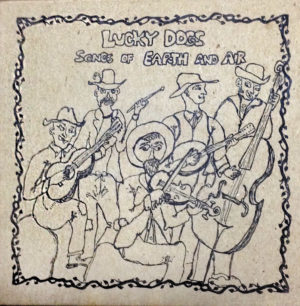 By Brian Rill
The most popular musician in Salida may not be who you think it is and in fact, you probably have never heard of him. If you haven't heard Benny Bowmaster then you're in the same river boat that I was until I witnessed one of the most amazing turnouts in history for a local musician at The Muse speakeasy one night in Salida. Benny is a musician's musician, so it's not a mystery as to why he is vastly unknown except for within the somewhat wide expanse of Salida troubadours. What I saw one night was a collection of all the best Salida guitar pickers from the past twenty years gathered together to listen to this one unassuming songwriter perform named Benny Bowmaster.
Always humble but extremely popular, Mr. Bowmaster has played hand drums as a side project in the band formerly known as Caravan X which featured the late William Boddy on stand-up bass. Caravan X played in some sleepy Salida bars and noisy restaurants with Bowmaster hunched delicately over the bongos, head hung down low, almost disappearing into the corner shadows. However, when he takes the stage for a solo performance he draws a massive crowd. The full length album Lucky Dogs, Songs Of Earth And Air, represents the sound of low-fi genius that makes Mr. Bowmaster the leader in the modest music scene of the Upper Arkansas Valley. Stripped-down violin, guitar, mandolin, drum and upright bass set the tone for the soundscape created on Lucky Dogs. Benny and drummer Doug Moser lay harmony vocals on top of the many different tempos and textures that fill this eleven-track CD with a sleeve that is printed in a hand drawn style on 100 percent recycled paper. Nick Talantis also adds harmony vocals and guitar, Andy Rockwood blends the upright bass and fiddle, while Joe Spaulding picks mandolin throughout the album. Recorded by Nick Talantis in his My Dog Garage Studio between 2007 and 2008, Lucky Dogs has a folksy quality that can only come from a garage studio in Traverse City, Michigan.
Dodge Dart
is a slow tempo folk song about a fast old car, with a sound like Townes Van Zandt. The lyrics really spell out Bowmaster's masterful style of verse, "She never did get me except for just once, I chalk these years up to experience; I always was a bit of a dunce. Now she's got her new man; they both have their heads in the sand. He's got a trailer on 40 acres with a good maple stand. But I ain't really busted just a bit bruised and broke, Billy gave me a nice bud for a couple good sunset tokes." The chorus alludes to the life of a hermetic mountain troubadour. "I hear no one's life is like the way they planned it, but I'm going to visualize the way I want it to be. A little cabin up somewhere in the Sierras living up high and free."
Brian Rill is a teacher, performer, activist poet and award-winning Latin songwriter voted Salida's best musician 2009.