Article by Ed Quillen
History – January 2007 – Colorado Central Magazine
WHEN WE LEFT Capt. Zebulon Montgomery Pike and his small band of soldiers on Dec. 31, 1806, they were camped near Spikebuck, between Cotopaxi and Cañon City (long before Spikebuck, Cotopaxi and Cañon City actually existed). Two days earlier, Pike "saw one of a new species of animal on the mountains; ascended to kill him, but did not succeed."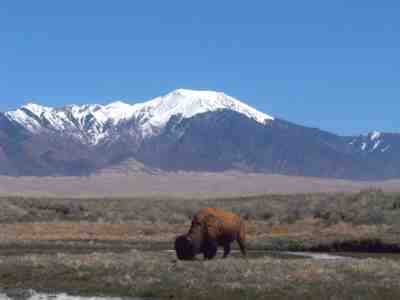 On New Year's Day 1807, though, Dr. John Robinson and Private John Brown had gone ahead of the others, looking to "kill a supply of provision," and Pike's group "found on the way one of the mountain rams [bighorns] which the doctor and Brown had killed and left in the road."
Presumably the "mountain ram" and the "new species of animal" were the same. Lewis and Clark, who returned to St. Louis the same year Pike left, are given credit for the first recorded bighorn sighting — or make that "first written sighting," since old petroglyphs are a form of record, and bighorns make frequent appearances in old rock art.
Pike, however, had no way of knowing about petroglyphs or the discoveries of Lewis and Clark, so it was certainly a "new species" to him, and his encounter makes "Bighorn Sheep Canyon" an appropriate name for that stretch of the Arkansas River, for it was the first place in Colorado where Americans hunted the Official Colorado State Animal.
On Jan. 2, the going got much rougher. They made only a mile, and "many of our horses were much wounded in falling on the rocks. They tried to climb out of the canyon but "immediately after were again obliged to descend an almost perpendicular side of the mountain" where "one horse bruised himself so miserably that I conceived it mercy to cause the poor animal to be shot."
No mention of a horse-meat dinner, but to transport the loads that the horses had been carrying, Pike ordered his men to make sleds.
By Jan. 4, at Parkdale just above the Royal Gorge, the party had split into eight groups, all trying to find a way through or around the canyon, and to find game. Pike "marched about five miles on the river, which was one continued fall through a narrow channel, with immense cliffs on both sides. Pike "at length discovered a narrow ravine" that "was one continuous sheet of ice. We ascended it with the utmost difficulty and danger, loaded with the baggage."
Pike "wounded a deer, but the darkness of the night approaching, could not find him. I returned hungry, weary, and dry, and had only snow to supply the calls of nature."
Baronet Vasquez, the interpreter, led a party with the surviving horses around the south side through Webster Park, and killed a buffalo and some deer, so there was a real dinner on Jan. 5.
HOWEVER, that was the day of Pike's dismal discovery. He had thought he was descending the Red River, but once he got past the Royal Gorge, he was back at his camp of Dec. 10, and realized he was on the Arkansas. "This was a great mortification."
Pike's party finally reunited on Jan. 9 at Cañon City, where "I felt at considerable loss how to proceed, as any idea of services at that time from my horses was entirely preposterous."
Pike had his orders to ascend the Arkansas and descend the Red. He had certainly done his duty by the Arkansas. The source of the Red, he figured, had to be to the southwest — the next drainage south of the Arkansas. He had no idea that the Red's headwaters were in the panhandle of Texas, far from the Rocky Mountains where his logic put the river's source.
"I determined to build a small place for defense and deposit; leave part of the baggage, horses, my interpreter [Baronet Vasquez] and one man [Private Patrick Smith]; and with the balance, our packs of Indian presents, ammunition, tools, etc; on our backs, cross the mountains on foot, find the Red River, and then send back a party to conduct the horses and baggage by the most eligible route we could discover; by which time the horses would be so recovered as to be able to endure the fatigues of the march."
When editor Elliot Coues issued his edition of Pike's Journal in 1895, he corresponded with Cañon City residents who said there was no trace of Pike's structure and its exact location was not known; so there's even less chance of such knowledge 112 years after Coues and 200 years after Pike. But the Cañon City Chamber of Commerce should be pleased because Pike wanted "to ascertain the latitude and longitude of this situation, which I conceived to be an important one."
After a few days of rest and refitting, Pike, Robinson, and twelve privates started into the mountains, leaving Vasquez and Smith. They crossed a ridge and hit Grape Creek which they followed into the Wet Mountains, which Pike called the Blue Mountains. They were toting heavy burdens, "each of us carrying 45 pounds and as much provision as he thought proper, which, with arms, etc., made on an average 70 pounds."
On Jan. 17, they reached the Wet Mountain Valley. It was treeless, so they headed for the Sangre de Cristo Range with its trees and shelter from the wind. While crossing a creek, "we all got our feet wet. The night commenced extremely cold After getting fires made, we discovered that the feet of nine of our men were frozen; and to add to this misfortune, both of those whom we called hunters were among the number. This night we had no provision."
PIKE REPORTED a temperature of -18°. He used the Réaumer alcohol thermometer, with water boiling at 80° (212° F) and freezing at 0° (32° F), so that works out to about 10°F — not subzero, but still plenty cold.
They were also hungry. On the 18th, Pike and Robinson "wounded a buffalo with three balls, but had the mortification to see him run off notwithstanding. We concluded it was useless to go home to add to the general gloom, and went amongst some rocks where we encamped and sat up all night; from the intense cold it was impossible to sleep."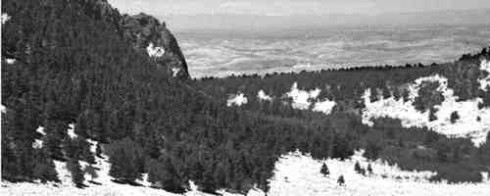 The next day, "I had become extremely weak and faint, it being the fourth day since we had received sustenance, all of which we were marching hard, and the last night had scarcely closed our eyes to sleep." Pike and Robinson were "determined to remain absent and die by ourselves, rather than return to our camp and behold the misery of our poor lads, when we discovered a gang of buffalo coming along at some distance."
By Jan. 20, they were ready to go again, except that "on examining the feet of those who were frozen we found it impossible for two of them [John Sparks and Thomas Dougherty] to proceed, and two others only without loads, by help of a stick."
They cached some of their goods on the 21st, Pike scouted a route to the south, and they proceeded on the 22nd, leaving Sparks and Doughtery. "We parted, but not without tears."
Pike and Robertson went off hunting on the 23rd. They found no game, but got caught in a blizzard, where "I found it impossible to keep any course without the compass continually in my hand, and then was not able to see more than 10 yards." He did get back to camp, where "We lay down and strove to dissipate the ideas of hunger and misery by thoughts of our far distant homes and relatives."
They didn't have winter gear, and were carrying 70-pound packs through deep snow in freezing weather. Little wonder that Private John Brown complained that "it was more than human nature could bear, to march three days without sustenance, through snows three feet deep, and carry burdens only fit for horses."
Pike ignored the comment at the time, but after Robinson brought down some buffalo and the men feasted, Pike told Brown that "by instant death will I avenge your ingratitude and punish your disobedience" if he uttered such "seditious" complaints again. He gave the other soldiers his "thanks for the obedience, perseverance, and ready contempt for every danger which you have generally evinced."
They had quite a pile of dead bison, and on Jan. 26, they dried the meat on a scaffold. They took as much as they could carry, and left the rest for those who might come along later — Vasquez and Smith in Cañon City, Sparks and Dougherty along the way, and now Hugh Menaugh, who stayed with the meat.
They crossed the divide from the Wet Mountain Valley to the San Luis Valley on Jan. 27, probably at Medano Pass. The next day they "followed down the ravine and after some time saw that there had been a road cut out; on many trees were various hieroglyphics painted."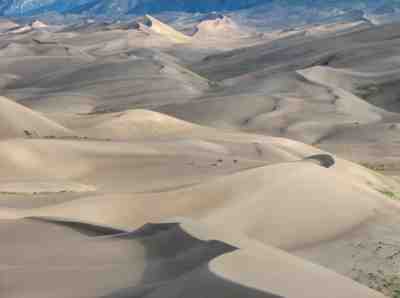 WHO MADE THAT ROAD and painted symbols on the trees? Almost all traffic in those days in that general area, be it Spanish, Comanche, or Ute, went across Sangre de Cristo Pass (a variant of North La Veta) to the south. One candidate sometimes mentioned is trader Antoine Robideaux, who crossed the Sangres and then Cochetopa Pass to get from St. Louis to trade with Indians on the Western Slope. But he was only 12 years old in 1807, so he wouldn't have been cutting roads then. The origins of that road and those markings remain a mystery.
Pike spotted the San Juans in the distance on Jan. 28, with the Rio Grande — of course he thought it was the Red — emerging from the mountains and turning south.
He also spotted "a sandy desert to our right," the Great Sand Dunes. "The sand-hills extended up and down the foot of the White [Sangre de Cristo] mountains about 15 miles, and appeared to be about five miles in width. Their appearance was exactly that of the sea in a storm, except as to color, not the least sign of vegetation existing thereon."
They dropped into the San Luis Valley and went down the Rio Grande on Jan. 31, then ascended the Conejos for about five miles to a grove of timber which they might use "to make transports to descend the river with" and "where we might establish a position that four or five might defend against the insolence, cupidity, and barbarity of the savages, while the others returned to assist the poor fellows who had been left behind at different points."
Pike Events 200 years later:
Since most of the Pike party spent most of January, 1807, freezing in Custer County, we figured there would be some kind of public celebration or commemoration in or near Westcliffe. But after half a dozen telephone calls and emails, we couldn't find one. We tried to talk Hal Walter into leading a barefoot trek with 70-pound packs up Grape Creek, but for some reason he demurred.
On Dec. 24, 200 years to the day after the Pike crew camped near Salida and feasted on buffalo, there will be a Buffalo Barbecue Lunch from 11 a.m. to 2 p.m. at Big Bend on the Arkansas River — if it's not on the spot Pike camped, it's very close, and certainly closer than the historical marker on U.S. 285. It's on County Road 165 near its junction with U.S. 285 behind Independent Whitewater Rafting. The menu includes barbecued buffalo sandwiches, chips and a drink, and you may encounter some Colorado mountain men and a Pike relative.
Meals are $8 for adults and $6 for children 12 and under; $2 more on the day of the event. Tickets are available at the Buena Vista and Salida chambers and the Salida Bongo Billy's.
The major Pike event in January will run Jan. 26 and 27 — two centuries to the day after he entered the San Luis Valley — at Adams State College in Alamosa.
The Zebulon Montgomery Pike Bicentennial Symposium will start with a reception on Friday night, Jan. 26, and continue all day Saturday with speakers and presentations, concluding with a banquet that night.
The full schedule will be announced in early January, and you can call 719-587-7436 or 719-657-2923 for more information.
If area schoolteachers want to get in the Pike spirit, the Rio Grande County Museum in Del Norte can lend out "Pike's Pack," an educational kit which includes a replica military pack with samples of some items that the Pike party would have carried in 1806-07. Local schools (Monte Vista and Del Norte have already signed up) can check out the gear for some hands-on lessons. To participate, call the museum at 719-657-2847.
–Ed Quillen