By Ann Marie Swan
Photos by Janine Frazee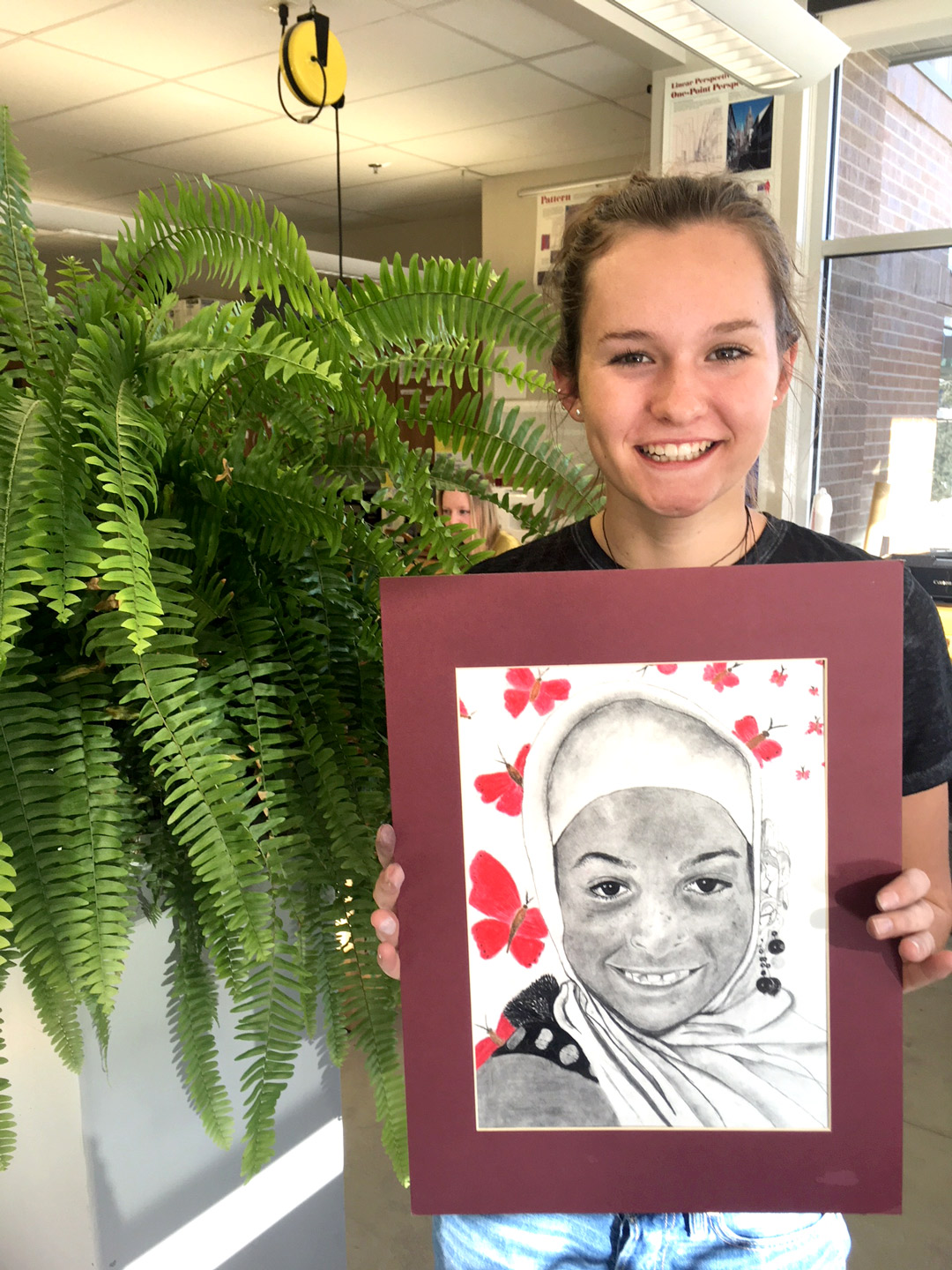 In late spring, my 15-year-old daughter, Ella, sat at our kitchen table, drawing a portrait of a 10-year-old Syrian girl from a photo. Then she erased away hours of her work. "Her eyes," Ella said, and gently blew the debris from the page. "I just can't get her eyes right."
It was true. The girl's eyes in the portrait had been flat and missing something – a spark, a mystery, some insight into who she was.
I leaned into the photo and examined the soulful and clear brown eyes of this striking child. Rasha was her name, and her hair was pulled into a loose ponytail with a few strands that were wild and free, as if she had just run in from a school playground. But Rasha lived in a refugee camp on the Jordanian border, far from her homeland with its fragrance of jasmine and damask roses. Far from the dark richness of the Bishri Mountains after Mediterranean winds brought the rains.
I knew this artwork would never hang on my wall. It was going to Rasha as part of The Memory Project; a Middleton, Wisconson-based organization that invites art teachers and their students to donate portraits to youth around the world. Youth who have faced substantial challenges, such as violence, disasters, extreme poverty, neglect and loss of parents. Salida High School art teacher Janine Frazee's National Art Honor Society students, have participated in The Memory Project for four years and sent portraits to children in the Dominican Republic, Bolivia and Ukraine.
Frazee said the project was deeply meaningful to her because her students "put their creativity, ideas and time into something that is not just to benefit them, but someone else who gravely deserves it."
"These portraits become one of the children's few possessions," she said, in her sunny classroom with posters that read "Contribute, be kind, be patient" and "Wake up and be thankful."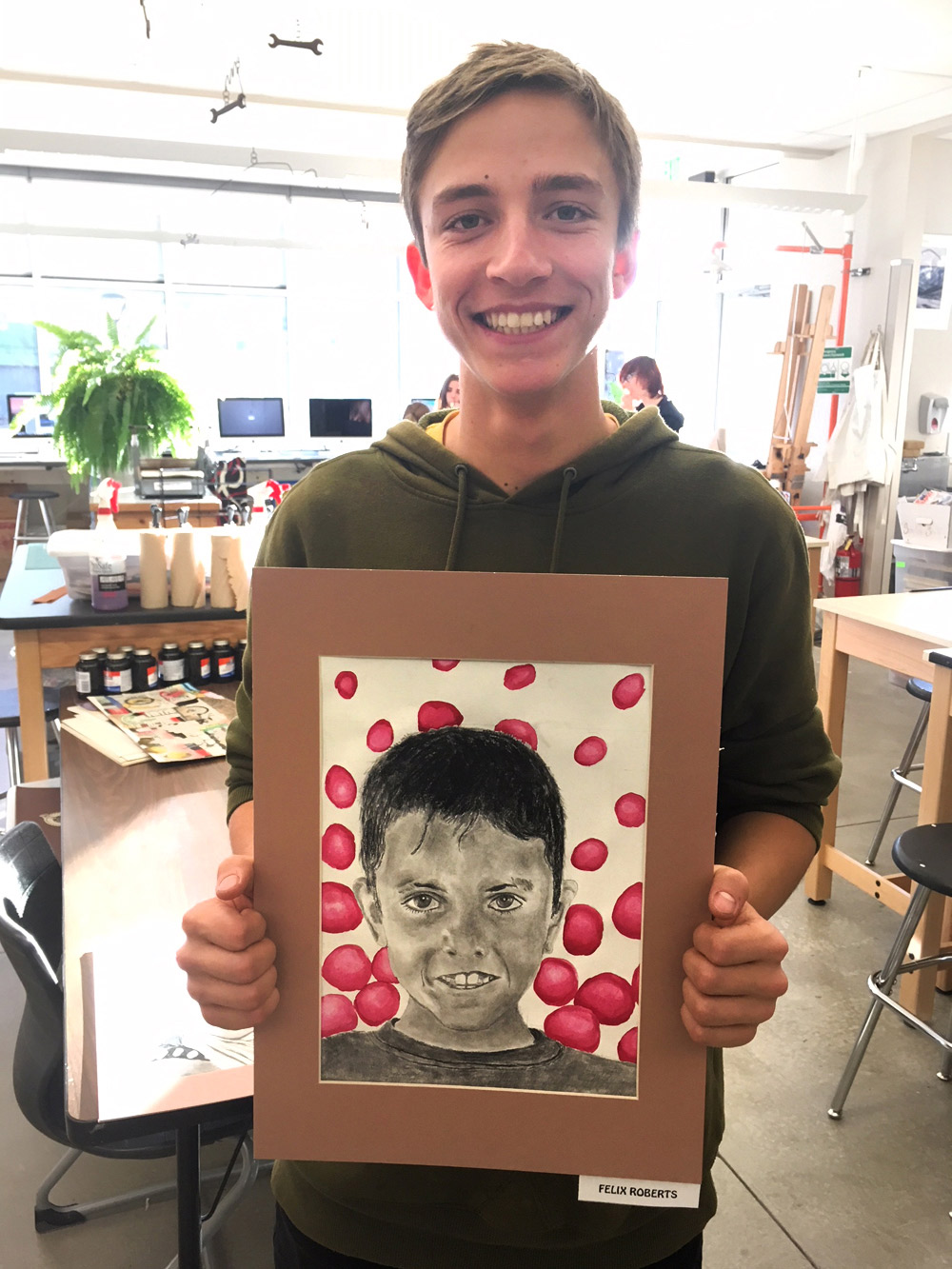 Frazee asked her students to imagine living in a war-torn country and having to flee and leave everything behind – their home, their family, friends, belongings and pets. Everything that gives them a sense of themselves.

The Memory Project was founded in 2004 by Ben Schumaker, who came upon the idea while volunteering at an orphanage in Guatemala in 2003. Schumaker, a former graduate student in social work, met a man there who talked about how the children didn't have personal keepsakes to contribute to their self-identity. Schumaker had made portraits, when he was in high school and thought it would be powerful to get art students to create portraits of children in traumatic situations. Now, thousands of students participate.

Schumaker said he enjoys seeing young people's lives being touched on both sides of the exchange – the art students who create the portraits and the children who receive them. "Witnessing the emotional impact on either side means a lot more to me than the simple number of how many portraits we create," he said.

Ella pressed down on her graphite pencil. I waited for the portrait to reveal more about this girl. Ella shaded and outlined and erased again.

Then, finally, Ella began to get it. Rasha's eyes became more real. I wondered where this portrait would fall on the spectrum of her life. Who will Rasha see if she looks at this portrait 10, 20, 60 years from now? At this time, all in her life was temporary.

The connection with the Salida art students was temporary as well. They only knew the names of the refugee children and their favorite colors to include in the background. To protect the children's privacy, they were not to engage further. No pen pals, no long-term deep friendships to follow the narrative arcs of each other's lives. Just this portrait.

Ella continued to work. She turned Rasha's unfinished portrait sideways, then upside down, drawing from different perspectives. She looked at it from a distance, waiting for something to be revealed.

Ella drew some more. And then, there she was: Rasha seemed to look back at us.

When Syrian children, giggly and heady, received their portraits, a video was made. Frazee's students watched it and a hush fell over her classroom. And the Salida children witnessed the impact of their acts of kindness.

Ann Marie Swan is a freelance writer, editor and librarian. She's happy to see Salida kids connecting with children on the other side of the world.