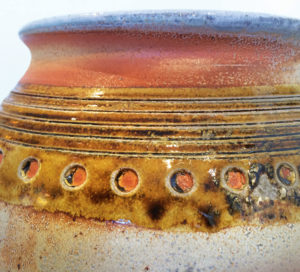 Having grown up in Hong Kong, Salida ceramic artist Mark Rittman gained a uniquely Asian perspective in his work.
Mark, along with his wife Suzanne, has been operating the Maverick Potter in downtown Salida since 2008. Their store, located at 119 F Street, features a variety of artwork from regional artists, but it is Mark's ceramic work that neatly ties together the various mediums on display.
When he was young, Mark's family moved to Hong Kong to become teacher missionaries at the Hong Kong International School. It was there that he began to experiment and explore with clay and the wheel under the direction of his instructor, Anna Maakestad.
"I took my first class on the wheel and fell in love," he said.
After exhausting all the pottery classes the school had to offer, Mark did independent study in ceramic arts for two years before going to college in the U.S.
At first he aimed for a degree in engineering, but the art bug was hard to shake and Mark ended up earning a BA in Ceramics from Lewis and Clark College in Portland, Oregon.
"I took every possible class related to Asian art and art history so that I could better understand what I grew up around for so many years."
His 17 years in Asia left a lasting impression on him and his art, and it is evident in his work.
"I got hooked on the culture and how inherent art was a part of it," he recalled.
After a stint working at a brewpub near Portland, Mark began doing ceramic art in earnest. He and Suzanne moved to Colorado in 1998 after he landed a job with New Belgium Brewery in Fort Collins, but continued throwing clay on the side.
His job at New Belgium had him travelling around the state and a visit to Salida was an eye-opener.
"Strolling the streets, we found a shop on First Street owned by Potter Bob. He had a gallery and a workshop all included in one space. It dawned on me that 'hey I could do that.' What also struck me about the downtown was that nearly all the shops were unique and artist-owned. The fact that artists were here representing themselves really intrigued me."
After a few years working at a San Francisco branch of New Belgium and living in the wine country in Sonoma, California, the couple made the big move to Salida in 2008. Mark has since become a full-time artist, throwing most of his pottery at the store and firing it at their home west of town. At that property, Mark hand built two gas-fired brick kilns; one a cross draft, soda fire kiln, in which sodium carbonate is introduced in either a powder or liquid form during the last two hours of firing.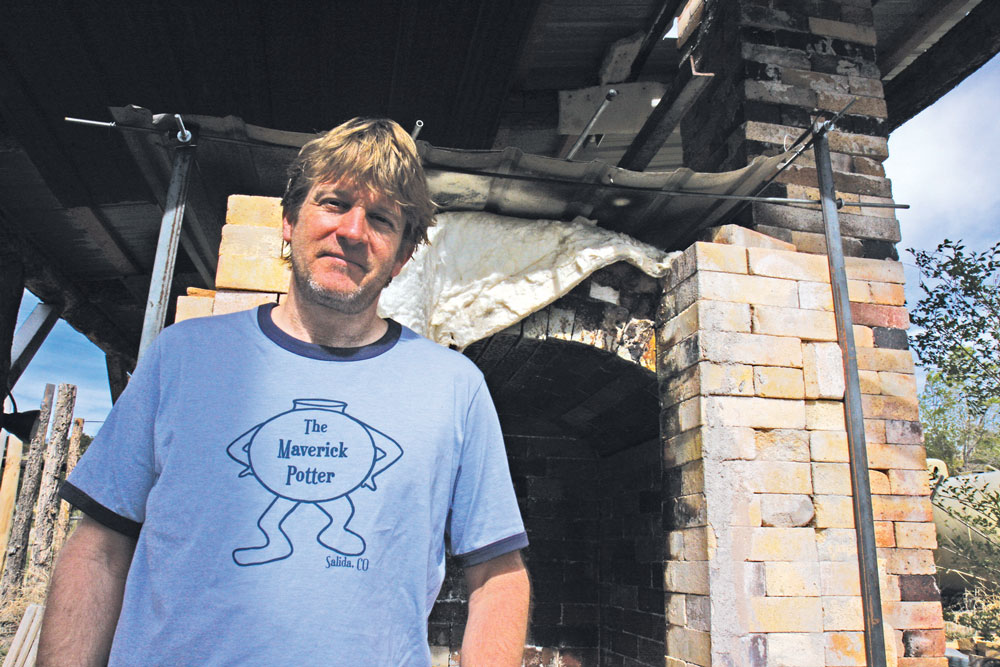 "The soda builds up on the pots as the draft of the flame carries it through the kiln. The effects can be dramatic and unique," he said.
The other gas-fired kiln is a jigsaw kiln – high-fire downdraft kiln.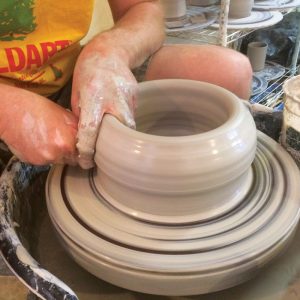 "We came up with the name because in the process of building the kiln, many of the bricks had broken in half and got separated. It took me weeks of trial and error, piecing the bricks together. So far, the kiln is holding up well despite all the cracked bricks."
The doors to both kilns are painstakingly put in place, brick by brick, and then covered in mud to seal the contents from the air outside.
In 2010, the Rittmans decided to go solar and installed a 5.2 kilowatt photovoltaic system which helps to power their primary kiln, which is electric. He believes theirs is the only solar-powered pottery business in the state.
"We were able to offset the majority of our electric usage. In six years we have generated 62,000 kilowatt hours and offset over 105,000 pounds of CO2," he said.
Asked specifically about the style of his work, he replied, "First, I would say that I am a utilitarian ceramic artist. I focus on objects that are intended for use. I strive to create balance of form and function while working to engage the viewer with my work. I try to achieve this by using design, color overlay, texture and movement. Through handling and use of the pottery, one can make a deeper connection. The artwork becomes an experience or a moment one can reflect on. Think of that ritualistic morning cup of coffee in your favorite mug."
Mark says there are many artists and potters who have inspired him, but one standout is a North American craft potter, Warren MacKenzie, who, at 92, still maintains his studio in Stillwater, Minnesota.
"His life's work has been dedicated to handmade, functional wares. His work is simplistic and balanced," says Mark.
Pottery classes are offered year-round at the Maverick Potter, and Tuesday nights are reserved for the Clay Café, an evening of open studio with coffee, a treat and "lots of fun clay project ideas."
This summer, they will be offering Clayful Art for Kids and Adults with artist Tia Pleiman on Tuesdays and Thursdays. In fall and winter they offer six- and eight-week series of classes for wheel throwing and hand building. They also host an annual Raku barbecue at their home on Sunday, July 10, where attendees get to shape and fire their own works and share food and fun.
Mark is also well known locally for providing the soup bowls for Shedfest, an annual Fall celebration of local foods, sponsored by the Central Colorado Foodshed Alliance.
"Typically we gather around 200 bowls each year for the dinner. Around 80 of them are handpainted by the community. I love this because we get kids, adults, artists, and anyone that wants to paint a bowl to participate. The bowls represent community. They have become an inherent part of the event," he explained.
When asked his views on the current state of the industry, he replied, "The ceramic industry, insofar as the independent artist, is wide open and thriving. There are many ways in which to publicize your work and technology that otherwise have not been available for use in small artist studios."
"I also think there is a movement to buy more handmade. We live in a consumer society where the majority of things are made in factories. I'd like to think there is a trend in going back to the source, at least on some things. Much like a farmers market, people want to buy from the source and to support a farmer, not a corporation. Handmade pottery is one such item where you can support an artisan and get a quality-made object from the source."
That source can be found right here in Salida, at the gallery and workshop of The Maverick Potter.