Irish Stew & Royal Hibernian Brown Bread
Sean Slattery, Ignacio, Co
IRISH STEW
1 1/2 lbs. lamb shoulder -1 in. cubes
1 1/2 lbs. beef chuck -1 in. cubes
4 tbsp. flour
3 tbsp. olive oil
4 cloves of fresh garlic, finely chopped
2 yellow onions -1 inch dice
5 carrots halved lengthwise and cut into 1 in. sticks
4 ribs celery thick sliced on an angle
8-10 new potatoes, washed and quartered
1 small peeled turnip -1 inch cubes (optional)
1 teaspoon fresh savory
1 teaspoon fresh thyme
1 bay leaf
3 quarts good beef stock
1 or more bottles of Guinness Stout
1/4 cup tomato paste
1 tbsp. Kitchen Bouquet or Gravy Master
Salt and fresh ground black pepper to taste
Fresh parsley, chopped.
Open Guinness and pour into a glass. Set aside to rest. Heat a heavy Dutch oven or stockpot. Season meat with salt and pepper and dredge in flour. Reserve extra flour. Add oil to HOT pan and add meat. Stir to brown evenly. Sip Guinness. Add garlic and brown lightly. Stir in remaining flour. Depending on the amount of fat rendered from the meat, you may need to add more oil. Stir in onions, carrots, celery and herbs. Deglaze pan with generous splash of Guinness. Scrape bottom of pan. Sip Guinness. Turn down heat to simmer. Sip Guinness. Pour another Guinness and allow to rest. Add remaining ingredients and simmer two hours or until meat is tender. Sip Guinness. If stew is too thin, dissolve 1-2 Tbsp. corn starch in water to make a thin paste and add to thicken. If it becomes too thick, add more beef stock or water. Salt and pepper to taste. Continue to simmer, stir and sip. Ladle into large bowls, garnished with chopped parsley. Serve piping hot with warm slices of brown bread and butter. Serves 8 to 10.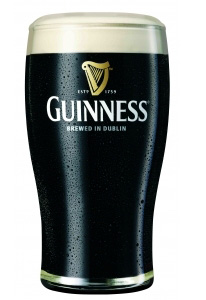 ROYAL HIBERNIAN BROWN BREAD (One Round Loaf)
2 1/2 cups whole wheat flour, preferably stone ground
1 cup all-purpose flour
2 tbsp. sugar
1 1/2 teaspoons baking soda
1 teaspoon salt
1/4 cup (1/2 stick) butter, room temperature
1 egg
1 1/4 cups buttermilk
• Lightly grease a baking sheet.
• Preheat oven 400 degrees.
Mix together dry ingredients. Work in butter until absorbed. In a separate bowl, beat egg and stir in milk. Add milk mixture to dry ingredients and mix to form a stiff dough. Turn out onto a floured surface. Work dough lightly with your hands and a dough knife to mix well. Do not knead. Shape into a round ball. Pat down slightly. Place on greased baking sheet. Using a sharp knife or razor blade, cut a cross 1/2" deep in the top. Bake at 400 degrees for approx. 45 minutes. Loaf should be lightly browned. Cool on a wire rack. Serve warm with butter.
When I was asked by my good friend Mike Rosso to be The Gourmet Guy for the March issue, we agreed, in light of the Feast of St. Patrick on March 17, that it would be fitting for me to share a few traditional Irish recipes. It has been said that there are two kinds of people in the world, those who are Irish and those who want to be Irish. The widespread celebration of St. Patrick's Day is testament to this. Everybody is Irish on March 17. I hold fond memories of marching in The St. Patrick's Day Parade in Manhattan in my youth, even though it seemed to have rained every year. This being said, most of us will celebrate Patty's Day with corned beef and cabbage, Irish whiskey, green beer, etc. Nothing wrong with that. We all could fake our way through simmering corned beef and a head of cabbage. Even my father, born in County Clare, will have corned beef again this year, with plenty of potatoes, of course. Much more common to the Emerald Isle would be a meal known as bacon and cabbage, although the bacon bears no resemblance the bacon we serve for breakfast here in America. It would more closely resemble a lean ham made from boneless pork loin, unfortunately, not readily available in our neck of the woods. So, I decided upon a good hearty stew and brown bread. When made in Ireland this stew would be made with just lamb and no beef, but I add the beef for a milder meat flavor. It would also be made over a peat or turf fire, but a woodstove makes for a good substitute. – Sean Slattery