By Mike Rosso
Tucked away in her home studio in Buena Vista, Evelyn Gottschall Baker is quietly creating world-class glass art.
Primarily focusing on a technique called "Patè de Verre" (paste of glass), Baker brings realism and detail into her art and uses both traditional and non-traditional casting and mold techniques to create sculptures which depict the beauty around her.
"I work with kiln-formed glass, where different shapes and colors of glass are bonded through the heat of a kiln. The working temperature of warm glass is between 1150ºF and 1700ºF. The hotter the temperature, the more individual pieces of glass will melt together to become fully-fused into a single piece. But working in the lower temperature ranges allows artists to add texture and detail to their work," she says.
She is most inspired by living in Colorado.
"I find it natural to try to capture the beauty of our local landscape into works of art using glass. Working with Patè de Verre I'm able capture detail and realism into my art. Recently, I have been thinking a lot of how human life impacts our environment, in particular our impact on wildlife," she explains.
Another process that she is just beginning to explore is "Lost Wax Casting." The artist starts by making an object/shape out of wax, then covering the wax modeling with a plaster mold, steaming out the wax, then setting the mold in the kiln so glass melts into it and takes the shape of the mold. The temperature range for this process is about 1550ºF.
Evelyn began her professional career as a graphic artist and illustrator. As Advertising Manager and Senior Illustrator for the Department of the Army, she created highly detailed, exacting paintings and drawings. She then became a test engineer for a large U.S. defense contractor, at which time she studied watercolor and oil painting as well as taking classes in stained glass, which she parlayed into a part-time career as a stained glass artist. Baker owned one of the first retail shops in the South Main project, east of downtown Buena Vista, where she also sold her stained glass.
She has taken several classes at the Bullseye Glass Resource Center in Santa Fe, New Mexico, but primarily reads, studies, and does extensive experiments in her home studio.
"I'm rather tenacious and won't give up until I'm successful, or at least understand why something failed. There are a number of private groups on Facebook that provide excellent support," she says.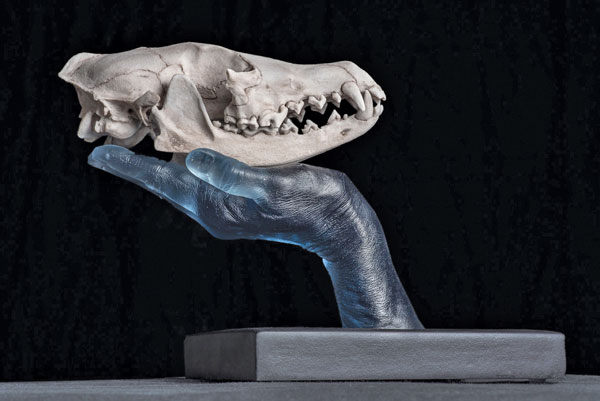 After developing her unique method of Patè de Verre, Baker began teaching multi-day workshops at studios in the U.S., Canada and Scotland. These are intense workshops and require participants to have at least an intermediate knowledge of glass fusing. She teaches beginning classes in her home studio, usually small groups of two to four people, and has several local individuals who come over for an open studio time, once a week. These classes are currently on hold until COVID-19 restrictions are lifted.
Alicia Lomne, Geoffrey Bowton, Cynthia Morgan, Christopher Jeffree, Bob Leatherbarrow, and Jen Fuller are among the glass artists she admires.
"I encourage everyone to investigate them to learn more about kiln-formed glass," she said.
Her work was accepted into the Emerge 2018 show in Portland, Oregon, sponsored by the Bullseye Glass Company. The Emerge show is held every two years and is limited to national and international kiln-formed artists using Bullseye Glass. This was Baker's first time to enter a major competition, and she was fortunate to be accepted as a finalist (40 out of 350 entries). At the opening reception, held in Portland, she was honored to receive the award of Honorable Mention.
She has exhibited in smaller shows in Colorado, one at the Spark Gallery in the Santa Fe Arts District in 2018, and the other at the Parker Art Center in 2019. At the Parker show, she was honored to receive Best of Show. She has also been a part of the Chaffee Arts Open Awards Art Show for several years, winning First and Second place awards in the Glass Art division, as well as the Judges Choice in 2019.
Baker recently learned that her work has been accepted to be a part of the Coors Western Art exhibit at the National Western Stock Show, held in Denver in January 2021. This show is one of the finest exhibitions of contemporary realism of the Western United States. The Coors Western Art Exhibit and Sale features an eclectic mix of styles and mediums as well as established artists and unknown talent. Though primarily focused on the American West, artists hail from Canada, Europe and across the United States.
"I believe an artist should make work that asks questions, but make the viewer answer the question(s) for themselves, if they can. For instance, in my piece 'Balance,' a coyote skull is balanced on a human hand. My artist statement is 'Habitat shrinking. As open lands disappear, can there be balance between them and us? What question(s) does this make you ask? What answers do you find?'"
With her background as a test engineer, this art form is a perfect melding of her engineering past with a desire to control and create art forms using glass and heat.
"The complexity keeps me studying and experimenting, forcing me out of my comfort zone. Fortunately, I'm at a point where I understand the technical aspects of glass and can now concentrate on making what I want while having confidence it will turn out the way I want."
Baker's work is available at the Maverick Potter in Salida and at Rock Run Gallery in Buena Vista. Her larger, more complex pieces are available by contacting her directly or through her website: www.glassfractions.com