By Ed Quillen
If the United States had adopted the metric system in 1820, then Colorado's highest country might be in better condition today with much less in the way of trail erosion, trampled tundra and disturbed wildlife.
Why 1820? The metric system had been devised by the French Academy of Sciences in 1795, so by 1820, Americans certainly knew about it. And 1820 marked the first recorded climb of a 14,000-foot peak in America.
Consider that "4,267.21-meter summit" lacks the resonance and romance of "14,000-foot peak" or just "Fourteener." And without that arbitrary line in the sky, few of Colorado's 54 Fourteeners would suffer the traffic they bear today.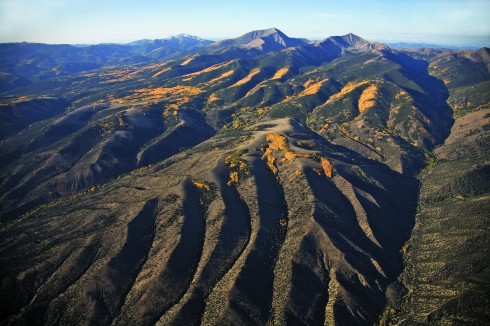 There is some archaeological evidence, along with oral tradition, that Utes and Arapaho climbed several of the high peaks. And it's entirely possible that some Spanish or French trader succumbed to the human impulse to climb a nearby high point just to see what could be seen from its summit.
The written record starts with an unsuccessful climb in 1806. Capt. Zebulon M. Pike led a small military party to the extreme edge of the 1803 Louisiana Purchase. Camped beside the Arkansas River near present-day Pueblo, he decided to climb "the high point" to the north "in order to be enabled, from its pinical (pinnacle) to lay down the various branches and positions of the country."
He didn't get to enjoy the view, as deep snow and bitter cold forced his party to turn back on Nov. 27. Even so, his name became forever attached to the 14,117-foot peak.
Fourteen years later, the U.S. Army sent another expedition to the west edge of the Louisiana Purchase, this one headed by Maj. Stephen H. Long (for whom 14,239-foot Longs Peak, which he observed but did not climb, is named).
The expedition's botanist, Dr. Edwin James, led a three-man party to the summit of "the high peak mentioned by Captain Pike" on July 14, 1820. He marveled at the panorama:
"From the summit of the peak, the view towards the north-west and south-west is diversified with numerable mountains, all covered with snow," and "To the east lay the great plain, rising as it ascended until in the distant horizon it appeared to mingle with the sky."
Pike estimated the peak's elevation at 18,581 feet, while Long's party put it at 11,507.
Such hypsometric imprecision continued after the 1859 gold rush that brought thousands of prospectors deep into the mountains of Colorado. Patriotic miners in the Fairplay area named the highest nearby peak after President Abraham Lincoln. It was at least 17,000 feet high, they estimated, and there were rumors of even higher summits in the great ranges to the west.
To determine whether this was so, a class of Harvard mining students, equipped with barometers and theodolites, ventured in the Rockies in 1869, led by Prof. Josiah Whitney. If his name rings an alpine bell, it's because he had been head of the California Geological Survey in 1864 when it determined the highest point in the Sierra Nevada, and named the 14,452-foot summit Mt. Whitney.
In Colorado, Whitney's crew named one high peak, 14,406-foot Mt. Harvard, for the expedition's sponsor, and a nearby summit, 14,199-foot Mt. Yale, for Whitney's alma mater. Thus began the "Collegiate Peaks," and the Ivy League nomenclature enables me, a drop-out from a teacher's college, to state truthfully that "I have been to Harvard, and I went as high as it was possible to go there."
Whitney's expedition was followed by government surveys – Powell, King, Wheeler, Hayden – which came up with elevations pretty close to the modern values, which get adjusted as technology improves. By 1880 or so, most of Colorado's Fourteeners had been identified, though not all were named, and some were unclimbed.
It wasn't until 1916 that the last three – Crestone Peak (14,252), Crestone Needle (14,166), and Kit Carson Mountain (14,173)– were climbed. And in the following decade, only five ascents were recorded.
Those three, and nearby Humboldt Peak (14,055 and a much simpler climb), are generally reached from the South Colony Basin in Custer County on the east side of the Sangre de Cristo Range. According to the U.S. Forest Service, about 4,000 people a year now venture up there to climb.
"Traffic up there has increased at least ten-fold in the past 10 years," according to 69-year-old Gary Ziegler, who first climbed Crestone Peak when he was 15 years old and has since reached the summit "at least a hundred times."
Ziegler, who also ranches in Custer County, founded Bear Basin Packtrips in 1970, and climbed up there often because he was a licensed guide and outfitter before selling the business a few years ago.
Having so many people camp around the South Colony lakes without facilities meant that the alpine basin "was pretty rank, and people left a lot of stuff there." In the early days, "it was rare to see another person on the trail," but in more recent years, "there were ten parties on the summit register one day, and the day before there were 20. You can't really call that a wilderness experience."
This has not escaped the attention of the U.S. Forest Service, which has spent about $1 million in recent years improving the trails and a campground. The agency has also closed the last 2.7 miles of the Colony road, with the idea of reducing usage. And then there's the proposal, floated this spring, to reduce use and recover some of the cost by charging day-hikers $10 and campers $20. The fees could take effect by 2012
A fee to climb a Colorado Fourteener? There's already a charge for 14,047-foot Culebra Peak, which sits in the Sangre de Cristo range nine miles north of the New Mexico line. Climbers pay $100 for a chance at the peak, and $150 if they want to include a shorter neighbor. They pay because Culebra is private property, thanks to an old Mexican land grant, and the ranch owner also limits the number of climbing parties.
But all the rest of Colorado's Fourteeners are on public land (mostly Forest Service), although there have been issues because some popular routes cross private land.
Should there be user fees? The most prominent opponent of the "RAT" (Recreation Access Tax) may well be Scott Silver of Bend, Oregon, who is the executive director of Wild Wilderness.
"I can understand the need to limit access to protect the resource," he said, "but fees should be the last resort. They're not democratic. A lottery or first-come, first-served would be more fair."
Silver, like others I talked to, said that if fees were collected, they should be applied to the relevant area, although he sees a potential problem with that approach. "It gives the land manager an incentive to make the place even more attractive so he'll collect more fees. And what should be wilderness turns into something more like an amusement park."
But wilderness in and of itself may not be that much of an attraction, as Ziegler pointed out. "The view from Horn Peak (13,428 in Custer County) is as good as, or maybe even better than, the view from Crestone Peak, but hardly anybody wants to go there. They want to go to some place they've read about, a Fourteener, no matter how crowded it is."
Call it the Fourteener Aura, it attracts an estimated 500,000 people a year to Colorado's highest country. There aren't any exact numbers. People swipe summit registers or don't sign them, and may not sign in at the trailhead, either.
However many climbers they attract, the Fourteeners are the basis of an industry that goes beyond guides and pack animals, campground fees and motel rooms, to guidebooks, maps, picture books, "I was there" books, pins, decals, embroidered emblems, bumper stickers, posters and other material limited only by American commercial imagination.
"It's certainly a major part of our business," said Keith Baker, owner of the Trailhead, an outdoor shop in Buena Vista (whose Chamber slogan until recently was "Home of the Fourteeners," although now it's "8,000 feet above average.")
Buena Vista promotes summer whitewater sports in the Arkansas River, but "I hate to think how bad our summer business would be without our Fourteeners." The town sits in the middle of Chaffee County, which boasts a dozen such summits. "Last year we sold more Fourteener maps and guides, in dollar volume, than we did men's clothing." The best-selling map – more than 800 – was Trails Illustrated No. 129, which covers routes up seven Fourteeners.
The old mining camp of Alma in Park County has all of 275 residents and sits 10,578 feet above sea level at the foot of Hoosier Pass, making it the highest incorporated town in the United States. A few miles outside town are three Fourteeners: Lincoln, Democrat, and Bross. The trails cross mining operations that extend well above timberline.
Worried about liability if a hiker should tumble down a shaft or prospect hole, the property owners wanted the routes closed, and the U.S. Forest service complied in 2005.
The closures hurt Alma's economy, so the town responded by leasing surface easements over the mining claims, thus covering the routes under the town's insurance and removing liability from the property owners, who then re-opened the trails. "We were prepared to spend some money on this," town administrator Nancy Comer said, and it looked necessary after the town's original insurance carrier refused to renew the policy with the alpine trails.
But as it turned out, "we found another insurer, and it costs less than the old policy did, even with the added territory," she said. The surface lease runs all of $10 a year.
Like me, she had read somewhere that the Fourteeners accounted for ten jobs in Alma. She laughed. "They're important to our economy, no doubt, but I couldn't put my finger on those jobs."
Jim Little, publisher of the weekly Wet Mountain Tribune in the Custer County seat of Westcliffe, couldn't put a finger on the economic value of the Crestone group of Fourteeners, although "I know they're a big draw."
If fees were imposed and usage dropped, though, "I don't think it would make that much difference to the local economy. It would make the peaks even more special, and people would be more likely to make it more of a two- or three-day trip, rather than just come for the day. So you'd have fewer people spending more to climb those Fourteeners"
It took about a century for the Fourteener Aura to evolve, according to a 2002 article in the Geographic Review by Kevin S. Blake, professor of cultural geography at Kansas State University. That article, he said, will be expanded into a book scheduled for publication in 2012.
Initially, the attention went to individual summits like Pikes Peak, Grays Peak and Mount of the Holy Cross. But authors began grouping the higher summits, and 14,000 feet became the dividing line between the big peaks and the also-rans. They're tied to Colorado because it has so many, 54, when California boasts only a dozen, Alaska has about fifteen, and Washington just one.
The term "Fourteeners" first appeared in print in 1967, but really gained traction in 1978 with the publication of A Climbing Guide to Colorado's Fourteeners by Walter R. Borneman and Lyndon J. Lampert.
That book offers much more than mere route description; it also provides history and lore for the summits and their surroundings. "By referring to the profound influence of the mountains on the peoples of the surrounding regions and labeling mountain wilderness as one of the state's most precious resources, this book alludes to the importance of Fourteeners in national and state identity."
The Fourteeners thus form a big part of Coloradans' sense of place, Blake said. Although mountains cover only a third of the state, they define it – look at the state's license plates. Colorado is the highest state, and the Fourteeners are its highest places.
I have to confess that I felt very Colorado at 3 p.m. on Sept. 1, 1979, when I stood atop 14,440-foot Mt. Elbert (it was listed at only 14,433 then). There was no solitude; I climbed with two friends and it was a busy Labor Day weekend. But a couple of years later, it was just me and the dog looking down on Salida from the 14,157-foot summit of Mt. Shavano, and that's a cherished memory.
Geographer Blake went on to write that "The desire of so many to reach out and touch a Fourteener transformed what had been primarily the domain of the mountaineer looking for a technical climbing challenge, or the denizen of a mountain mystic seeking spiritual renewal, to the playground of the 'peakbagger.' Peakbagging implies that the mountains are collectibles and that the hikers are dedicated to completing all the climbs in a particular collection." Such dedication to collecting implies that people are willing to spend money, in addition to sweat, to augment their collections.
He sees the Fourteeners' popularity as leading to "an uncomfortable marriage of regulation and mountain mysticism."
And of course, there's money. But how much?
For answers, we can turn to Catherine M. Kreske, who holds a Ph.D. in agricultural and resource economics and teaches at Colorado State University in Fort Collins. Thanks to a couple of research projects based on questionnaires at trailheads, she may well be the world's leading authority on the economics of Fourteeners, although, as she freely confesses, "That has to be a very small field."
I freely confess that her publications in peer-reviewed academic journals are generally over my head, but as my one-time Denver Post colleague Bob Ewegen often said, "Journalism is the art of relentless oversimplification."
And so, greatly simplified, here are some of her findings. The average amount spent on climbing a Fourteener in 2005 was $337.58 per group, per trip. That breaks down to $178.78 per group per day, and $107.18 per person per day. The greatest expense categories are restaurant food, gasoline, and motel rooms.
Fourteener spending is relatively recession-proof; it barely budged after the 2007 economic downturn. A user fee of $70 per climber would reduce Fourteener traffic by about 20 percent.
When it comes to questions about how much they'd be willing to pay for access fees, climber answers come in two groups – those willing to substitute another hike if they thought their planned outing cost too much, and those who'd pay the tab. Moving the substituters to another trail would require, on average, an $88 fee, whereas the non-substituters would be willing to pay, on average, $294 for their preferred Fourteener.
And they could afford it, since "Fourteener visitors are predominantly male, high education and high income" with a median annual household income of $85,000.
So they're unlikely to be perturbed much by user fees for the peaks, and as for less fortunate economic segments, they aren't much of a presence now.
To put it another way, a sore ankle had me sitting in a camp chair one afternoon last summer while my wife and a friend walked the dogs on the Colorado Trail. We were parked at Blanks Cabin west of Salida, which is also the trailhead for Mt. Shavano. I saw late-model Subarus and sport-utility vehicles. I did not see any busloads of inner-city kids brought in by the Colorado counterpart to New York's Fresh Air Fund. And there weren't a lot of folks in army surplus driving beater pickups, either.
So in a sense, arguing that Fourteeners should be free is sort of like arguing that the public should support fields and stables for polo players.
Their very popularity makes them expensive to maintain. To restore vegetation in trampled areas on Mt. Elbert in early 1992, the U.S. Forest Service used a helicopter to haul four tons of home-made compost up the mountain, with crews spending weeks to spread it and build small check dams to fight erosion.
The Forest Service doesn't have the funds to do much of that kind of work, and private volunteers have stepped up with the Colorado Fourteener Initiative, based in Golden. Since 1994, it has worked closely with the Forest Service to identify the places most in need of repair. Every summer, trails get re-routed and rebuilt, unsustainable routes are closed and restored, fragile tundra gets patched and eroded spots are filled in. There are "peak stewards" and hiker-education programs.
But will that be enough? Even when people "take nothing but pictures and leave nothing but footprints," those footprints do add up. As former Colorado Gov. Dick Lamm and many others have put it, the Fourteeners "are being loved to death."
There have been efforts to dilute the attention by focusing on other summits. My friend and colleague Allen Best (we've climbed several Fourteeners together) once proposed grouping by something besides altitude – for instance, going for all the Bald Mountains or Bear Peaks. That essay inspired George Sibley of Gunnison to find and climb a triple divide, an otherwise obscure 11,863-foot summit in Saguache County that drains into the Arkansas, Gunnison, and Rio Grande (with some help from the U.S. Bureau of Reclamation).
Some newer climbing guidebooks expand the elevation range. There's one for the "High Thirteeners" (those over 13,800), and there are lists of "Colorado's Centennial Peaks" (the top 100) and "Bicentennial Peaks" (top 200).
And if we went by the metric system and borrowed some military lingo, we could have "four-click peaks." There are about 550 summits in Colorado that are at least four kilometers (13,123 feet) above mean sea level. That is, for every Fourteener, there are 10 Fourclickers, and that might be enough to defer, for a few years anyway, the fees and use restrictions that otherwise seem inevitable when so many people want to get high – the natural way.
Ed Quillen of Salida is nearly 60, so he figures his next fourteener will be Pikes Peak, via the cog railway. Dan Downing viewed the world through the ground glass focusing screen of a wooden view camera, a technology developed in the 1800s, until just recently when digital technology proved worthy and seduced him to the dark side. Also a pilot, he loves to view the landscapes he has photographed from above, a perspective that few get to experience. His earthbound imagery is all printed in black and white, a medium dear to his heart since he was a child. His aerial imagery is printed in color, not only to separate it from his land based work, but because the radically different viewpoint seems to demand it.