Article by Columbine Quillen
Local Artists – January 2005 – Colorado Central Magazine
THERE ARE MANY ARTISTS IN Salida, but there are probably very few who focus more on their materials than on the finished product. Tami Sheppard happens to love beads as much, if not more, than beading. "I have a real passion for beads," she says.
Tami moved to Colorado from Prescott, Arizona with her husband Duke. They were high school sweethearts, who moved from Missouri to Arizona in the early 1990's.
Then, "Duke was taking a class in whitewater rafting and he had to go to Salida. He called me from the payphone on the corner (of First and F) and told me that I should come open up a bead store in a space that was for rent."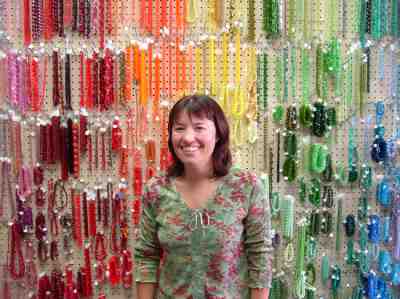 Beads were nothing new to Tami. Although she originally went to school as a music major, she soon decided that she would rather be a cosmetologist, which she was for over five years — three of them in her own salon. But she ended up working in a bead store after she moved to Arizona.
"That's when the passion really struck me. I also started doing intricate bead weaving when I worked at that store."
Tami moved to Salida and rented a storefront at107 F Street where she opened Beadsong in 1995. "When I first opened, I had about a tenth of the inventory I have now. I had no employees and I worked seven days a week. Then I learned that maybe I only had to work six days a week."
Tami buys beads from all over the country — always trying to get the best quality for the best prices. She goes to a couple of wholesale shows a year; there's a major show in Chicago, and this year she hopes to go to the Whole Bead Show in New York City.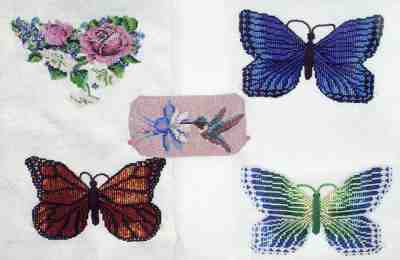 Although Tami still does some beading, she is more interested in making glass beads. "I have gone back to doing simple beading. To weave a small intricate amulet bag can take twenty to thirty hours, so now I'm really into lampwork beads. Even Duke likes to make beads so we made some together last winter."
To make a lampwork bead you need rods of glass, which you can buy at most bead shops, including Tami's. Using a torch, you melt the rod around a steel mandrel, in order to leave a hole in the center. Depending on what you want the bead to look like, you layer different colored rods onto the first layer until you achieve the design that you want. After creating the bead, it is fired in a kiln so that the glass reaches maximum strength and isn't likely to crack. "My kiln is made out of an old toolbox, so it isn't anything fancy," Tami says.
Tami's beads have a simple elegance. The colors are brilliant without being bright. She also puts colors together well so that they're not obnoxious or clashing. She has an eye for excellence and symmetry, and each bead is its own little masterpiece. Tami sells her beads at her store.
But Tami's isn't the only art on display at Beadsong. Alongside the thousands of beads on the walls, she displays other people's beaded pieces. She also showcases other artist's glass beads and necklaces, bracelets, and earrings.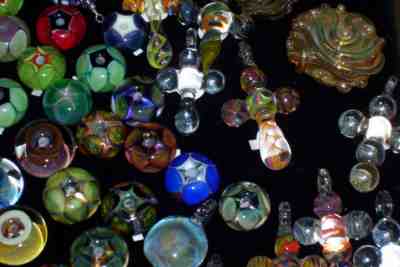 One artist who displays her work at Beadsong is Martha J. Lane, who creates intricately beaded butterflies which are masterpieces of design and color. Martha was a commercial artist in Los Angeles, working at a company that incorporated artwork into glass and plastic containers; some of their clients were Grey Poupon, Revlon, and Coca Cola. But in Southern California there was a lot of stress and pollution in her life.
"I became permanently disabled and decided to move to Salida for a low-key, low-stress, low-pollution lifestyle," she says. Martha had never beaded before she moved to Salida. "I was taking my mom to the dentist's office next to Tami's shop and I went in. I had never known there was anything like that before; I didn't know anything about beading. A lady at Wal-Mart taught me some basic stitches, and then Tami taught me some things. And I found I had a natural ability for it."
Martha likes to make her own patterns. Only one of her butterflies is a realistic depiction of an actual species; it's the Monarch butterfly that's on display at Beadsong.
To create a butterfly Martha uses bead graph paper and colored pencils to diagram the design. Then she stitches together tiny beads to make two wings and a body, which are two-layered; then she sews the wings onto the body. A butterfly takes about forty hours to make, and Beadsong is the only place she shows her work.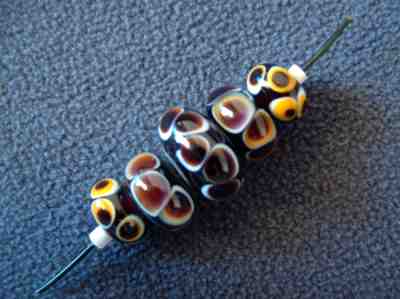 ANOTHER BEADER who displays her work at Beadsong is Jessica Lessard. Jessica does all types of beading: bead weaving, pearl weaving, beaded bags, beaded clothes, earrings, necklaces, and chakra pieces. "I've always loved beads and when I was thirteen I started collecting them. In college I took a beading course to learn how to use a needle. After that I've just taught myself by experimenting and seeing other beadwork."
The only pieces Jessica is currently showing at Beadsong are her beaded people pins. The pins are created entirely with beads using a threaded needle. They have hair, or dreadlocks, or no hair, and hands and feet, all made of beads sewn together using tinier beads. Jessica also has work in Colorado Springs at the BAC Gallery and she sells her pieces at art shows around Colorado.
Tami prefers the bead store business to the art show business. "I like the business end of a bead store. Duke and I both beaded and did some shows, but I prefer the store. I like the feeling that I can add something to the community."
In the future, Tami hopes to have a bigger space with a classroom area where she can teach lampwork and hire other teachers to offer other classes. She also hopes to expand her inventory.
As for her own artwork, it comes second. "I like to make jewelry more for pleasure than for money. Usually, after I spend a lot of time on a piece, I want to keep it or give it away as a gift; it's only when I have no feeling for it that I can sell it."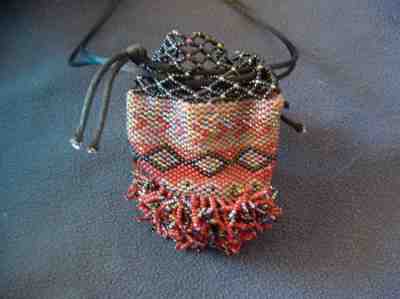 Tami welcomes everyone to drop by her store, "A lot of people come into the store and are really curious. They see how simple it is to make something, and then they get hooked."
You can get hooked at Beadsong, too. It's at 107 F Street, Salida, 719-530-0110.
Columbine Quillen makes beaded jewelry, and still gets some of her raw materials from Beadsong, even though she moved to Bend, Oregon in October.