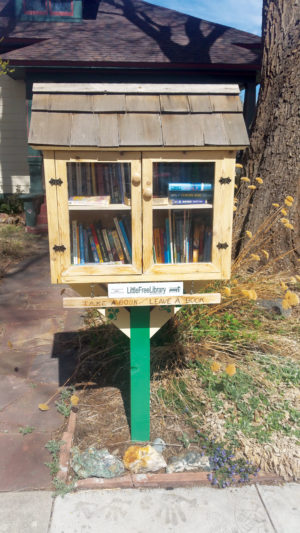 By Tom Senkus
Perhaps you've seen them on a stroll through your neighborhood. Housed in what appears to be a posh birdfeeder that could douable as a listing on Airbnb are miniature libraries, often with the tagline, "take a book, leave a book." Inside are often a large number of books: used paperbacks, children's magazines and best-sellers, all looking for curious readers and a temporary new home. If a book in particular strikes your fancy, simply take it. No library card needed.
These free community book exchanges are more than a way of dumping off your old books. They serve as a way of bringing together your community via the written word, extending a community's literary sensibilities to the populace – not to mention that they make a great way to spruce up your home with functional design. Book exchanges are an altruistic notion of our society's zeitgeist, reflecting just how Central Colorado is evolving its special way of bringing people of all ages together under the enjoyment of reading. Best of all? Free books!
Where'd They Come From?
The most common of these free community book exchanges is known as "Little Free Libraries." Beginning in 2009, a Wisconsin man wanted to honor his mother – a former schoolteacher – with a replica of a one-room school house, filled with used books that anyone could take. Soon, word got around and the idea spread like wildfire, growing from its humble origins into an official non-profit organization. Today, officially-registered LFLs number in the thousands world-wide, including locations in France, England and as far away as China.
Central Colorado has a fair number of LFL's. A partial list includes Cañon City, two; Florence, one; Leadville, one; Salida, three (one unregistered).
What's Actually in a Little Free Library?
As an example of what's contained in an LFL, here's a partial breakdown of the contents located in front of KHEN 106.9's broadcasting headquarters in Salida:
The Secrets of Harry Bright – Joseph Wambaugh
All I Really Need to Know I Learned in Kindergarten – Robert Fulghum
The Moneychangers – Arthur Hailey
Mountain Hideaway – Christy Barritt
QB VII – Leon Uris
Sandstorm – Michael Asher
The Eagle and the Rose – Rosemary Altea
What to Expect: The Toddler Years – Eisenberg, Murkoff and Hathaway
A Journey to the Northern Ocean – Samuel Hearne
Beard on Bread – James Beard
Bel Canto – Ann Patchett
That's quite an assortment of literature! (For those who are curious, the entire collection is worth over $100 when compared to similar condition items at online retailers.)
What's best about LFLs is that they naturally foster further community involvement. For instance, KHEN's book exchange contains not only the aforementioned books, but also printed handouts for their broadcasting schedule in the accompanying side pockets. It is not uncommon for other book exchanges to also contain toys and city guides.
How to Get Your Own Library
Curious about bringing an LFL to your community? Creating your own community book exchange is a simple as nailing together a weather-proof enclosure (if it will be place outdoors) and filling it with books. If you're not the handy type, you can even purchase a pre-made LFL directly from the organization. Prices range $150 and upwards, but they come with a free registration.
However, if you'd like to get officially registered with Little Free Library (one-time fees start at $42.45), you gain access to a network of benefits. These benefits include becoming officially recognized as a "steward," receiving a unique charter number and the rights to use the Little Free Library name.
In addition, LFL has a partnership with First Book, a program that offers access to brand new, deeply discounted books for stewards in low-income areas.
For more information, be sure to visit Little Free Library's official website at www.littlefreelibrary.org. Happy Reading!
Tom Senkus is a Florence-based freelance writer with a particular love of bathroom graffiti and street performance. He's the author of The Guide to Busking, an anecdotal account and erroneous how-to method of playing music on the street for a living.