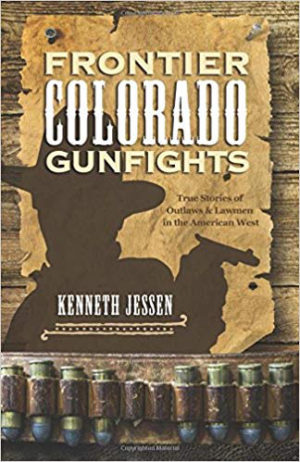 Frontier Colorado Gunfights
True Stories of Outlaws and Lawmen in the American West
by Kenneth Jessen
J V Publications, 260 pages
ISBN 978-1-928656-12-8
Reviewed by Forrest Whitman
Readers of this publication have come to expect careful and detailed historical writing from Kenneth Jessen. His new book lives up to that standard. Jessen describes gunfights and shootings in thirty one cases and clears up mysteries about some of them. My only criticism is that the book lacks context about the situations that led to the shootings.
When it comes to Jessen's clearing up mysteries, a good example is Charley Harrison. He was a partner in a famous Colorado saloon, the Criterion. Myths abound about this gambler and killer. Jessen's story clears up Harrison's killing of "professor" Charles Stark. The Rocky Mountain News accused Harrison of wantonly killing "Professor" Stark. Was that true?
Jessen shows that Stark (a black man from Missouri) threatened Charley first, with a knife in hand. But did Charley have to shoot Stark six times? What was the context here?