By Mike Rosso
Since 2006, a group of volunteers named Salida Mountain Trails (SMT) have been steadily increasing the number and quality of non-motorized, multi-use trails in the Salida vicinity.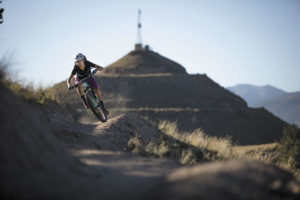 The latest addition to the extensive trail system harkens back to the early days of mountain biking in the area. Back in the 1980s, mountain biking was beginning to be taken up by more and more riders. It offered an off-road, nature-based experience. Two early Salida pioneers of the sport, Don McClung and the late Mike Rust, developed a loop trail on the backside of Tenderfoot Mountain on Bureau of Land Management property. It was steep, rocky and challenging, especially in the pre-suspension days of the '80s, and named The Sunset Trail by another early Salida mountain biker, Jack Chivvis.
McClung, a bike designer and builder, began riding what he called "a faint animal game trail," in a 1988 Mountain Mail story about the mountain biking opportunities which were opening up back then. Unfortunately, the original trail disappeared in private property and was eventually abandoned as new, legal trails began popping up.