Article by Marcia Darnell
Artists – December 2007 – Colorado Central Magazine
"If I come in here and say, 'I've discovered something that will change the face of art forever!' and you don't give a flying monkey's crap about it, you don't have to be part of it!"
That was Denny Wallace, aka The DenMan, joyfully declaiming his view of The Art Thing, a highly organized, chaotic, functional, casual, and highly fluid art coalition based in Monte Vista.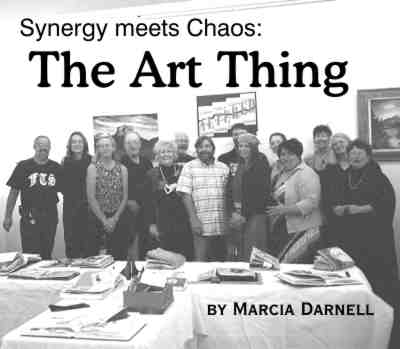 I was introduced to the group at one of their irregular meetings recently, an affair involving 11 artists, a mass mailing and a yummy potluck buffet.
"Rule one for this group is no Robert's Rules of Order," explained founder Jane Rhett during a rare lull in the cross-conversations. "The other rule is there must be food!"
Membership in The Art Thing numbers around 30, with meetings about every three weeks, depending on projects, art shows, and schedules for day jobs. Every meeting is a potluck.
"We experiment on each other, foodwise," said Rhett.
In addition to The DenMan, who is a potter, the basic group includes his wife, Laura Murphy, fibers, papermaking/bookmaking, painting; John Patterson, metal sculpture, poetry; Jane Rhett, beadwork; Laura Lunsford, writing and dollmaking; Crystal Mascarenas, fibers and pottery; Evelyn Sprouse Rowe, painting and jewelry, and her husband, George Rowe, furniture; Mary Walsh, fibers and pottery; Jan Brock, painter; Roger Schlagbaum, woodworking, and his wife, Marian Schlagbaum, ceramics; Lynne Toepfer, painting and leather work; and Sharon McCoy, pottery.
"That's the core group," said Lunsford (featured in Colorado Central, April '06). "There are others who flit in and out, but these are the ones who hold it all together.
"It's not just for visual artists," she said. "We have writers and poets, too."
The group began in 2002 when Rhett, new to the area, attended the Harvest Festival and met Laura Murphy, saying she'd like to meet other artists. The Art Thing mushroomed from there, growing into a staple of the San Luis Valley art community.
Despite their loose rules and casual meetings — those gathered in Rhett's house were sprawled on furniture or the floor, in shod feet, socked feet and bare feet — the group accomplishes a lot, from arranging shows to teaching classes to inspiring each others' work. Members can bring in work for critique, or draw on the others' talents to make something new.
"One project we did was to pull member's names out of a hat and do a portrait in whatever medium we chose," said Lunsford. "Those portraits ended up in a show."
Participation in all projects is optional.
The Art Thing opened a show Oct. 6 at the Rio Grande County Museum in Del Norte that runs until Dec. 17. Titled "Altered," the exhibits include individual works by members as well as themed works of altered books.
"Each of us got a book and set a parameter on it, like 'travel,' or 'money' or 'only put in drawings,'" explained Rhett. One book had the theme of "wood," another was "erotica." Each participant added something — a drawing, diorama, or collage — to the books.
The rest of the show is members' individual works. Lunsford is showing some of her award-winning dolls. At the opening reception, she was even wearing one, a mermaid designed as a case for her eyeglasses and business cards.
Rhett's beaded dolls at the show are functional — each is a bag, with the clasp concealed in the doll's head. Her "found art" pieces are inspired. "Fall Venus" includes wheat she grew herself.
Crystal Mascarenas wove during the show's reception, making it an "active art" show.
Evelyn Sprouse Rowe showed some of her watercolors, which are multimedia creations. "I use paint, glue, fabrics, collages," she said. "I like to stay colorful."
Her husband, George Rowe, came to the show in support, although he didn't present any work. "I don't have anything here,' he said. "I procrastinated, but I'm here for the group."
Perhaps the most moving piece is Laura Murphy's "Miscarried Memories," a tribute to her five lost children. She cut embryos out of a baby quilt given to her during one of her pregnancies. The "babies" lay on the floor under the exhibit. Around the edges of the quilt she wrote the misguided but painful things people said to her after each loss.
"It was therapeutic for me to do this," Murphy said.
Rhett did the primary work to organize the show, "but everyone pitches in, always," she said. "The shows spark creativity, which generates more art, then we're ready for the next show," she explained.
Members say they benefit professionally from their association with The Art Thing. Since its inception, every artist has had a feature article, a show or a sale. That boon is in addition to the intangible plus of drawing on the group creativity.
"It's very inspiring," said Marian Schlagbaum.
"They keep me doing it," said John Patterson, who created the whooping crane sculpture in Monte Vista's business district.
"It makes us do stuff we normally wouldn't do," said Lunsford.
"I wouldn't go into my workshop at all without it," added George Rowe.
One member lives in South Fork, and a couple come from Alamosa, including David Guerrero, a photographer. The rest are based in Monte Vista.
"It's not competitive," said Lunsford. "Everybody helps everybody, even Denny."
"Our group has great diversity," Rhett said, "but we stick together. We have no bad words, no hard feelings. It's like a family."
Several members have joined the Monte Vista Chamber of Commerce and helped organize a recent street festival with an artwalk. The group creates synergy with the community, which generates even more inspiration.
The Art Thing has a large part in planning Monte Vista's Holiday Festival this year, and the meeting got serious when the members discussed the logistics of exhibits, contracting with a bus company for shuttle service, and getting a tax ID number.
The group has raised cash in the past through rummage sales and donations, but they've decided to get real and register with the state. They'll even start paying dues! Members chimed in with offers to help with accounting, legal help, and logistical planning.
The Christmas show will offer art at six to ten different locations in town, with hands-on art stuff for kids, thus passing on a love of art to a new generation.
The Art Thing is also planning a map of art galleries, schools, and studios in the Valley. Discussion of this included printing costs, marketing, and sales. The group also mentioned its website, which is constantly changing.
The conversation flew, from projects in progress, to upcoming classes, to who has the master list of art groups in the San Luis Valley.
"Good cake," added The DenMan, chomping on a hunk of coconut baked delight.
The meeting segued into prep work for the new show: gathering info on what will be displayed, with titles, dimensions, and bios.
"And we need to talk about food," Rhett reminded the group.
The next meeting was scheduled and the group talked about a possible fundraiser for the public radio station — miniature easels adorned by each artist.
Sounds inspiring.
For more information on The Art Thing, call Jane Rhett at 719-852-5210, or check out www.theartthing.net.
Marcia Darnell lives in the art-rich San Luis Valley.