Brief by Central Staff
Recreation – May 2006 – Colorado Central Magazine
If your idea of a vacation is a few days of hard work at high altitude, you have plenty of opportunities to enjoy yourself in the mountains this summer.
The Colorado Trail runs for about 470 miles from Denver to Durango, and it always needs work that ranges from maintenance to rerouting with new construction. The work is done by volunteers, who must be at least 16 years old and in good physical condition.
They supply sleeping bag, pad, tent, eating utensils, work clothes and personal items. The Colorado Trail Foundation and the U.S. Forest Service provide food, cooking utensils, hard hats, tools, and supplies. Registration costs $50 for a week-long workout, $25 for a weekend session, and $15 for a day outing. More information is available at 303-384-3729 or www.coloradotrail.org.
Scheduled sessions in Central Colorado this summer include weekends at Kenosha Pass June 23-25 and July 7-9, and at Blank's Cabin west of Salida June 30-July 2.
Week-long trail work is scheduled around Mt. Elbert June 17-24, July 24-July 1, and Aug. 5-12; Raspberry Gulch near Mt. Princeton July 1-8; Lost Park in South Park July 1-8; and Cochetopa Creek July 8-15.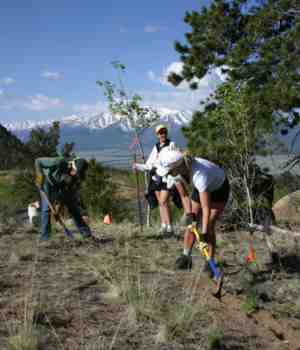 If you want to go to a higher level with your outdoor volunteer work, the Colorado Fourteeners Initiative offers some chances to toil on trails up some of the state's 14,000-foot peaks this summer.
In Central Colorado, 14,421-foot Mt. Massive will get the attention. Due west of Leadville, it is the state's second-highest peak, and CFI plans to work on the big mountain's east approach this summer. Portions of it will be re-routed "around wet or steep fall-line areas," and "Restoration will be needed to close and restore portions of the existing trail that are eroding and unsustainable. Volunteer projects may include new trail construction, restoration, and trail maintenance."
Sessions are scheduled June 23-25, June 30-July 4, July 21-23, July 28-30, Aug. 4-6, Aug. 11-13, and Aug. 18-20. Volunteers must be at least 18 years old (or 14 if accompanied by a parent) and in good physical condition. Volunteers provide camping equipment and transportation; CFI maintains a base camp with "hearty food, ample water, tools, and instruction." To enlist, visit www.14ers.org/volunteer.
If you want to stay lower and closer to a town, but still work on a trail, Volunteers for Outdoor Colorado will be extending the Davis Meadow Trail in the Fourmile area northeast of Buena Vista on May 6 and 7.
Davis Meadow is the first designated non-motorized trail in Fourmile, and the plan is to spend two days "moving boulders, building switchbacks, completing new trail, and closing old road."
VOC wants 125 volunteers, aged 12 and up. They can participate on one or both days, and camping space and meals are provided. To join the project, visit www.voc.org, or call 800-925-2220.