Article by Marcia Darnell
Marketing – January 2008 – Colorado Central Magazine
THE MARRIAGE was brief, just two years, and the divorce is amicable, if a little painful.
Alamosa's marketing district, chamber of commerce and tourism board merged in late 2005, with the intent of pooling resources for a common goal: improving Alamosa's business climate and attracting more visitors.
Colorado Central covered the merger in August 2006. At that time, new econ guru Debra Goodman said the plusses were overwhelming, from saving on brochures to staff to website work. "It's good to keep things under one roof," she said then.
The groups have split the sheets now, and Goodman is the executive director of the Alamosa Convention and Visitors Bureau, where she and her two staff members focus only on bringing in tourists.
"We thought there was a lot of duplication. We were wrong," she said of the entities. "We still work together, but with different duties, like different job descriptions in an organization."
Goodman in November was knee-deep in hosting duties for a convention of the North American Falconers Association, which brought 300 to 350 people to town for a full week. She was busy coordinating fun and transportation for conventioneers and their families and organizing a booth at the event promoting the area and handing out coupons and other sales materials. Private property owners were on board, too, offering their lands for hunting grounds.
"This is huge," she said. "This is pumping about $400,000 into the local economy."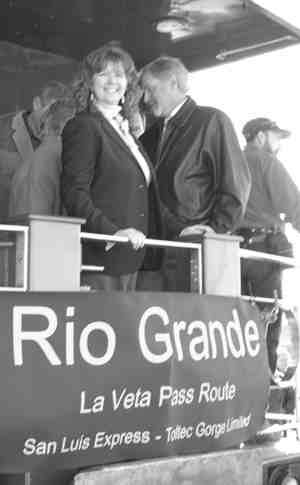 There will be a written agreement between the Chamber and the Convention and Visitors Bureau (CVB) and marketing district. "We bring the visitors to town," Goodman explained, "and the Chamber coordinates the businesses to take care of those visitors."
For example, the falconers convention: Goodman bid on the convention and organized it. The Chamber made goody bags and got businesses involved with the visitors.
The groups will coordinate major events together. "We'll focus and specialize," as she put it.
The entities will also share the local promotional website, www.Alamosa.org.
The convention and visitors bureau is still in the old depot at Cole Park in Alamosa, while planning a move to the new depot on Sixth Street. The CVB bought the building from the Department of Social Services, which is still looking for a new home. However, that location is already on the state tourism map as a visitors center ("The dot's on the visitor's guide," as she put it), so a site will be in place next summer.
The depot serves the Rio Grande La Veta Pass train, an ideal spot to help tourists. The railroad expects to ferry 30,000 riders next year, so all the local entities will have their hands full.
Roni Wisdom, president of the Chamber of Commerce board, is excited about the change.
"We have a very good, active board, and we're excited about the new possibilities," she said. "We'll keep the partnership with marketing and tourism, and the Chamber may move to the new depot when it's ready. We need each other, but having a single director was more than we could do."
Wisdom is pragmatic about the failed merger.
"When it was created it sounded like a good idea," she said. "It was a very good idea in concept, but we had two diverse markets. Debra is a very good marketer. But our funding comes from our members, and we have to make sure the Chamber members are happy. Tourism is wonderful but seven months of the year we have to deal locally. It was an interesting dichotomy, and it was pulling Debra in different directions. We wanted to be able to give our members maximum attention."
THE CHAMBER OF COMMERCE is hiring a new director, and is planning to offer its members access to inexpensive group health insurance through a couple of local agencies. The Chamber is also focusing on education programs. "Everything from Quickbooks to marketing, to how to deal with the big boxes," said Wisdom. "This is going to work out well."
Among other econ entities, the Alamosa Downtown Merchants Association and the Alamosa Uptown and River Association are working on plans to develop Sixth Street. There's even talk about a special election to increase the mill levy on commercial properties to pay for improvements.
Terry Smith, president of the marketing district board, is also upbeat about the change. "I think it will be a positive thing," he said. "We're hoping to maintain a close relationship as we have in the past with the Chamber. Each board will now give a little better attention to their particular needs. We may continue to share some responsibilities, such as the website."
Goodman reports to the marketing district board, and Smith said he's happy to have her focus.
"I think the marketing board has done really well and we're excited about the potential of having somebody dedicated full time just to marketing."
Goodman doesn't regret the experiment — even though it failed. "I got a really good understanding of the missions and priorities of each group and the most effective ways to accomplish those goals."
For now, she's working on sales and promotion of the San Luis Valley. "I promote culture and nature, the Valley's biggest selling points," she said. "Open space is a big part of that. We haven't built condos on top of everything here.
"Tourism is good, green, economic development. We're selling fun."
Conventions typically take three years to sell and plan. "Most organizations know now where they're meeting in 2010," Goodman said, and groups contact CVBs for info to plan gatherings, so having one is critical.
"Now we'll have that brand identity," she said.
Goodman has bought a house in Alamosa and plans to stay. From Gunnison, she came here often when she was growing up.
"I love this valley. This is a perfect fit for me," she said of her new home and job. "The sense of focus I have now is better. The scope of work I had was so broad I couldn't focus well. Now I can provide better services for Alamosa."
Marcia Darnell lives, writes, dines, and shops in the San Luis Valley.