By Mike Rosso
The San Luis Valley is known for its agricultural products, among them potatoes. So it was only a matter of time before somebody came up with the idea to use this abundant, tuberous crop and distill it into a spirit beverage. The result is Wood's San Luis Valley Colorado Potato Vodka, distilled and bottled in Salida, and the first of its kind in Central Colorado.
P.T. Wood and his brother Lee opened Wood's High Mountain Distillery in December 2012, offering locally-made whiskey and gin. After talking with a few SLV potato growers, P.T. decided to try making vodka.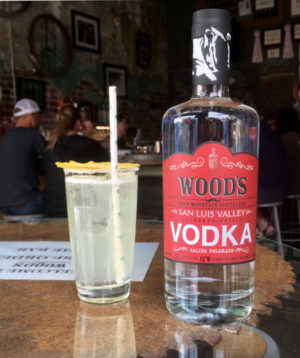 "I remember my brother having a really great bottle of soviet-era Russian vodka back in the day, that I really liked, but had never found anything else like it and was hoping to come close." he said.
The distillery now has an arrangement with a potato grower in Center, Colorado, who delivers the sustainably-grown taters, in a dry and granulated form, directly to Salida. The process is relatively simple: "Basically, we make about 500 gallons of mashed potatoes, add yeast, let it ferment for four or five days, then distill it once in our pot still and two more times through our column still, reaching a proof of 191.5, then add water to bring it back down to 80 proof and bottle it," said Wood.
They use about 800 pounds of SLV spuds and fifty pounds of malted barley in each batch. Asked to describe how potato vodka is distinguishable from grain vodka, Wood explains, "It has a thicker mouth feel, a wonderful, slight sweetness and none of the ethanol burn. He also noted that David Matthews, head distiller at Woody Creek Distillers in Basalt, "has been really helpful" in the process of getting the product to market.
Speaking of the market, Wood's vodka can be purchased off the shelf at the downtown Salida distillery or at liquor stores statewide. You can also order a vodka-based cocktail at the bar, but P.T. hasn't quite decided upon the perfect potato cocktail just yet: "I have to say, I am mostly just sipping it straight and geeking out on the subtle flavors."
Za Zdarovje!