By Tyler Grimes
Photos by Beth Johnston
The conference at Joyful Journey Hot Springs near Villa Grove was at capacity. People of all ages came to share seeds, offer gardening tips and celebrate the upcoming growing season. The Sprout Cafe offered organic concessions and Joyful Journey's 42-foot grow dome was open for tours. Beekeeping information was provided and the Saguache Library presented books and documentaries on gardening and local food. All were part of the third annual San Luis Valley Seed Exchange on Feb. 16.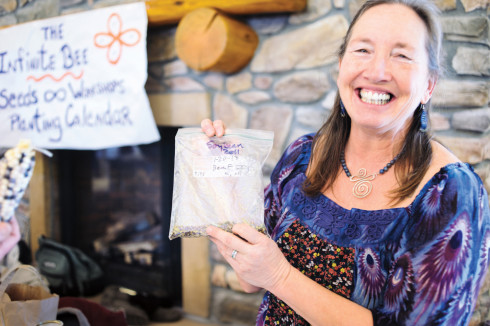 Event organizer Leigh Mills started the exchange three years ago as a seed giveaway in Crestone and Saguache. "I was part of a community garden over at Saguache," recalled Mills, "and I was able to get all these free seeds from different companies and I just gave them away." The giveaway was such a success that Mills gathered community support for a seed exchange the following year. In 2012, Cho Ku Rei Ranch of Crestone, with Mills' assistance, hosted the exchange at the Moffat High School gym. This year Mills, with her company, the Infinite Bee, was hosting again, and the event drew more participants than ever.
Mills has learned through the seed exchanges that many people have their own gardens, but seeds are often the missing link. "People are reliant on buying seeds from other companies," said Mills. "So many seed companies are being consolidated and bought out by the huge corporations to take the seeds out of our hands." Mills' vision is a "revival of seed saving, so we're not reliant on corporations for our food or our seeds."
According to Mills, most of the San Luis Valley is a food desert. "If all transportation were cut off, could this community feed itself?"
Mills offered a few book suggestions that helped her when she was new to gardening and seed saving: Shane Smith's Greenhouse Gardener's Companion; Carla Emery's Encyclopedia of Country Living; Seed to Seed by Suzanne Ashworth and The Secret Life of Plants by Peter Tompkins and Christopher Bird.
Vendors of the Seed Exchange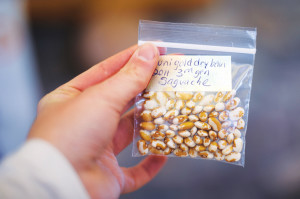 Karen Lemke of Alamosa had a booth with information on beekeeping. She says she sees herself as a "mentor to new beekeepers." Lemke creates homes for bees not only for honey, but to provide a home for the pollinators. Lemke is teaching a beekeeping class on March 16. If interested, email SLVWannaBee@gmail.com.
Blue Water Alchemy showcased its ORMUS alchemical salts, which utilize Bokek premium Dead Sea Salts to make high energy water. The water is atomically structured to be a conduit to the "subtle energy realm." Representative Scott Stevens told listeners that ORMUS would help in any aspect of gardening. More information can be found at bluewateralchemy.com.
Nathan Albertson represented Urban Friendly Farming out of Colorado Springs. "I live in the 'burbs, but all of my yard is used for growing or pollinating," said Albertson. "And it's all legal." Albertson keeps a blog to share tips with other urban farmers at urban-friendly-farming.blogspot.com.
Stirling Freeman came from the northern Front Range to share seeds and bring her knowledge of wildcrafting – finding and harvesting wild herbs. Freeman takes those herbs and makes essences, which communicate to the central nervous system on a vibrational level to promote health and wellness.
Additional resources for aspiring gardeners and seed-keepers:
sanluisvalleylocalfoods.blogspot.com
shumei-na.org
coloradogardening.com
www.extension.colostate.edu/chaffee/mast/mast