By Anne Marie Swan
Just north of Salida, Dawn and Curtis Emel are living their childhood dream of creating an animal sanctuary. No exotic animals here. No lions or tigers or giraffes to admire from a distance. Instead, Pearl's Sunrize Sanctuary is closer to a petting zoo for 12 birds, four dogs, 23 cats, two sugar gliders, two ferrets and more, in and around their 800-square-foot cabin.
"We provide a forever home," Dawn Emel said. "They're here with us for life. I told Curtis, we may have to get rid of the kitchen table."
I open the cabin door to a delightful cacophony. A parrot catcalls me when I step in, and silky gray cats weave between my ankles. This sanctuary is a little hectic, a little zany. Dawn hands me a sugar glider, Icarus, with soulful, brown-marble eyes. Icarus climbs my arm, tickling me, and I'm instantly charmed. I transcend time while playing with this sugar glider. I seem to have left my worries and hectic schedule outside the cabin door. Pearl's Sunrize Sanctuary is a light, happy fun house full of animals to love up.
"It's like having tons of two-year-olds," Dawn said. "We're constantly cleaning up after them. We love it. We wouldn't trade it for the world."
Fourteen cages and two enclosures house the critters, and this is just inside. The Emels' birds include a Green-winged macaw, an African Gray parrot, a Black-and-gold macaw, an African Ringneck parrot and a family of cockatiels that weren't fed properly and, generally, ignored. All are thriving at Pearl's Sunrize Sanctuary. It's common to hear an expert rendition of R2D2 from "Star Wars" and meows and submarine sounds and thank yous around the room.
The Emels were quite a sight on the road when they hauled most of their rescued animals from southern Oregon, outside Klamath Falls, to Salida. When their car broke down in the Nevada desert, the birds made the most of it by singing French music by Pierre Felere in the moonlight.
Sadly, the Emels lost their favorite pet, a Goffin cockatoo named Pearl, and the sanctuary's namesake, on the trip. "Pearl would have been the ambassador," Dawn said.
Pearl had a personality that was just a bit too large for her owners before the Emels. Pearl screamed until people returned to her, but the Emels fell in love with her. This cockatoo sat on Curtis' shoulder and poked the side of his cheek to redirect him to where she wanted to go. She was a trickster, ornery sometimes with other birds, and an instigator who loved '70s music. This was evident in the way she moved her wings to the music. Pearl knew how to get down.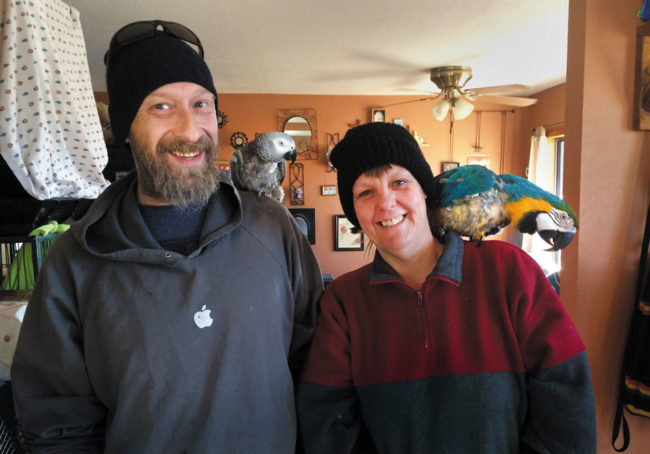 "She was the craziest little bird," Dawn said, fondly.
Curtis takes me outside to Pearl's gravesite topped with a little porcelain angel inside an outdoor enclosure with cats lounging and stretching on warm rocks. Cages for rabbits line the fence of the enclosure. Curtis begins another story about Pearl. But his voice cracks and he takes a moment to wipe his eyes. This affection and care for unwanted animals at the sanctuary is all for the love of Pearl. The little cockatoo's spirit here is evident and everywhere.
Dawn's parents check on the animals when the couple goes to their other Salida jobs. Dawn is a business office specialist at Heart of the Rockies Home Health and Hospice, and Curtis is a prep cook at a local restaurant.
On the sanctuary business side of things, the Emels have been approved for a Colorado Department of Agriculture license, Dawn said. They will apply for a 501(c)(3) nonprofit status and have plans for fundraising with bake sales, raffles and a crowdfunding website. They'd welcome donations of food and repurposed, appropriate toys.
In the future, the Emels hope to bring birds into schools to educate students and nursing homes to soothe seniors. But, these birds have been traumatized, which means they can be naughty. The Emels plan to build an aviary. It's one thing at a time. And the next step will be to open their cabin door to lovers of animals who can appreciate Pearl's Sunrize Sanctuary.
"People can give us a call and come out and see what we're doing," Dawn said.
Dawn rocks back on her heels and looks around at the sanctuary. No surprise, Dawn was once the girl who took home any stray animal in her path. The Emels' door – and hearts – are open to more animals in need of a home.
Pearl's Sunrize Sanctuary is small, with no sign at the moment. But, like any sanctuary, each animal has a story. And, what usually happens when we think we're saving animals, is that they're actually saving us.
For information on visiting Pearl's Sunrize Sanctuary, please see www.facebook.com/PearlsSunrizeSanctuary/ and www.gofundme.com/8n-sunrize-sanctuarya-forever-home ?
Ann Marie Swan is a writer and librarian in Salida. Her new favorite animal is a sugar glider.