By Ann Marie Swan
In January 2018, my first steps inside A Church, with its steeple pointing toward the heavens, were tentative. The former First Baptist Church, built in 1885 on 4th and D streets in Salida, was purchased by Sheree and Kurt Beddingfield in July 2016 to create a place for community members to discover and celebrate their spiritual sides, from the metaphysical to the whimsical. But I wondered whether A Church would truly feel like a sacred space.
A Church hosts monthly gatherings with speakers whose backgrounds range from meditation to fisheries to medicine, and community game nights with kids running around tables heavy with potluck dishes. This nonprofit books weddings, acoustic performances and more, to fund its community events. Its doors are wide open to those with religious PTSD or the uninitiated in any doctrine.
It took a lot to swing open those doors. I'm not just talking about the surprises in renovating the electric and plumbing in an old church, with structural beams possibly held up by angels. Some neighbors opposed A Church because of noise and parking concerns. Salida's City Council became involved. After some regrouping, A Church did indeed become a legal church. I was curious how the Beddingfields would open a portal to the divine.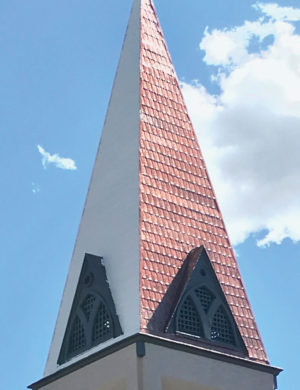 I'm a skeptic. I'm the person stepping backward and away when someone breaks out in "Kumbaya." I'm a recovering Catholic with a keen sensitivity to New Age falseness. I understand how praying and reflecting can launch believers into otherworldly stratospheres. I've been there. I remember kneeling before altars on steps of marble that held the cool of winter on a sultry summer day.
That first evening, A Church was packed with seekers while green and red LED lights bounced all around us. Naturally, I headed toward the back and settled into a pew under arched stained-glass windows. The smooth wood was familiar. I'd spent Sunday mornings as a child in pews just like this one. To minimize my squirming, my mom let me spin her diamond wedding ring to catch the light and shoot rays of color in different directions like a prism. And I sang hymns alongside her.
When I was a teen, I stopped singing in church. I lost my voice for it about the time I questioned practices and teachings that seemed intolerant. I was stunted in the confusion of understanding the world through a religious lens.
Sheree walked onto the stage. She spoke about healing after local elections and how A Church could be part of the solution. She was a natural up there in front of this congregation equally curious how this gathering would go down. Then, Salida middle-schooler Kai Jones, age 12 at the time, pulled up to the piano and sang "Imagine" by John Lennon and "Lean on Me" by Bill Withers.
Each lyric moved through me. Each line took up residence in my body, and I rested in feelings of tranquility and grace. Then, the words came out of me with no conscious effort, and I joined in and sang softly with the congregation. I felt part of this community that can be divisive and hurtful, and, at other times, larger and joyful. People who sing together.
Almost a year later, the steeple sports a copper patina and the wood floors, warm and dark, are refinished. I'm moved by what A Church has become. It's grown into itself with a diverse congregation beyond the Beddingfields' many friends. Kurt Beddingfield is finishing work on rooms in the basement that will be affordable to renters. The schedule is chock-full of events that move people toward freedom, whether it's dancing and having some laughs, or deepening their relationship with the divine.
Originally, the Beddingfields considered a secular gathering place. Then, they took a river trip through Cataract Canyon in Utah, where they talked about their beliefs with close friends around campfires. It was there that Sheree conceived of a community space with a spiritual bent.
A steering committee guided Sheree. A board was formed, and A Church grew from a "workaround to something really true," Sheree said. "I'm moved by the number of people who have showed up, people I barely knew. People will bring what we need."
So far, A Church has satisfied Sheree's own spiritual longings. When Sheree was a teen in Austin, Texas, and going through her Lutheran confirmation, she was pulled aside and told she asked too many questions. Her doubts concerned her teachers, who worried Sheree might influence her peers. In particular, Sheree couldn't get her head around the idea that the gates of heaven weren't open to everyone.
Instead of going to church, Sheree decided to spend Sunday mornings reading the Bible to her ill grandmother, brushing her hair and tidying her house. This felt like a better use of time. Later, she explored Wicca and Buddhism and the Tao. She read Friedrich Nietzsche and Kahlil Gibran. "Then I became comfortable not knowing," she said.
A Church is practically a second home for the Beddingfields, and a center of activities for teens. Friends of the Beddingfield boys, 14-year-old twins Hollis and Sawyer, wander in after school to do homework or play ping-pong or learn a new song on the guitar. Invited speakers with messages directed toward young people have talked about why humans need to be needed and what drives unhappiness.
"A Church is something I didn't know I needed," Sheree said. "We want to be part of this with our children."
There's a lot of life in this old beauty of A Church. The voices of prayers and heartfelt intentions, all the love and grief shared among Salidans must linger in the walls and fortify the place. A Church is for the spiritually curious to go deep and feel light. And it's here where I'll sit, just outside the group, where I might feel the urge to sing.
To contact A Church, visit achurchsalida.org
Ann Marie Swan is a writer, editor and librarian. Her spiritual work is focused on being more aware.