Article by Clint Driscoll
Local artist – January 2001 – Colorado Central Magazine
THE AVERAGE PERSON would not assume a man driving an older model Ford pickup with a Trout Unlimited decal and a prominently displayed "No Whining" bumper sticker would have the soul of an artist; but assumptions are often wrong. Over the past decade Robert "Bob" Gray has established his reputation as the finest creator of turned wood objects d'art in the region. He has spent hours bouncing over back roads in his Ford searching for windfall or beaver-cut aspen trees which provide the raw material for his work.
"Although I have Forest Service permits, I get most of my material on private ground," he said. "Often a landowner will call me when a large aspen blows down. I'll go up and cut what looks like the most promising section for me and cut the rest as firewood for the land owner."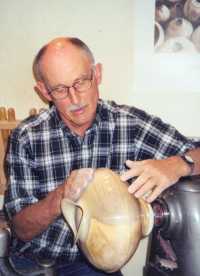 [Bob Gray polishing a vessel. Photo by Clint Driscoll.]
Gray has been working with plain and exotic woods for more than thirty years. After serving in the U.S. Navy, including a tour as Operations Officer for river patrol forces on the Mekong River in Viet Nam, he returned to Colorado and earned a degree in industrial arts education to add to his forestry degree, both from Colorado State University.
Gray married and taught on the Front Range for a short while but both he and his wife knew they wanted to get away from the growing metro area. While looking for a likely town on the Western Slope they camped near Buena Vista and realized it was the ideal place for them. He was hired to teach industrial arts in 1972 and developed the woodworking program while his wife, Marjorie, an award-winning teacher in her own right, taught Civics and Social Studies.
Gray taught for seven years before embarking on a career as a custom cabinet maker. For thirteen years Gray's shop provided high quality work for the nascent custom home construction business in the valley. "I sold that business just as the custom home market was really taking off," he said. "But wood turning had always been a constant interest for me and I couldn't practice on the lathe enough while running the shop."
He went to work for the Division of Wildlife, helping with restoration projects for the Greenback Cutthroat and reestablishing Brown trout to the upper Arkansas River after the population was wiped out in an inadvertent poisoning accident at Clear Creek Reservoir. His off-time was spent perfecting his lathe work.
As luck would have it, the late Barbara Whipple, one of the first artist/gallery owners in Buena Vista, asked Gray if he knew of anyone who could provide turned wood objects for her East Main Street gallery. He began showing his work there while perfecting his craft by attending workshops and seminars, where he learned from such famous wood-turning artists as Dale Nish of Brigham Young University and Michael Peterson at Washington State.
Finally, in the mid-90s, Gray cut the employment cord, built a studio and gallery on West Main Street in Buena Vista and threw himself wholeheartedly into turning his aspen vessels. Appropriately, his gallery is called Trembling Aspen.
By the time the studio/gallery was completed, Gray had created a distinctive style combining the influence of the ceramic shapes of China and Korea and the prehistoric pottery of the American Southwest with the perfection of his ultra-thin turned wood, finished with a fine, flawless satin surface. The result has been described as, "exquisite, tactile vessels, surprisingly light and lyrically translucent."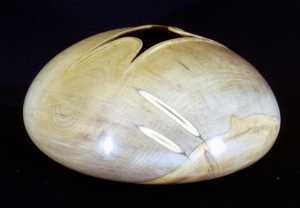 [An inlay in a Gray aspen vessel. Photo courtsey Bob Gray].
Gray's early work displayed his craftsmanship and the seminal pieces with their ivory and rich cream colors are prized by collectors. However the vessels were quite "clean," showing few knots or natural staining, but they hinted of the fascinating works to come. As he became more comfortable with the nature of the wood and perfected his lathe techniques (including inventing a number of variations of his own), he began to exploit the imperfections, if they can be called that, in the wood he selected.
YOUNG, HEALTHY aspen trees may have knots but display little staining. As a tree ages or begins to die, various fungi and molds infect the trunk. As they spread, feeding on the tree's tissues, they create a condition known as "spalting" — essentially a staining caused by chemical reactions that break down the wood. The colors can range from ochres and deep browns to maroons and shades of purple. In the past few years, Gray has become adept at exploiting these flowing stains as well as the natural course of the grain offset by the dark intrusions of knots, carpenter ant bore holes and other naturally occurring anomalies in the wood.
According to Gray, wood turning is coming into its own as an art-form, with collecting by museums and individuals increasing every day. People like wood, and to create a pleasing form around the grain, colors and knots has been a craft since the carving knife, and later the lathe, was invented. But Gray sees his efforts as a fine art form far beyond the mere turning of a piece of wood for a utilitarian use. "There are many craftsmen who love to turn wood, but they aren't artists. I consider my lathe the same as a painter's brush or a sculptor's hammer and chisel. An artist takes a skill and the eye to the next level."
Perhaps the best summation of Gray's philosophy of his art is what he has written on the wall of his studio with a grease pencil, "I'm not here to do what has been done."
As a part of that vision, Gray is not a production turner. Each of his pieces is unique, a result of what he saw in the wood. Each piece leads to a new idea, a new way of looking at what is happening within the wood itself.
Even if mass production were desired, the process would not allow it. Each piece takes at least two years or more to complete. Gray must select aspens which have blown down very recently. Trees that have lain too long cannot be used since once the tree dies it begins to dry. Natural drying occurs unevenly, which causes stress within the wood and the trunk splits.
Once Gray has selected a trunk section he turns it "wet" and cross grain. Cross grain is the opposite of traditional turning as the trunk section is clamped at the sides rather than end to end. Turning cross grain reveals the spalting colors and the grain variations.
The wet blank, which can weigh up to 100 pounds, is turned to a basic shape. It is during this process, as Gray works into the core of the blank, that the inner tree is revealed. The discovery of the grain, color and patterns of the wood excites him and allows him to decide just how the patterns will be accented.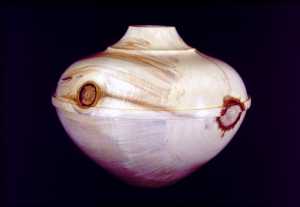 [A Gray aspen vessel. Photo courtsey Bob Gray].
ONCE THE BLANK is complete it is cut in half and each half is partially hollowed. The piece is then set aside and allowed to dry naturally for at least 18 months. The turning, cutting and hollowing allows much of the natural movement and stress that occurs in the drying process to be relieved and, with luck, no cracks occur. If they do, the piece cannot be used.
The irony of turning a 100-pound blank into a sculpted bowl weighing less than a few ounces is not lost on the artist. That is why no living aspen is ever used for his work. All shavings and other wood waste material are sent to a local nursery where it is turned into mulch. No part of the tree is wasted.
Those pieces which survive the drying process are reassembled, turned to their final shape, sanded, finished and waxed. Gray carves and incises some vessels to enhance a natural shape or to accentuate a vessel's lines. He has recently experimented with inlay, setting crosscuts of branches within the body of the vessel. The result is quite striking, without detracting from the natural flow of the grain.
Robert Gray's artistic odyssey continues but he has been honored often along the way. In 1997 his work was selected to be shown as part of Colorado's juried Art Exhibition Program at Denver International Airport. Pieces have also been shown at the Sheldon Memorial Art Gallery at the University of Nebraska, The Colorado History Museum, The Galleria at the Denver Center for the Performing Arts and the Anderson Ranch at Snowmass, Colorado. Presently his work can be seen at Trembling Aspen Gallery in Buena Vista, art-tic-u-la-tion gallery in Salida and Earnest Fuller Fine Arts in Denver's LoDo.
Clint Driscoll lives in Buena Vista, where he recently discovered it was a major mistake to shave off his beard. He is now growing it back, and says writing appears to have no effect on the process of recovery, one way or another.