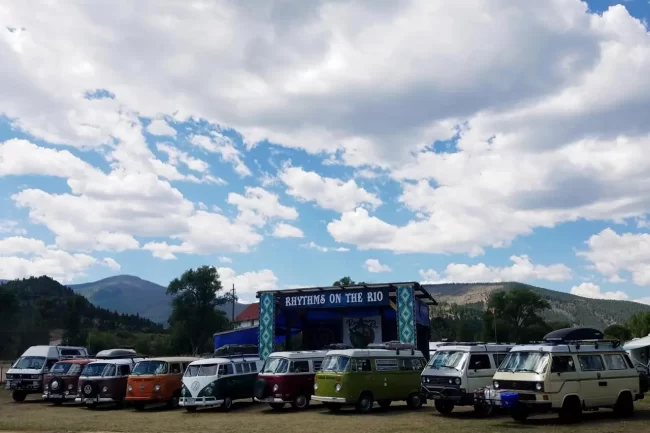 WITH A PURPORTED 300 DAYS of sunshine a year, snow-covered mountains, and the red-earth beauty only known to Colorado, it makes sense that I can barely turn around without landing in a music festival. Not all are in summer under star-lit skies — UllrGrass is held in the short dark days of January, and Hollerween, where I have worked the door for the last two decades, is, you guessed it, at the end of October. Every small mountain town has a seasonal festival, but the lineup, location and philanthropic goal makes Rhythms on the Rio a heartbeat of the festival circuit.
I originally planned to chat with board member and organizer Scott Steken, but when the camera turned on, three quintessential mountain men introduced themselves: Steken, Skip Patterson and Paul Orr. For 15 years the team has been striving for a festival Patterson described as having a "small-town homey atmosphere." With a bright smile under large glasses and a shock of white hair, Patterson added that Rhythms on the Rio has never had a corporate sponsor despite being around since 2009. Steken explained, "We'll never be the festival where you get in the gates and someone is trying to sell you a phone plan."
Rhythms on the Rio is sponsored by the South Fork Music Association, creating a symbiotic relationship unique to the limited resources of rural small towns. The music association was founded in 2005 with the intention of having a cultural and economic impact on South Fork and surrounding areas. It began setting up music lessons for young people in the area and used the community center and local musicians to teach more than 100 eight-week guitar and ukulele lessons. If students completed the eight-week course, they got to keep their instrument. "We must have given away hundreds of instruments," said Patterson. But then the organizing and booking of teachers became challenging so the music association moved to a direct-donation model. Orr, the only organizer to claim a retired lifestyle, described how the music festival then "blossomed" as a way to continue the donations.
Basically, the music association reaches out to all schools in the Valley and asks what their needs are; from there, teachers can request funding. In return, schools provide photos or videos of how they use the funds. Recent projects have included a music studio in San Luis. There, the teacher donated some brass instruments back to the association, which in turn gave them to a local school that needed specific instruments for their band. Some of the students impacted by the support even come back to the festival. Patterson and Orr recalled a young lady they sponsored with violin lessons; she came back to play on the main stage of Rhythms on the Rio.
"She really could play that violin," they agreed.
In 10 years the music association has given more than $25,000 to support young musicians.
"We could give away more — we just need schools to connect with us after our initial contact," Steken added. And despite the pandemic, the association still donated $2,000 to Creede's music program in 2020.
This year's Rhythms on the Rio festival is August 5-7 in Del Norte. With a change of scenery, the festival will move from where it has lived for the last 10 years on land loaned by Kurt and Lea Carlton, to a new location just across from the River Park Trail. Long-time Del Norte locals Bob and Kathy Willschau reached out to Steken and offered their 35-acre parcel, a mere five-minute walk from downtown, to the festival efforts. "It's still on the river," Steken laughed, "so the name still works, but compared to the South Fork site, this one is heavily wooded."
There will be carry-in camping and numbers will be limited to 1,500. Patterson noted that it is currently hard to tell if the festival will actually make any money to donate this year since they are just "firing things up again," but they have high hopes.
There are still weekend passes available, and proceeds go to fulfill the music association's mission, "Keeping Music Alive — One Child at a Time!" As for the ever-amazing lineup, Steken explained that they work with a special talent buyer.
"He doesn't sell, he buys," piped in Patterson.
Steken continued, "He looks for what is hot, who is selling tickets. We pride ourselves for being diverse — we have quality music that anyone would like."
I was able to connect with Chris Thompson of Coral Creek and Uptown Toodeloo Stringband fame. Chris shared that the festival was a great experience for the bands and for his family, which included three children under the age of 10 back when he played the festival in 2015 and 2016. He added, "We listened to the music from the river, caught lots of trout, and the late night picks were great!" He looks forward to coming again this year and is optimistic about the new location.
The lineup for this year includes Railroad Earth, self-described as bluegrass soul with a rock 'n' roll spirit; Bluegrass Generals, featuring Chris Pandolfi & Andy Hall of the Infamous Stringdusters; The Travelin' McCourys, 2019 Grammy winner for best bluegrass album; and Branjae, a personification of Classic Soul, Funk and R&B, an artist, activist, dancer, singer.
"We have Bluegrass music but we're not a bluegrass festival. We have Americana music but we're not an Americana festival," Patterson said. "We're going after the best talent — over 60% of our profits go right to the musicians." But the music association has to keep the festival costs efficient enough to still give money to schools. The 2022 lineup draws artists from Utah, Texas, Kentucky, Montana, and the Smelter Mountain Boys from nearby Durango. For a full lineup and ticket information, visit rhythmsontherio.com.
Whether it's Shakedown Street at Dead & Company concerts or tables gathered in a field under the shadow of Mount Princeton, no music festival is complete without its vendors. Orr, jumping in as the lead on all things vendor-related, clarified that, over the years, they have had around 10 food vendors and more than 20 merchandise vendors. "Although, we'll need to scale back this year. We're not sure what a post-COVID event will bring." The group works with outside marketers Festy Go Nuts and Blackspy Marketing, "who know the industry better than us," said Steken. "It takes a lot of work to take a vacant piece of land and turn it into a festival," added Orr. It takes over 100 volunteers throughout the process to pull it off; those helpers can earn free passes, a common festival practice. This year the South Fork Music Association is encouraging attendees to frequent local restaurants and shops as well as the on-site vendors. 
"Not a single board member gets paid, even when we put our lives on hold. We want the festival to be frugal," Steken explained, adding that the mission right now is to "keep on keepin' on." All I know for sure is I am headed down into the San Luis Valley this August to catch some rays and some Rhythms on the Rio and, hopefully, to dance with Patterson, Orr and Steken in person. Hope to see you there!
Starr Hill was raised off the grid in tipis and old mining cabins between Fairplay, Como, Hartsel and Leadville. Now a teacher, she is raising a family of her own and working on a memoir of lessons she learned growing up off the grid.
This article is sponsored by PJ and Merrell Bergin.