Article by Lynda La Rocca
Historic preservation – January 2002 – Colorado Central Magazine
THE NAMES OF MEMBERS of 19th century Leadville's Jewish community read like a "Who's Who" list of industry giants.
Among these frontier-era movers and shakers were the Guggenheims, founders of a mining dynasty and mourners of a loved one who went down with the Titanic, and the May family, whose patriarch David became a giant in the retail sector.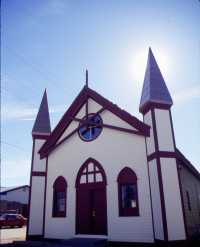 Then there were local legends like Ben Davies, whose amorous exploits touched off one of Lake County's more bizarre divorce proceedings.
Leadville's colorful Jewish history is being revitalized through the efforts of William A. "Bill" Korn, founder and president of the Temple Israel Foundation.
The non-profit Foundation, which purchased the Temple Israel building in 1992 and was awarded title to the 1880 Hebrew Cemetery the following year, completed restoration work on the temple's front fa¸ade this past summer.
Future plans call for returning the structure, located at 201 West Fourth Street, to its original, 1884-1894 appearance and converting it into a museum commemorating the Jewish experience in the American West.
The Foundation also oversees ongoing cleanup and restoration work and a computer mapping project to locate and identify grave sites at the Hebrew Cemetery, which is adjacent to Evergreen Cemetery.
Annual–and ongoing–volunteer assistance from the Denver chapter of B'nai B'rith has cleared the Hebrew Cemetery of tangled overgrowth which, prior to the 1990s, had made it nearly impassable.
"I'm doing all this because it boils down to an obligation to my ancestors," explains Korn, a native of New York City and self-described "old-time landlord" whose business interests include rehabilitating historic structures.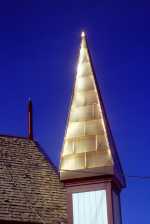 "When I look at photographs of early Leadville's Jewish settlers, they remind me of my own ancestors who came to New York at about the same time these German-Jewish immigrants were arriving in Leadville," he adds.
While no opening date has been set for the museum (the building is currently an apartment house), Korn is busily engaged in obtaining display artifacts.
ONE OF HIS PRIZED possessions is the original deed to the land for the temple building, first acquired by temple association vice president and building committee chairman David May in July, 1884. The deed was conveyed by Leadville's most famous and scandal-prone founder, H.A.W. Tabor (along with one W.H. Benge) for the bargain price of one dollar, indicating that the land was a gift from the ever-generous Tabor.
Leadville's Jewish community, many of whose members first arrived at the bustling mining camp from Germany in the late 1870s, primarily practiced Reform Judaism, a branch of Judaism marked by a liberal approach to religious observance and the shortening and simplification of traditional ritual.
During the early 1880s, some 300 Jewish residents were continuing to hold religious services in private homes. But by 1884, construction of a temple in which to worship had become a priority, according to the Evening Chronicle:
"The want of a Hebrew temple of worship has been one long felt by the Jewish residents of Leadville … Sunday afternoon [January 13, 1884] a meeting of leading Jewish citizens was held, which resulted in the organization of a temple association [consisting of 30 members]… the entire Hebrew element of the city will unite in the laudable enterprise of establishing an appropriate place of worship."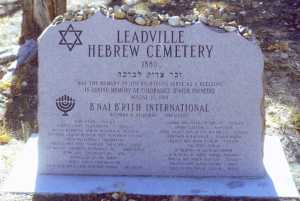 That August, with the building site secured and bids awarded, construction advanced at breakneck speed. According to the Evening Chronicle:
"The edifice … was erected in the incredibly short space of thirty three days. It is located on the southwest corner of Pine and Fourth streets, is a handsome building and cost $4,000."
Temple Israel was formally dedicated on Friday, September 19, 1884, which was considered an especially auspicious day since it coincided with Rosh Hashanah, the Jewish New Year. Meanwhile, the local Hebrew Benevolent Association had acquired land at the southwest corner of Evergreen Cemetery as a burial site for Jewish settlers.
IN ALL, the mortal remains of some 130 souls were interred at the Hebrew Cemetery. The first burial was that of Gustave Jelenko, who died on June 14, 1879; his is one of 59 markers visible today at the cemetery.
Also among the deceased are Herman Oliner, who was 64 years old when he died on December 7, 1911, from injuries incurred when his wagon overturned near Twin Lakes, and Sarah Hyman Barnett, whose life ended on March 2, 1926, after her clothing caught fire as she was lighting Sabbath candles.
The most infamous "resident" of the Hebrew Cemetery may be Benjamin Davies, who died April 7, 1893, in a fire at his jewelry store.
Davies, who was also Temple Israel's cantor, was ready and waiting on August 14, 1890, the day Clementina Raabe obtained a divorce from her husband Julius.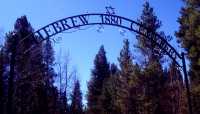 Julius operated a fruit stand adjoining Davies' jewelry store and was frequently assisted in the business by Clementina, who was described by the Herald-Democrat as a "fair and buxom lass … now about 26 years of age." Davies, who spent an inordinate amount of time at the fruit stand, would "very frequently … send round his boy with a horse and buggy and tell Julius to take a ride" so that he could talk "confidentially" with Clementina. During those meetings, the Herald-Democrat confidently reported, Davies would tell her:
"… how sorry he was that she should have to work for a living, what a shame that she should be compelled to take care of the store and sell peanuts while other women could wear silks and satins, ride in carriages, have servants to do all the housework and live in pleasure and luxury."
DAVIES, A WIDOWER nearly twice Clementina's age who always wore diamonds when calling upon her, quickly won the young woman's heart. A divorce, its $65 fees paid by Davies, was granted on the grounds of Julius' desertion, which raised eyebrows since Julius was right where he'd always been–in Leadville.
Julius left for Salt Lake City immediately after the divorce was final, however. Meanwhile, the former Mrs. Raabe and Davies (whom the Temple Israel congregation had suspended from his duties as cantor on August 15) took a train to Denver, where they were married on August 17.
A week later, Julius was back at work in his Leadville fruit stand, a circumstance which enraged his ex-wife, who burst into the store, accusing him of theft–and offering him custody of their three children.
"The situation," proclaimed the Herald-Democrat, "is unique, and ridiculous enough. The wife applied for a divorce on the grounds of desertion, while her husband is still in the city. It is railroaded through in about an hour. Then the husband departs for Utah, but, inside of a week, returns home, only to find his wife has once more entered the bonds of matrimony."
After reaching a truce with Julius regarding his continued operation of the fruit stand, Clementina and Ben Davies enjoyed a brief period of wedded bliss. Then, on April 7, 1893, a kerosene lamp exploded in Davies' jewelry store at 404 Harrison Avenue. Davies, apparently overcome while trying to extinguish the flames, could not be revived: His funeral was held on April 9.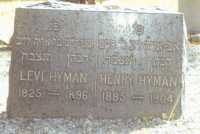 LESS THAN SIX MONTHS LATER, the September 28, 1893, edition of the Herald-Democrat announced the grieving widow's remarriage–to her ex-husband, Julius Raabe.
According to the Raabe children, when the couple again began attending services at Temple Israel, they were shunned by the congregants, many of whom nevertheless patronized their store. This just added to ongoing internal dissention regarding the planning and conducting of temple worship services. During the 1890s, some of its more orthodox members split with Temple Israel to form the Kneseth Israel congregation, which worshipped at the former Presbyterian Church and Salvation Army barracks on West 5th Street (now the site of the Elks Lodge).
Leadville's Jewish population fell into a steady decline after the Panic of 1893 (which was precipitated by the federal government's decision to discontinue subsidizing the price of silver), and its Jewish congregations virtually disappeared by the 1930s.
But their memory remains strong, revived in large measure by the efforts of a former New York City cab driver named Bill Korn.
Lynda La Rocca lives and writes in the considerable shadow of Mt. Elbert, and from time to time teaches in Leadville.
For more information on Leadville's frontier Jewish community, visit the Temple Israel Foundation website at www.jewishleadville.org