By Sue Snively
 The Asian Palate
328 E. Main St., Buena Vista, CO
719-395-6679
Hours: Lunch – Mon, Wed – Sat: 11am-2pm
Dinner – Mon, Wed – Sunday: 5pm-9pm
For a small town with many eateries, it doesn't take long in Buena Vista to find a type of food that will satisfy your tastes on any particular evening. We don't eat out very much, so when we do so we like it to be special and different; thus we found ourselves bypassing a variety of standard American dining places and a few others with international influences, and chose to dine at the Asian Palate.
Eddie Sandoval opened the restaurant in July of 2009. He chose Buena Vista because of his familiarity with and love of the town. He surveyed a fair number of residents to learn what kind of restaurant might do well, and came up with Asian cuisine based upon the number of requests for sushi on the menu. Eddie is a first-generation Filipino who grew up eating Asian food, and decided a restaurant with a wide variety of authentic foods from many Asian countries would be a good bet. He is an expert on Asian cooking and personally trains his chefs.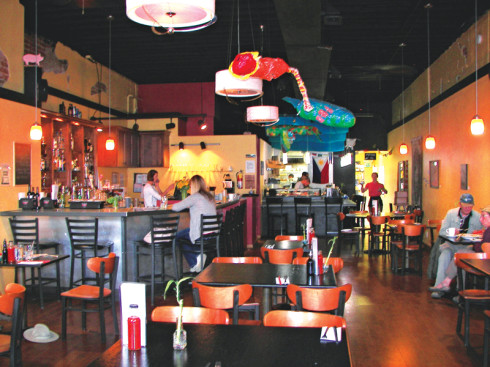 The restaurant serves a variety of cuisine for lunch and dinner. The sushi menu from Japan includes sushi or sashimi made from such things as fresh water eel, albacore, yellowtail and the more familiar tuna and salmon. The sushi rolls contain a variety of delicacies, including avocado, smelt eggs, cream cheese, alfalfa sprouts, cucumbers, etc., mixed in with the fish.
The main entrees offer a choice of pork, chicken, tofu, beef tenderloin and/or shrimp. I chose something unfamiliar to me called Pad Sieu, which includes sweet soy-fried rice noodles with leafy greens, chilies, cilantro and garlic. My husband chose Massaman Curry, which has potatoes, pineapple and roasted peanuts seasoned with curry. Nothing against the Pad Sieu, but for one with delicate taste buds, it was a bad choice. The Massaman Curry, on the other hand, is mildly seasoned with curry and was not only edible, but very delicious. My kind husband, who can eat almost anything, was delighted with the hot chili-flavored Pad Sieu.
Other interesting menu choices include a traditional dish from Laos and Malaysia called Pork Laap flavored with mint and ginger. There is the Chicken Adobo and Pancit, flavored with soy, vinegar, garlic, pepper and bay leaves, and served with caramelized bananas and steamed rice.
A few interesting salads are on the a la carte menu, including the Strawberry Salad. It includes strawberries, macadamia nuts and basil, but for me, is spoiled with the wine vinaigrette dressing which overpowers the flavor of the berries and nuts. A light lemon and sugar dressing or no dressing at all would make it much more pleasing and worth the $9. The dessert menu includes Coconut Milk Rice Pudding, Fruit Tart, Flourless Chocolate Cake (served with Vanilla Bean Ice Cream), New York-Style Cheesecake, and, perhaps most intriguing to me, Green Tea Ice Cream.
Beverages are pretty standard, but to provide a local touch, they feature coffee from the Buena Vista Roastery, and the wine list includes Vino Salida Petit Syrah from that Salida winery. Other wines are from Spain, Argentina and California. The house mixers include such concoctions as "Dark and Stormy," whose ingredients are dark rum with ginger beer and lime; and the "Naughty Apple," made with Leopold's Apple Whiskey and ginger ale.
What else can be said? Our service was excellent with Lee Fitzgerald, the manager, pinch-hitting for an absent waitress. Not only was she efficient and pleasant, but she took the time to give us information for this article. The décor has a flavor of Asia, but remains local with most of the artistic pieces done by local artists, including the work of servers Bryan Redding and Jennifer Fischer. There are papier-maché Asian fish hanging from the ceiling, which were done by young art students taught by Cheryl McCaffey in the Jailhouse Art Gallery and Studio.
There is very little to criticize – and much to like –about this restaurant; and if you go, I am sure you will find it a pleasant dining experience with reasonable menu prices. You may even get in on some live local music during the dinner hour, or maybe an after-dinner concert. If I go again, I will stay away from the chili peppers and be more amenable to those items with curry in them.