Brief by Martha Quillen
Local News – November 2008 – Colorado Central Magazine
Busy Beetles
The Leadville Herald Democrat recently reported that a forest-health workshop in Washington DC cited pine beetles as presenting a potentially serious national crisis. National worries were about deadfall and major fires destroying power lines and thereby causing major power outages across the western United States.
Representative Christine Scanlan has requested emergency funding from Washington to mitigate some of the problem, including $57 million for this year.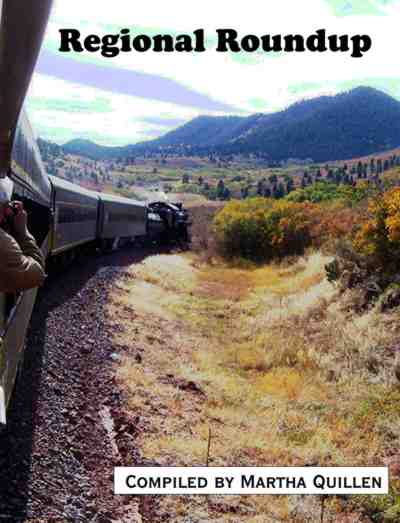 Troubling News
Recent economic downturns were overshadowed by tragedy for some area residents.
Although Parade Magazine announced that high gas prices have reduced traffic fatalities nation-wide, there seemed to be a rash of serious accidents in our region this fall.
Among them was the death of Brian Hartzell, 33, of Colorado Springs, who was killed on his way home from the annual motorcylce rally held to honor Emily Keyes, who lost her life to a gunman who took students hostage at Platte Canyon High School in 2006. Fellow rider, Melissa Crabtree, 30, of Larkspur was seriously injured in the same accident, which was apparently due to a mechanical problem.
Brittanie Stevenson, 18, of Salida, lost her life in a rollover accident on Methodist Mountain. Stevenson was the mother of 9-month-old twins and was featured in an earlier Mountain Mail story for successfully obtaining her graduate equivalency diploma.
In other news, Saguache County investigators asked for any information regarding human skeletal remains found in a burning barrel on September 20. Authorities said this was "a single incident and has no connection to other investigations currently in progress in the San Luis Valley."
A 21-year-old Montrose man committed suicide at the Black Canyon of the Gunnison on September 16. The body of Mark Young Jr. was found about 1,820 feet below the South Rim, on the canyon floor.
Casey Nesbitt, 32, died in her sleep on October 4. Nesbitt worked in advertising and was active in community theater in Salida. Last February, Nesbitt was featured in a Mountain Mail article talking about her stuggles with anorexia in order to spotlight National Eating Disorders Awareness Month. Although Nesbitt's condition had long been life-threatening, she sounded confident that she was starting to turn things around; her death was a blow to many in the community.
In late September, memorial services were held for James Durgan, 37, who was found dead of a gunshot wound in July. Charges filed against his estranged wife, Kristin Durgan, 40, and her alleged co-conspiritors, Andrew Tanner, 23, and Brian Folsom, 29, included first-degree murder and conspiracy to commit murder, and also second-degree kidnapping and conspiracy to commit kidnapping.
Shorts:
* The Fairplay Hotel has closed. Former owner David Meredith told the Fairplay Flume, "It broke me. Lost half a million dollars to that place." The historic inn was sold at a foreclosure auction on September 24, and any future plans for the building are as yet unknown.
* Local actress Shelly Jacobs donated her hair to locks of love, all of it, in order to authentically play her role as the lead in a Stage Left Theatre production of "Wit," which was performed Oct. 17 & 18 in Salida.
* Salida officials aren't sure what to do about a misspelling on the ballot. The measure is over whether to "repeal" a city property tax, but the ballot says "repeat."
Quotes:
"When Lance Armstrong listed the three races where he hopes to compete in 2009, it was big news internationally.
"But, of course, we're most interested in the fact that the Leadville Trail 100 was one of the three, right up there with the Tour de France and the Tour Down Under in Australia. (Perhaps we should rename the race the Tour Up On Top?")
Marcia Martinek, Leadville Herald Democrat, October 2, 2008
"The fact is, we've had lots of years we went backward. Sometimes we came close to robbing the kids' piggy banks to make payments to the bank, but we always made our payments."
Rancher Joe Cogan, in a Mountain Mail Ranchland
feature, October 17, 2008
"How many times have you driven (or ridden) past this sign? Ever noticed something is wrong? It's true, Saguache County is misspelled on this sign, located along Hwy. 50 a few miles west of Sargents … that's S-A-R-G-E-N-T-S."
Cutline beneath sign saying "Sagauche,"
Gunnison Country Times, September 18, 2008
"Another lost 'shroomer cold but OK"
Headline in the Wet Mountain Tribune, September 25, 2008
"Betty Benson
Age: Over 21"
Lake County Commissioner Candidate Listings,
Herald Democrat, October 9, 2008
"Because there's not any sort of daily interaction to sway us either way, to make us prejudiced in either direction, it makes it really more of a candidate choice."
Laurie Benson of Buena Vista in the New York Times.