Brief by Ed Quillen
Local News – February 2008 – Colorado Central Magazine
Cold and snowy
The climatologists predicted a "La Niña Winter" — that is, an easy one that would be relatively dry and warm. That held up until mid-December, and since then it's been a season of ample snow and bitter cold.
Buena Vista reported the snowiest December on record, with 33.7 inches falling through the month; the previous record was 22.5 inches in 1967, and the average is 4.8 inches. At 3.11 inches of precipitation, it was also the wettest December ever measured. The old record was 1.6 inches in 1948, and the average is 0.37 inch.
Mal Sillars, the town's weather observer, also noted that records were set on 23 December days for the greatest depth of snow on the ground.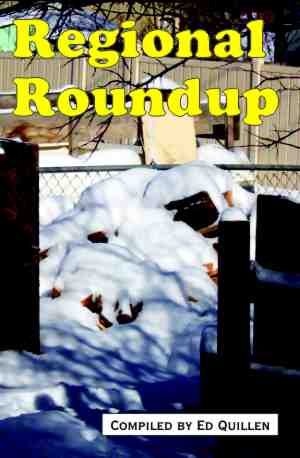 December snowfall didn't set a record in Gunnison, but it came close with 27.1 inches of powder and 2.49 inches of moisture. The record was set in 1983 with 37.8 inches of snow and 2.22 inches of water.
And it was even colder than usual in Gunnison. The mean monthly reading was 7.38°F; the average is 13.7°. On two days, Dec. 28 and 29, the mercury stayed below zero around the clock.
Gunnison weather writer Bruce "Barometer" Bartleson did note that Gunnison was the coldest spot in the nation only twice during December, while Alamosa managed that distinction nine times.
It was so snowy near Leadville on Jan. 5 that contestants in the 19th annual Turquoise Lake Snowshoe Run lost their bearings and strayed far off course in the 20-mile race. Aside from heavy snow that obscured course markings, there were low clouds making for flat light with no visual clues as to location. Although many racers did not finish, all made it back safely.
And hard on wildlife
The snow is so deep, and temperatures so far below zero, in the Gunnison Country that the Colorado Division of Wildlife started an emergency feeding program for mule deer. Normally, they're left on their own, but Division policy is that if it appears that more than 30% of the herd will die, then it's time to feed them.
Deer can't be fed hay, as they don't digest it well. They need a specialized feed, which was trucked to Gunnison from a feed mill in Fort Collins, then distributed by the DOW with the help of 250 volunteers. If you want to help pay for the food, go to the DOW website at wildlife.state.co.us and click on the donation box.
The DOW is reluctant to operate feeding programs, since it can habituate the animals to look for the feed instead of foraging for their own, and it can crowd animals so that diseases spread more easily.
In the Fossil Ridge area of the Gunnison Country, eight bighorn sheep have been found dead. Pneumonia is the suspected cause.
New State Representative
The shuffle started when Mark Udall, who represents Colorado's second congressional district, announced he would run for U.S. Senate. So state Sen. Joan Fitzgerald resigned her seat to run for Congress. And state Rep. Dan Gibbs was appointed to fill out her term in the state senate.
Which meant that House District 56 — Lake, Summit, and Eagle counties — needed a new representative. The Democratic vacancy committee picked Christine Scanlan of Dillon, who previously served on the Summit County school board.
An Eagle County Republican, Ali Hasan, announced his candidacy for the seat in December just before Scanlan's appointment.
Bus Service Stalls
Last summer, there were reasonably firm plans for daily bus service from Gunnison to Denver International Airport, with stops in Poncha Springs, Johnson Village, Fairplay, and Grant along the way. And it was supposed to start running this winter.
There was financial support from local entities, as well as a grant from the Colorado Department of Transportation. However, the bids from potential operators came in above the amount of money available, so there remains no public transportation between Central Colorado and the state capital.
Season to Share
Two rural schools suffered tragedies. On Sept. 27, 2006, a gunman entered Platte Canyon High School near Bailey and took hostages, then killed student Emily Keyes. On Oct. 13 in Westcliffe, Custer County High School student Courtney Curtis died in a Homecoming parade accident.
After the Westcliffe tragedy, the principal at Platte Canyon urged students to "do something nice" for Custer High. Kip Atteson, the arts teacher there, answered the challenge by having her students knit 181 scarves, which arrived just before Christmas break.
They were received with pleasure, although the teacher sent a note which cautioned that "If some of them seem funky, they were made by rank amateurs. We taught many of the students how to knit, and they are proud of their work."
In another act of generosity, Kim Clifton of Cañon City donated a kidney to her mother-in-law, Mary Duarte of Leadville, who had been on dialysis. Duarte had some complications from an infection at first, but was doing well at last report. She offered this observation: "One Flight for Life to Denver by helicopter — $17,651; one month of anti-rejection drugs — $750; the donation of a kidney by my daughter-in-law — priceless."
Even animals got into the spirit of things. Luna, a dog at the Bear Medicine Wellness Center in Saguache, brought home a kitten, and then started nursing it. Although Luna was only a puppy, she produced milk, and Hercules the Wonder Kitten continues to grow, presumably to become Hercules the Wonder Cat.
Untruth in Advertising
The High Country Citizens Alliance, based in Crested Butte, opposes a proposed molybdenum mine near town. Fair enough, but HCCA certainly ran an inaccurate full-page advertisement in the Dec. 20 edition of the Gunnison Country Times.
There were two photos. One showed the town of Crested Butte nestled below Mt. Emmons. The other showed the mill tailings from Climax filling Mayflower Gulch — except the caption said it was "Leadville, Colorado," when Leadville is a good 20 miles away. "Copper Mountain, Colorado" would have been closer.
Further, the ad advised that "We can prevent … the industrialization of the Gunnison Valley." That valley was industrialized once for silver mining, then again for coal mining, and there are many who see alpine skiing and associated high-end real-estate development as an industry.
Parents protest Big Brother
To put it mildly, many small livestock operators are more than angry about the U.S. Department of Agriculture's "Premises Identification Program," which involves registering one's premises with a national database and identifying every animal, and notifying the USDA every time a critter leaves home ground for more than 24 hours.
The program is supposed to be voluntary, but many livestock expositions, like state and county fairs, and related organizations, like 4-H and FFA, require it for participation.
That's the background for developments in Custer County, where youths who plan to exhibit their steers at the August county fair weigh their cattle in January. Last August, the fair board was told that 32 youths who had participated would no longer do so, since their parents did not want to be part of Premises ID, and FFA and 4-H required it. The county responded by approving the new Custer County Livestock Club, which does not have a Premises ID requirement.
The plan was for it to be temporary and dissolve if FFA and 4-H changed their policies. They did, but there was a new "housing and care" form kids were required to sign. The parents balked at that, so the new club remains in operation.
Better Schools
Cotopaxi High School was named one of the best high schools in the United States by U.S. News & World Report. The survey was based on the 2005-06 school year, and consisted of three steps: general student performance, disadvantaged student performance, and advanced-placement performance.
Cotopaxi did well on the first two, but since it does not have an advanced-placement program, it received only a bronze ranking, rather than silver or gold.
In Leadville, West Park Elementary went from a low score to a high score in only one year, in accountability reports released by the Colorado Department of Education.
Why enrollment falls
Enrollment has been declining in the Platte Canyon School District, based in Bailey, but district surveys say that the drop-off has nothing to do with the schools' quality.
Instead, young families with school-age children tend to buy housing on the east side of metro Denver, since property is cheaper there. Also, the district loses population with every sustained increase in gasoline prices, since so many residents are commuters. And frequent forest fires tend to encourage emigration and discourage immigration.
The district has prepared a DVD to promote itself.
New Addresses Proposed
Park County has many subdivisions, and they have roads. And according to the county government, 325 roads have duplicate names, and there are 77 roads with no names at all. Another issue is that there are 12 houses with addresses on County Road 43 — but they actually sit 1.5 miles from that road.
Dispatchers aren't sure where to send emergency personnel, and they can end up in the wrong place.
So the county is working with fire protection districts to come up with new names.
We note that every county seems to have a different system for naming or numbering its roads, and the only one around here with a coherent system appears to be Saguache County, where the roads bear numbers and letters, assigned in a logical order.
Rockfalls
For being about 120 years old, the Midland Tunnels on County Road 371 north of Buena Vista have held up pretty well, but the road was closed Jan. 2 after rocks fell from the roof of the second tunnel, with more falling on the night of Jan. 5.
The county has closed the road; area subdivision residents have to come and go via the Otero Pump Station Road. Engineers will examine the tunnel and make recommendations, and the county plans to have the road open by spring.
The four tunnels near Elephant Rock (or Sphinx Rock, depending on your vantage) were bored in 1887 for the Colorado Midland Railroad, which ran from Colorado Springs to Leadville and beyond. Along the Arkansas River north of Buena Vista, the Midland had to stay east of the Denver & Rio Grande line next to the river, and so it was forced to dig short tunnels through four rock ribs. The line was abandoned circa 1920, and the right-of-way was given to the county for a road.
Observations
"We came expecting to join the same clubs that existed in the planned communities back East and meet a few like-minded neighbors who would then invite us to their next dinner party. What we didn't know was that our neighbors were busy calving and haying and didn't have time for us, unless we had a horse and could contain the right flank of their herd during branding time."
Julie Fritz in the Wet Mountain Tribune, Dec. 20.
"I think most of us view big storms like the ones we've received this winter as a blessing. I suppose the snowplow driver working his 10th consecutive graveyard shift may not think so at the time, but surely they do come payday."
Chris Dickey in the Gunnison Country Times, Jan. 10.
"Valley folk dredge up Dec. 31 customs: Falling asleep before midnight."
Headline in the Wet Mountain Tribune, Jan. 3
Leadville has received so much snow that it's running out of places to store it. Since it eventually turns into water that is owned by downstream users, "We want to contact that entity and tell it to come and get its water. Now."
Marcia Martinek in the Leadville Herald-Democrat, Jan. 10.
"Southern Spanish Valley was known as 'Poverty Flats' in the early part of the 20th century. Using the name for a town is restoration of this historic custom. Having Cloudrock and Spanish Valley located in the town of 'Poverty Flats, Utah' might not keep the rich weasels away, but it would at least select for those with a sense of humor."
Lance Christie in the Canyon Country Zephyr, December/January