Brief by Ed Quillen
Local News – December 2007 – Colorado Central Magazine
Charges reduced
An 18-year-old student at Western State College, Addie Kubisiak of Parker, faced serious charges last winter after the body of her newborn son was found in her dorm room: first-degree murder, child-abuse resulting in death, and concealing a death. That could have meant life in prison.
However, a pathologist determined the baby was stillborn, and a plea agreement was reached. She pleaded guilty to the misdemeanor of concealing a death, and will face two years of supervised probation and 50 hours of community service.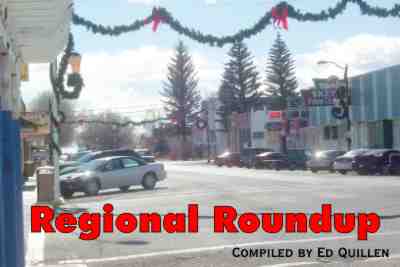 Heating up in Alma
As winter nears, staying warm gets to be more of a concern, especially in Alma, the highest incorporated town in the United States. The process should get a little easier and cheaper now that the town board has approved a franchise for Colorado Natural Gas to serve the town.
The company also plans to serve Blue River, just south of Breckenridge on the west side of Hoosier Pass, and Fairplay, a few miles downstream from Alma.
The company predicted that 70% of Alma homeowners would switch from propane or electric heat to natural gas. Natural gas costs less per unit of heat, and it doesn't involve a propane tank in the yard and the need to have a truck come to fill it.
Another alternative is wood, and at its Oct. 16 meeting, the town board discussed potential regulation of external wood boilers. Basically, these burn wood in a structure some distance from the building, and pipe the heat in. In theory anyway, they're safer and more efficient, and nobody has to haul wood to an indoor stove or fireplace.
Residents were worried that if the boilers proliferate, it could affect air quality. But Mayor Mark Dowaliby said he wasn't in any hurry to write new regulations. For one thing, the current wood-boiler user plans to switch to natural gas when it's available. For another, "This town has made it 130 years without laws against wood stoves. I'm not ready to start doing it now…. We'll see how it goes and go from there." A law prohibiting wood-burning stoves, he concluded, "would be as popular as a cat-leash law."
The story in the bones
Last summer, an angler found bones along the Arkansas River near Granite. They had apparently been washed down from their grave, and the skeleton was mingled with military buttons from 1855-61.
More recently, on Oct. 9, an excavation in Crested Butte uncovered a skeleton which they nicknamed "Earl." Gunnison County Coroner Frank Vader turned the bones over to the anthropology department at Western State College.
Anthropology professor Mark Stiger surmised that Earl was male, on account of his narrow pelvis and square chin. Earl was also tall and had arthritis. The wear on his teeth indicated that he smoked a pipe. There were West Point Civil War-era military insignia buried with the corpse.
Stiger plans to use Earl as a teaching tool for anthro students, with the goal of identifying the corpse. He noted that the burial was in "proper orientation," with the head to the west. That's because some Christians believed that Jesus will return from the east, and the resurrected, with their feet to the east, will thus be able to sit up and see the messiah.
Not quite a done deal
Although the owners of the Climax Mine north of Leadville appear ready to put the molybdenum mine back into production, there has been no official announcement. The mine is now owned by Freeport-McMoRan, which said a decision should be made by the end of the year about restarting Climax in 2010 as an open-pit operation.
The finances look promising: moly is selling for about $30 a pound, and production costs are estimated at $3.50 a pound.
While Leadville waits hopefully, there's plenty of local opposition to moly mining across the Divide around Crested Butte, where people are fighting against the proposed Lucky Jack Mine at Mt. Emmons.
Drought may be over
The long drought has ended, according to an article in the Fairplay Flume by Debra Orecchio. Precipitation in 2006 was far above normal at three measurement areas in different parts of Park County (Bailey, Lake George, and Antero), and "data so far in 2007 indicate we're well on our way to breaking average yearly precipitation this year, too." Soil moisture and plant life have recovered to average or above-average levels.
For further evidence of a wetter South Park, there was a snowstorm on Oct. 14 that put a few inches on the ground, and inspired the Colorado Department of Transportation to put the chain law into effect on Hoosier Pass and the windy stretch of U.S. 285 between Fairplay and Kenosha Pass.
On the other (dry?) hand, the Sawatch Range showed hardly any snow as this edition went to press, and the weather around Central world headquarters has been markedly clement for November.
Traditional Voting Valued
This year, voters in Custer County could use either paper ballots or electronic machines. Paper came out way ahead: 415-193.
California, here it comes
For a few days in late October, it was hard to tell from Salida whether there was any snow on the Sawatch Range because it was difficult to see the range at all from town. Haze from the big California wildfires had drifted in, along with a sooty aroma.
But even if our air had lost its usual clarity, air quality was still good here by EPA standards, as Susan Tweit explained in her Mountain Mail column. In an arid area where you're facing away from the sun, if you can see a big landmark that is at least 10 miles away, air quality is still "good." She noted that Mt. Ouray, 14 miles away, was obscured, but Mt. Shavano, only 10 miles distant as the crow flies, remained visible. "Thus, the air quality rated 'good,' even though it didn't look good," she wrote.
It did remind us how "spoiled" we are when it comes to atmospheric clarity, and how nice it was when the Golden State murk finally dissipated. It's a small world and all that, but that's one reminder we didn't appreciate.
Habitat preservation
The 1,600-acre Miller Ranch in the Ohio Creek Valley near Gunnison has been purchased by the Colorado Division of Wildlife for $6.5 million, with the money coming from the Wildlife Stamp program and Great Outdoors Colorado (GOCO).
DOW said the purchase was important to protect the habitat of the threatened Gunnison Sage Grouse, and it also offers winter range and a migration corridor for deer and elk in a valley where 35-acre lots have been going for $1 million and more.
The Miller family had decided to get out of the ranching business, and put the place on the market in 2002. Most offers came with plans to subdivide the property, and the family decided that selling to the DOW was the best way to keep the land open. "We felt good about that," Carl Miller said, "and felt that it would show respect to the five generations above me."
Short Escape
David Gilbert Griego, 20, broke through a second-story window and jumped out at the Lake County Courthouse on Oct. 16. He had just been hauled in for a bond revocation hearing and faced many charges, including criminal mischief and domestic violence.
A dispatcher who had just stepped outside saw Griego land after Leadville Police Officer Tony Lobato grabbed him upstairs, but lost his grip. Griego ran down the alley, then in and out of at least one building before police caught up with him a few minutes later.
Rocky Mountain High Economics
The climbing routes up three popular 14ers in the Mosquito Range — Bross, Democrat, and Lincoln — have been officially closed for several years because they cross private mining claims, and the property owners worry about liability if some hiker should wander off and fall down a shaft.
That should change soon. The legislature passed a law in 2005 to limit liability, the Colorado Fourteeners Initiative has been working on sustainable trails that should open next year, and the Town of Alma leased some relevant land, thereby putting it under the town's insurance.
Re-opening the peaks should be an economic stimulus for Alma, according to a study conducted by Colorado State University. While folklore has it that hikers don't spend much money in the area, the study concluded that the average 14er climber spends $107 per day on an outing, which could mean about 25 jobs in the area.
Mineral Discovery
Hunters camped in the White Pine area in October found a container that looked suspicious. They called the Gunnison County sheriff, who sent a hazardous-materials crew. It turned out to be a three-pound flask of mercury, the metal that remains liquid at normal temperatures.
It was probably left there by someone panning for gold, since mercury forms an amalgam with gold and thus simplifies the work of separating placer gold from black sand.
It's also hard on the human nervous system, but fortunately, there was no evidence of any mercury spill.
Hunters find body
The body of Gary Lorenz, who had been missing since Sept. 24, was found on Oct. 21 by hunters about eight miles from his home north of Cotopaxi. Lorenz, who suffered from Alzheimer's disease, disappear after he took his dogs and rode off on an ATV to check his horses.
The cause of death appeared to be exposure and dehydration. His dogs, golden retrievers Pippen and Merry, remained near the body and were alive and in reasonably good shape, except for losing about nine pounds apiece.
Deadly Hunting Trip
A Mississippi man died of suspected carbon monoxide poisoning on a hunting trip to the Gunnison Country, and the other man in the compartment was rescued just in time. They were part of a group of six hunters in the Rainbow Lake area north of Blue Mesa Reservoir.
On Oct. 22, William Scott Smith and Russell Lane were staying the night in the sleeper cabin of a large stock trailer. The other four hunters had gone two miles to a horseback camp. Smith and Lane were supposed to take coffee and breakfast up to the horse camp in the morning, and when they didn't show up, two of their hunting companions went down to find out why.
They found Smith dead, slumped inside, and Lane near death on a top bunk. A ranch hand nearby was summoned for help, and was able to call 911 with his cell phone. Meanwhile two local cross-country skiers happened by. One of them, Connie McQuade, had some medical training, and with help was able to save Lane.
County Coroner Frank Vader surmised that Smith started coffee on the propane stove, then went back to sleep and did not notice that the flame had gone out as the compartment filled with toxic gas.
From Cornwall
to Leadville
Many early-day Colorado miners hailed from Cornwall in Great Britain, where mining has gone on since Roman times and before. Some Cornishmen stayed; others went back. Among them were some who named their children after the place where they had worked in the New World.
A letter in the Leadville Herald-Democrat observed that there was a father and son in Cornwall both named Leadville Parsons, and the postmaster at Port Isaac in Cornwall is named Leadville Cleaves, whose father and grandfather had carried the same name.
We note that one Mrs. Salida Johns, who lived to see Salida celebrate its centennial in 1980, received her name in 1880 because the town promised a free lot, upon the baby's 21st birthday, to the first girl to be christened "Salida."
Observations
"I have to say that ninety-eight percent of the people who come here are grand and good; it's just the two percent. Now, if I were sortin', like we do with cattle, the two percent would 'go out.'"
— Rancher Bet Kettle in the Wet Mountain Tribune, Oct. 18.
"Most of us learned in early years that when someone receives too much money for a service, the overpayment should be honorably returned. Such is not the case in Saguache County."
–Jim and Sherry Maxwell in the Crestone Eagle, November 2007.
"Some people just find this [the skeleton uncovered in Crested Butte] horribly creepy and can't bring themselves to deal with it. It's a good thing for them to find out while they're undergraduates."
— Anthropology professor Mark Stiger in the Gunnison Country Times, Oct. 18.
"Because of recent incidents of deer attacking dogs, dog owners are reminded that the best thing they can do is to discourage dogs from barking and chasing deer…. A buck jumped a relatively high fence and attacked a dog. Two others were attacked by does. The Buena Vista Veterinary Clinic had one report of a Labrador attacked recently in a field in town. The dog was sore, they said."
— Kathy Davis in the Buena Vista Chaffee County Times, Oct. 18.
"Forget about war and impending attacks on Iran, we've got a tire dump on Highway 17 somewhere before the Hooper UFO tower…. Last year the state sent a couple of agents to check out the situation. The used-tire magnate informed them it was an inconvenient time for her, so the agents gladly returned to their car and Denver. Would that it be so easy to get rid of tax collectors."
— Doug Larsen in the Crestone Eagle, November 2007.