Brief by Martha Quillen
Regional News – February 2007 – Colorado Central Magazine
Online Schools Not in Line?
On December 12, a front-page Denver Post article reported that a state audit had found Colorado's online schools wanting.
The audit cited districts for both poor student performance and sloppy accounting. According to the Post, it revealed "a troubled system in which students enrolled in online schools performed worse on state reading, writing and math exams than their peers across the state for the last three years; online students dropped out or repeated grades at higher rates than students statewide; and at least five online schools appeared to violate requirements that teachers are highly qualified."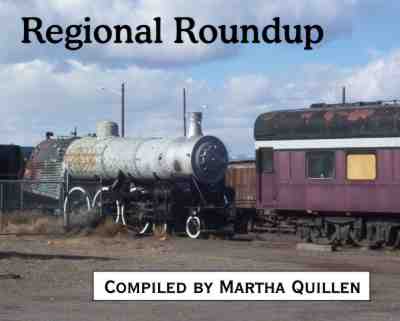 Accounting problems were also common. For example, the Cotopaxi School district was reported to have conducted an off-line home-school program with funds targeted for online education.
Even more disturbing, state-wide a mere 31 percent of 10th graders can do grade-level math, and just 7 percent of 10th graders enrolled in online schools can.
Housing Prices Up,Up and A-Way Up
In late December, the Mountain Mail announced that average home prices in Chaffee County had risen from $127,000 in 1998 to $232,000 in 2005, and had hit $267,000 recently ($300,000 in Salida; $238,000 in Buena Vista, and $246,000 in Poncha Springs).
The Mail's two-part article on housing reflected findings by a housing study sponsored by the Chaffee County office of economic development, and credited much of the increase to second-home buyers.
According to the study, 60% of the people who have moved to Chaffee County in the last three years list retirement pensions, investments, or Social Security as their primary source of income.
Home prices in the county have increased 82 percent since 1998, while average wages increased a mere 30 percent.
One Century Down, Another Begin
Howard resident Agnes Thornton is 100 years old and still living alone in her mountain cabin.A century ago, Thornton started life in South Dakota, where she graduated from high school. Then she took business classes and worked as a bookkeeper in Nebraska until the Great Depression.
When jobs got scarce, Thornton worked as a babysitter, and at Penny's, then moved to New York state to live with an aunt. There, she went to nursing school, worked in an obstetrical hospital, and joined the Army.
Thornton served as a nurse during WWII, then left the armed services, worked in a "Veterans Affairs" hospital, and earned her bachelor's degree. In 1957, she married, and two years later she and her husband moved to Colorado. After retiring in 1966, Agnes moved to Howard with her husband William, who died 15 years later.
In a Mountain Mail interview published January 15, Agnes, who served in WWII and lived during WWI, Korea, Vietnam, the Gulf War, Kosovo, and the Iraq War told the paper that she would like to see the end of war. "People," she said, "should just get along."
Sign of the Times?
Signs frequently seem to bring out people's differences here in Salida. Perhaps Ralph Taylor started the trend decades ago with his famed downtown billboard proclaiming, "Reagan's A Liar." Or maybe it evolved with tiffs over city sign codes, which were adopted to assure that business signage be attractive and tasteful, but occasionally precluded signs that many residents found acceptable.
No matter how it began, over the years there have been numerous complaints sent to our local paper contending that park signs announcing "no dogs allowed" and downtown postings prohibiting bicycles, skateboards, and roller skates are unfriendly.
Then right before the U.S. sent troops into Iraq, there was substantial controversy over an ATTACK IRAQ sign attached to a citizen's fence; and an even bigger fracas after someone threw paint on it.
And before the last election, there was disagreement over an anti-war sign which the city said didn't abide by it's sign code, but which the resident felt was a political sign and thereby exempt and protected (a position the ACLU agreed with).
And now there's considerable contention over an editorial in the Mountain Mail by editor Merle Baranczyk, who wrote that a couple visiting Salida disliked signs which Baranczyk claimed "an individual or group opposed to the war" had plastered in windows all over downtown. According to Baranczyk those signs "said something like, `2,900 Americans dead in Iraq — how many more have to die?'" Baranczyk contended that such signs hurt tourism; were unwelcome by downtown merchants; and that "putting up political signs is an obvious slap-in-the-face to servicemen and women."
In response, Terry Wareham, proprietor of Hattie's Pub, replied that he himself had put such a sign in the window of his establishment, and kept the number updated, and some people had actually thanked him for it.
Most readers probably agreed that peace advocates shouldn't be slapping protests on other people's property, but as it turns out, there were probably no crazed sign-slappers stamping messages all over Salida. Despite Baranczyk's worries, it looks like a few residents had merely decided to air their own views publicly.
But Baranczyk went on to claim, "In the eyes of soldiers, sailors, airmen and marines, you can't be against the war and in support of the troops at the same time." And consequently, Baranczyk maintains, merchants in tourist towns should be very wary of the messages they post.
In response, readers flooded the Mountain Mail with letters, launching a lively debate on whether you can hate a war yet support the troops, which is a worthy debate to be sure, but it tended to neglect the recurrent issue of sign censoring.
One suspects that most of Salida's disagreements over signs have very little to do with the signs and everything to do with the messages: Should the U.S. have troops in Iraq? Should dogs be allowed in our parks? Should bikes and skateboards be prohibited?
But by concentrating on the signs, we add a larger dimension to the disputes. Baranczyk, for example, seems to be suggesting that people should suppress their political expression for the sake of tourism and/or nationalism. But would he feel the same way if the issue were different?
In other editorials, Baranczyk has made it clear that he supports the war (and the surge), so it isn't surprising that he finds anti-war sentiments distasteful. But what about other divisive political messages?
Clearly all sorts of people vacation in Salida. And it's just as obvious that some people are against abortion; while others are against war; and some are merely against this particular war. Some people feel Moslems are a threat. Some fret about fundamentalists. Some object to: Food stamps. The "military-industrial complex." Migrant workers. The Bush administration. Liberals….
And clearly they all have a right to their opinions.
Yet according to many citizens some opinions should be suppressed by covenants, sign ordinances, public ridicule, and citizen condemnation, for the benefit of cordiality, community, and commerce.
So in order to assure that we don't offend anyone, what would be appropriate? A campaign against anti-Bush bumper stickers? Yellow ribbons? Army recruiting signs? Christian fish decals?
Or, presuming that censorship is really so essential to the tourism trade (which we don't believe for a minute), maybe Salida should just go for broke and outlaw welcome mats instead.
Pine Beetles Expected
Experts are predicting a big beetle infestation for Chaffee County next summer. The bugs, which turned ponderosa pine here orange in the 1990s, have been migrating down from Summit and Lake Counties, and are expected to affect high elevation lodgepole pine this time around. Old trees are particularly vulnerable to pine beetle infestation, and Chaffee County's lodgepoles are old.
The Mountain Mail warned: "The ponderosa kill in Chaffee County has not been as dramatic as the current lodgepole kill to the north because there is greater age diversity among ponderosa, Roper [Pike San Isabel Timber Manager Gary Roper] said. But the lodgepole trees in Chaffee County — near the top of Monarch Pass and in the Collegiate Peaks Wilderness Area — lack age diversity…."
Denver news stations held out one hope: extreme cold could reduce beetle populations, but it would have to be a really bitter and persistent freeze, since the beetle larvae reside deep in the trees. Such cold spells are rare and unlikely, but lately it seems as if the beetles may indeed find Chaffee County inhospitable — as will the rest of us if this weather holds.
It's the Pits
Pit bulls belonging to David Lykins of Leadville were accused of three separate attacks in Lake County. First his brindle pit bull reportedly attacked a leashed dog in September, causing the owner to fall, and injure her knee. Then two of his dogs allegedly attacked another dog on October 3, injuring his hind leg (and a neighbor/witness said it tried to attack the dog's owner, too), and on October 26, another dog was seriously injured by the same pit bulls, at which time the dogs were put in the county shelter.
Local citizens were clearly upset about how long it took the county to act. A letter from Becky Newell and Sarah Dunsmore in the December 28th Herald Democrat, complained because "it took three vicious attacks to have a court date scheduled."
Headlined "Dog-walkers shouldn't need guns," the letter continued, "When another victim had questioned this, saying she did not feel safe walking in town, Judge Patton suggested that she do anything necessary to feel safe — even `carrying pepper spray or a .327 magnum.'"
According to the Herald, one reason for the problem was that the county only had the authority to hold a dog in the shelter for a period of 10 days or less, but it was working on changing that ordinance.
Although the pit bulls were released to their owner after the ten-day period, they were soon put back in the shelter with a court order, and charges (which could result in fines and/or imprisonment) were brought against the owner.
Shorts
* After Marine Lance Corporal Nicholas Palmer,19, was killed in a sniper attack in Iraq in December, Leadville residents lined Harrison Avenue holding flags and candles to welcome the fallen soldier home. Nearly 1,000 people packed Palmer's memorial service at Lake County High School, where he'd graduated in 2005. Palmer's brother and commanding officers shared memories of him, then a flag and Purple Heart were presented to his family, who afterwards headed to Great Falls, Montana for the young Marine's burial.
* David Angelo, a bee keeper from Poncha Springs, and three workers from Bee Busters of Houston, Texas, conducted the first step toward historic restoration of the Hutchinson Homestead outside of Salida in early January — by removing bees. Honey bees had sought warmth within the walls of the abandoned house, building three hives, and the removal process required scraping wax and honeycomb from the walls and gathering the bees for transport. No bees were harmed in the pursuit of this project to build a museum and cultural center.
* Salidan Michael Wiegand, the former proprietor of Balloonatics, who was found guilty of 25 misdemeanors and two Class 4 felonies in connection with inappropriately photographing and touching a child and possessing child pornography (on his computer), was sentenced to a 24-month sentence in the county jail for the misdemeanors and 10 years to life probation for the felonies.
* A wet T-shirt contest at Calypso, a new bar in Crested Butte, was meant to attract customers, but brought charges instead, after police on a routine bar patrol witnessed nudity and fondling, and also cited one contestant for underage consumption of alcohol. The matter was turned over to liquor licensing authorities, who will determine whether heavy fines and/or temporary closure are in store.
Quotes
"I just want the public to know that we didn't mean for it to get out of hand like that."
Luke LaPenna, proprietor of Calypso, a Crested Butte bar busted for violating conduct codes; Gunnison Country Times
"Dear Santa please take the troops some stuff like food clothes lip bom. Kayla."
Gunnison Country Times
"I've never seen anything like this. I mean, we get snow here, but what they got down there was just unbelievable."
Scott Merrill, Gunnison County Emergency Manager, after rescue workers went to Eastern Colorado to help motorists and residents stranded by the recent blizzard; Gunnison Country Times
"When you're a kid, you want to be a fireman, or a cop, or a cowboy, or whatever . . . I don't think any kid wakes up in the morning and says, 'I want to be a public administrator.'"
Ken Coleman, city manager of Gunnison; Gunnison Country Times
"ATVers would love Mongolia. I hope they never discover it. There are no fences, road signs, or rules about staying on the road."
Victoria Woodard, from "Adventures in Mongolia," Saguache Crescent
"That black cow, she's awesome …. And she can jump! When we got her, she just leaped into the trailer, and spun around on one hoof. It was amazing."
Kodie Coblentz, high school student who hopes to become a rancher; Gunnison Country Times
"Admitting to ourselves and others the irrationality of choosing war to achieve peace is at the heart of reclaiming justice as an American virtue."
Mike Bullock, editor, Chaffee County Times