Brief by Ed Quillen
Local News – June 2006 – Colorado Central Magazine
Creativity Needed
Too many subdivisions have names that are too much alike, according to the Chaffee County Planning Commission, which would like to put "Mt. Princeton" out to pasture.
The suggestion came at an April 25 meeting which dealt with the "Mt. Princeton Foothills" sketch plan. A change to "Cody," the name of the family requesting the minor subdivision, was suggested, since the county already has "Princeton Estates," "Mt. Princeton View Estates," and "Mt. Princeton Hot Springs Resort."
Don Reimer, county planning director, said that so many Princeton names "can be confusing for [emergency service] providers," and the county emergency services director said it could cause problems, even though dispatchers rely more on road names and numbers.
The next day, the Sunrise Ridge application was approved — rechristened from Pine Hills, which sounded too similar to Piñon Hills. Shavano and Vista are other subdivision names that get overused, according to the planners.
Geographic creativity has never been a strong point hereabouts. Salida's downtown streets are mostly mere numbers and letters, and in the mountains, we have prosaic names like "Middle Fork of the South Arkansas River" while other locales enjoy names like "Oh Be Joyful Creek."
It's too late to change most of those names, but we hope the planners can encourage more creative nomenclature — Ark Hills Homeland, perhaps, or Dead Goat Gulch Estates. And we note that our Smeltertown friends often refer to their places as in Smelter Shores (if along the river), Smelter Heights (if on the bluff), and Smelter Estates (if it's near the old smokestack).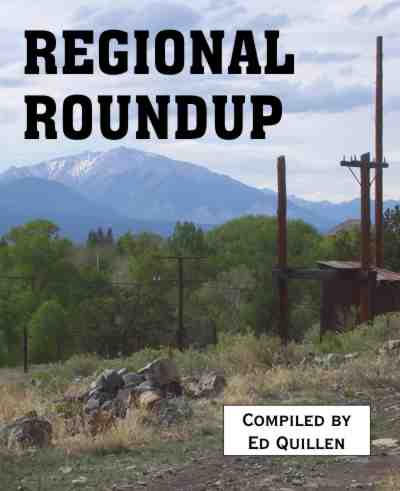 Quarter Centuries
Two Central Colorado institutions recently observed 25 years under the same ownership. On May 17, 1981, Peter Simonson took over the Victoria Tavern at the corner of Sackett Avenue and F Street in Salida. He's still there, and the anniversary was celebrated with music, food, and 25-cent mugs of Pabst Blue Ribbon.
On April 17, 1981, Jim Little bought the Wet Mountain Tribune in Westcliffe. He's still the publisher, and he recounted that "On too many occasions to count, we've been physically threatened and cussed out and reviled over issues both of import and inconsequence. Mercifully, we've also been sent flowers and cookies and Cuban cigars, thanked profusely and slapped on the back for what's perceived as the good work we do."
During the early years of Jim's tenure, our Ed Quillen used to fill in for Jim in Westcliffe for a week or two every year or so, so that Jim could take a vacation. And of course, Ed spent some of his pay at the Vic — which advertised in the first edition of Colorado Central, and has appeared ever since.
Making any small-town enterprise, be it saloon or newspaper, thrive for 25 years under the same ownership is a worthy accomplishment.
Rainbow Visitors
The Rainbow Family of Living Light apparently plans to gather on National Forest land somewhere in Colorado July 1 through 7. No one seems to know just where, though, and it isn't as though some specific site has been announced by a ruling council. The outfit's web site (http://therainbowfamilytribe.tribe.net/) explains that "Some say we're the largest non-organization of non-members in the world. We have no leaders, and no organization."
Colorado has previously hosted them in 1972 at Strawberry Lake near Granby and in 1992 near Paonia. The 1972 festival had Lt. Gov. John Vanderhoof complaining that "the highways are full of the sons of bitches," and in 1992, some Paonians wore T-shirts that said "Don't Shoot: I'm a local hippie."
There has been some speculation about the Rainbow location in the regional press. Reporting on a Saguache County Commission meeting in the Crestone Eagle, Doug Larsen wrote that "They're looking at the north-central sector of the state and Saguache Park. That could mean some 25,000 to 40,000 tie-dyed longhairs."
Writing in the Fairplay Flume, Cate Malek discounted rumors that it might happen in Park County, on account of fire bans in place after a dry spell. Northern Colorado, which got much more precipitation last winter, is a more likely location. She quoted Rob Savoye of the Rainbow Family, who noted that each national gathering leaves about $2 million in nearby communities.
There are scouts in Colorado now, who will bring three recommendations to the June 10 Rainbow council meeting, and the site will be selected then. Recent festivals have attracted about 8,000 people.
Singed But Standing
The historic Temple Israel building in Leadville, home to an early Jewish congregation (and the topic of an article in our January, 2002, edition), caught fire on May 4. It was in use as an apartment house, and no residents were injured — even a tenant's cat got out in time.
The firefighters' techniques have been a subject of some controversy since then, and there's an arson investigation underway, too.
But "this accelerates our plans for restoration," according to Bill Korn of the Temple Israel Foundation, which bought the building in 1992. "We just paid off the mortgage this year." Tax-deductible donations for restoration are welcome at Temple Israel Foundation, 208 W. 8th St., Leadville CO 80461, he said.
Immigrant Day
Various national groups called for "A Day without Immigrants" on May 1, and some students and businesses in Lake County responded. About 40 percent of the students at West Park Elementary in Leadville were absent; normally it's about 10 percent. At the middle school, it was 23 percent. And several local businesses, among them La Raza and Manuelita's restaurant, were closed.
Most of them probably went to a march in Denver, where a peaceful rally drew about 75,000 people.
Meanwhile in Gunnison, immigrants were lying low that week because there were rumors of a raid by federal Immigration and Customs Enforcement. To quote from the Gunnison Country Times, "ICE agents were supposedly seen at Wal-Mart, local gas stations, and at traffic checkpoints between Crested Butte and Gunnison," and some "business owners sent their undocumented workers home, for fear of being busted by the ICE."
As it turned out, there were some ICE agents in town. But they were there only to pick up some prisoners at the county jail who had committed crimes and were undocumented. They can be deported, and the ICE agents were there to transport them.
For the Birds
Pelicans aren't commonly seen in Central Colorado, but now there are nearly 100 of them hanging out at Ice Lake near Buena Vista. Apparently, they used to nest — and eat fish — at Antero Reservoir in South Park. But drought drained that lake in 2002, and it hasn't been restocked with fish.
So the hungry birds moved to Buena Vista. The problem is that nearby landowners pay to stock the lake with fish for anglers. But now the birds are taking the fish, and the landowners are looking for ways to scare them off.
In the Gunnison Country, sage grouse have been much in the news in recent years as populations appeared to be declining. However, the U.S. Fish and Wildlife Service officially announced on April 12 that the bird will not be placed on the Endangered Species List.
One reason for the decision: Locals had been working hard to preserve habitat through conservation easements and land-use regulations, so the feds didn't need to step in.
Busier 285
The Colorado Department of Transportation continues to improve and expand U.S. 285 between Denver and South Park. There has been talk of addressing I-70 congestion by improving one of the old routes (like Georgia Pass) from the 285 corridor into Summit County, but to date, that's all it has been, talk.
More officially, CDOT engineer Bill Scheuerman told Bailey residents that traffic is expected to rise from 7,100 vehicles a day in 2000 to 15,400 in 2025. In 20 years, according to CDOT's Jeff Kullman, 285 traffic is expected to be "equal to or greater than what we experience on I-70 today."
Doubtless some people find that prospect appealing, but we are not among them.
Hybrids killed
Two wolf-dog hybrids were killed by a Colorado wildlife officer in the Wet Mountain Valley this spring. Over a 12-day period, residents reported two wolf-like animals harassing livestock in a timbered area about 11 miles west of Westcliffe.
Wildlife Conservation Officer Becky Manly saw the animals and determined that, based on their behavior, they were not pure wolves. Wild wolves, which are protected in Colorado, don't like people and run off when they're chased. These did not. Manly shot them, about a mile north of Westcliffe.
The animals were most likely dumped by their owners, according to Michael Seraphim of the DOW. "People get these as pets. They suddenly realize they've got way more than they can handle, so they take them out into the country and let them go."
Hemp Busts
Cannabis users have been busted in some different ways lately hereabouts. For instance, we've all heard of drug-sniffing dogs, but there's a drug-sniffing deputy in Lake County, Lt. Amy Reyes.
She's allergic to marijuana, so she noticed the smell of growing plants in a nearby house when she served civil papers on April 4. She got a search warrant the next day and found that the suspicious house had higher-than-normal electric bills, which can indicate someone's growing something under lights indoors.
Upon searching the residence, she found a plastic kitchen container full of pot, and some fresh buds in the closet. The house's resident was charged with possession, distribution, cultivation, and conspiracy to cultivate.
An indoor grower in Crested Butte South avoided the utility-bill tip-off by building a sound-proofed room in the garage to hold a portable generator. It powered growing lights in the basement, where sheriff's deputies found more than 200 plants, as well as "a large amount" of dried and processed marijuana.
A mysterious death led to a marijuana bust at Mesa Antero near Nathrop. Everett Thomas Jardee, 39, was found in bad condition alongside U.S. 50 near Monarch Pass on May 1. Two passersby took him to the Heart of the Rockies Regional Medical Center, where he later died. As is usual in a death that starts outside medical care, the facility notified the sheriff's department.
Deputies went to Jardee's home in Mesa Antero, where two men denied them entry until they returned with a search warrant. There they found about 100 marijuana plants, and information that led them to another home on County Road 163, where they found another 100 or so plants and growing equipment. That led to an arrest for cultivation and possession.
The cause of Jardee's death was awaiting a toxicology report that had not been issued at press time, but foul play is not suspected.
Sauna gets too warm
Saunas are supposed to be warm, but not this warm. A sauna at Bear Basin Ranch in the Wet Mountain Valley got so hot on May 1 that the small building caught on fire. Custer County Sheriff Fred Jobe said it was put out quickly, as ranch hands "used buckets and formed a fire brigade."
It's so dry that the county is under an outdoor fire ban, and "the fire could have been much worse," Jobe said, but the quick response confined the blaze to the sauna.
Observations
"Leadville has more museums per capita than any other Colorado city."
— Maureen Scanlon in the Leadville Herald-Democrat, May 4, 2006
"Nobody butted in. Everyone was allowed to speak uninterrupted. That's different."
— Salida City Councilman Jim McCormick, describing a land-use seminar, Salida Mountain Mail, May 1.
"Lake County is the only county in Colorado that has had no tornadoes. A tornado is not impossible here, but it would be highly unusual."
— Marcia Martinek in the Leadville Herald-Democrat, April 20, 2006
"I've heard that there are 100,000 people coming here to steal everything I own."
— Joe Corrigan, owner of the Stagestop Saloon in Jefferson, about the Rainbow gathering, in the Fairplay Flume, April 21.
"We need the fire department more than we need the [county] commissioners."
— Leadville Mayor Bud Elliott in the Herald-Democrat, May 11, 2006.
"I look down the list of candidates for various positions here in Park County and for the life of me I can't find one candidate who has not sold us out. They have turned what was once a great place to live, into a mountain suburbia."
— Will Newman of Bailey in the Fairplay Flume, April 14, 2006.
"I can have deer and elk in the yard, watch the wildlife, and yet I can still get to Denver in time for a concert."
–Rich Gabrish, a real-estate agent in Bailey, Fairplay Flume, May 5, 2006