Brief by Martha Quillen
Local News – December 2005 – Colorado Central Magazine
DOW Seeks Info on Missing Lynx
The Colorado Division of Wildlife is asking for help in solving the mystery behind three missing lynx near Durango. Recently the DOW recovered two radio-telemetry collars that had been cut from lynx in southwest Colorado and also reported that a third collar was emitting a "mortality signal."
The first collar was dropped into a mail slot at the Silverton post office on October 25. It had been removed from a male lynx born in Colorado in 2004. The cat had been trapped and collared last winter.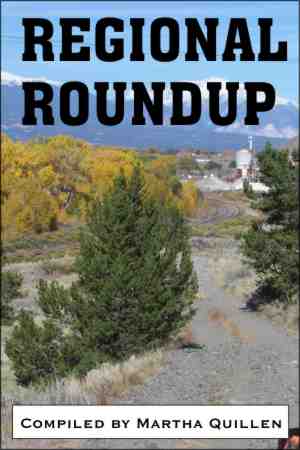 The second collar was found in snow in the Missionary Ridge area northeast of Durango on October 27. It had belonged to a female lynx, which had given birth to three kittens in May or June according to researchers. Because the kittens would be too young to survive on their own, the kittens are also presumed to be dead.
The third collar had not yet been recovered as of mid November, but it indicated that its wearer was dead in steep terrain above Vallecito Reservoir.
Information concerning the deaths may be reported anonymously by calling Operation Game Thief toll free at 1-877-265-6648.
New Heart of the Rockies Developing
Plans for the new Heart of the Rockies Regional Medical Center have made Mountain Mail headlines in recent months. After much controversy over whether the new hospital would be in Salida or elsewhere, the designated site is twenty acres on the northwest side of town near Colorado 291 and CR 154.
Current designs call for a 85,000 square-foot building, which is about 1/3 bigger than the present facility. And the new building can reportedly be built for an estimated $18 million in construction costs.
In October, however, hospital administrators were requesting a $26.6 million loan. So there's still a lot of contentious gossip on just what it's really going to cost to build a new hospital and move in.
On October 31, the hospital announced that it had received a $500,000 Energy Impact and Assistance grant which is earmarked to help pay for the expected $1 million it will cost to extend sewer, water, electricity and telephone lines to the new building.
And in November, plans for fund-raising campaigns began.
In the meantime, hospital staff, managers and architects have been working on designs to provide efficient department placement and patient services in the new hospital.
Fire Chief Fired
On November 18, the Mountain Mail announced that Salida Fire Chief Rod Goosman had been fired. Though there's clearly more to this story, details weren't forthcoming when we went to press. According to the Mail, Salida City Administrator Julie Feier didn't say why the decision had been made and she said that it wasn't yet known how the process of obtaining a new chief would be handled. Until then, Feier will serve as acting chief.
At the time of his dismissal, Goosman had been Salida's fire chief for a little less than two years, having come to Salida from Lake Forest, Illinois to replace Pete DeChant, who left the department in September of 2003.
Animal Officer Charged
Lt. Edward Rasch of the Park County Sheriff's Department was charged with first degree official misconduct, a Class 2 misdemeanor, and harassment, a Class 3 misdemeanor, and fired, after a month-long investigation by the district attorney's office and an outside, independent agency.
According to the Fairplay Flume, the investigation was initiated after a female Park County Animal Control Officer came forward, accusing Rasch of making lewd statements involving oral sex, and grabbing her hair and forcing her head toward his crotch on several occasions.
During the investigation, other animal control officers and current and former sheriff's deputies were interviewed, and witnesses agreed that Rasch's behavior and comments were frequently inappropriate.
Sheriff Fred Wegener subsequently announced that the findings of the investigation left him no choice but to "terminate the employment" of Rasch .
But according to the November 18 Mountain Mail, Park County Undersheriff Don Anthony, who was also placed on administrative leave in connection with charges made, remained so "pending outcome of the investigation into allegations against him."
Count and Recount
On November 16, Colorado Secretary of State Gigi Dennis announced that 10 Colorado counties, including Chaffee, Custer, Fremont, and Park, would have to recount their election ballots due to inconsistent results noted during a post-election audit. All of the counties involved used Optech III-P model tabulation equipment, which is believed to be the source of the inconsistencies. Thus a hand count was required.
But Chaffee County Clerk Joyce Reno assured the Mountain Mail that the Secretary of State's office is working with county commissioners to insure that there will be no problems in future elections.
The newspaper also pointed out that the recount might save Hugh Young and his supporters some money. Before the announcement, Young, who ran for the Salida City Council and lost by three votes, was considering paying $1,000 for a recount. But under the circumstances, there would be a free recount.
Ron Stowell, who'd won by those three votes, told the newspaper that he was happy that a recount was taking place, because it would settle any questions about the close count.
Results of the new counts will be announced in the next few days – or in other words: immediately after Colorado Central goes to press.
Bless the Beasts, the Children
… and the Worms.
A cutline in the Leadville Herald Democrat appeared under a picture of people, dogs, goats, and other animals. It announced: "People and pets gather for the annual Blessing of the Animals at St. George Episcopal Church in honor of the feast day of St. Francis, patron saint of animals and of peace. Dogs, cats, worms, ferrets, goats, and bunnies were present."
So Please Bless Creepy and Crawly and Slimy and Slinky….
Senior Citizen Convicted
In mid October, Paul Salzgeber, a 76-year-old Grant resident, was convicted of unlawful sexual contact, and third degree assault and harassment, according to the Fairplay Flume.
The charges stemmed from a 2002 incident. The victim accused Salzgeber, her landlord, of inappropriately hugging and touching her when she tried to give him a rent check. Then, after she informed him that his hugs were unwanted and inappropriate, he raised her rent $150 and turned off the utilities. The victim's attorney, Brian Green, said Salzgeber told the victim, "You can take it out in trade."
After his conviction, Salzgeber reportedly apologized to the victim by saying, "I'm sorry, I am just a dirty old man."
Good News/Bad News
The Mountain Mail's lead headline on October 18 announced "Atmos lowers expected rate hike: Earlier predictions were 50-65 percent higher; now 38-52 percent." And an accompanying box read: "The monthly (natural gas) bill for an average household will jump from $98 to $145. For businesses, the monthly average will go from $481 to $716.
So was that encouraging news? Or what?
CMC Celebrates New Home
A ribbon-cutting ceremony in mid-November honored the completion of Colorado Mountain College's new Chaffee County quarters. The college's new building at 27900 CR 319 is across from the Central Colorado Regional Airport near Buena Vista and according to the Chaffee County Times the new building is officially named the "Charles J. Forster and Connie J. Forster Chaffee County Academic Center at Southard/ Perrin Park."
Talk About Titanium
Teck Cominco, a "world-wide mining conglomerate" based in Vancouver, B.C. owns thousands of acres in what is called the White Earth Mining District thirty miles southwest of Gunnison. And currently the company is trying to obtain a patent to take control of 456 acres of BLM land at the site in order to mine a titanium deposit there.
The Gunnison Country Times reported the words of the company's vice-president: "It's a two-stage process, where first you have to show the mineral deposit is there. Once that's accepted, then you demonstrate the economics of the project.
"What's happening now is that the economics have been demonstrated and [the BLM] is asking questions about the technical process at this time."
The newspaper reported that the company may be granted a patent as soon as six months from now (November 17).
The plan is to produce titanium dioxide from a calcium titanite called pervoskite which is prevalent at the White Earth site. Titanium dioxide is primarily used as a pigment for paints, paper, rubber and plastics. The market value of the deposit is estimated at 7 billion dollars.
In recent decades, the laws governing mining patents have been questioned, mostly because they offered legal title to government lands too cheaply and allowed for little public input. Thus a moratorium on accepting any new patent applications was established in 1994. But Teck Cominco's application was originally owned by another company, so it pre-dates that decision.
According to a 1997 Gunnison Country Times interview, Teck Cominco expected their titanium operation to eventually employ 150 people, but the company anticipated substantial and arduous environmental review beforehand. At this point, it's unclear what position the Gunnison community or environmental activists will take regarding Teck Cominco's proposed operation.
Fur Balls and Wigglebutts
In Gunnison this November, the Gunnison County Animal Welfare League hosted its very first Annual Fur Ball.
And over in Westcliffe, the Wet Mountain Tribune announced the names of the 2005 Wigglebutt winners. Cag, a Great Pyrenees, was named Wigglebutt King, and Himie, a miniature Dachshund was crowned Wigglebutt Queen. The newspaper, however, didn't elaborate on what qualities make contestants Wigglebutt worthy.
Familiar Routes Become Scenic Byway
Fifty-seven miles of road connecting Granite, Buena Vista, Salida and Poncha Springs via U.S. 24, U.S. 285, U.S. 50, and Colorado 291 have been designated as the Collegiate Peaks Scenic and Historic Byway.
According to the Mountain Mail, the new Collegiate Peaks Byway boasts three distinct features found nowhere else in Colorado: 1) The presence of aquamarine, the state gemstone. 2) The Arkansas River, the most widely visited river in Colorado. And 3) The largest concentration of 14,000-foot peaks in the United States.
The newspaper quoted Kathryn Wadsworth, director of the Greater Arkansas River Nature Association, who announced that byway designation will help promote the area. "Statistics show scenic byway travelers have more expendable income and stay in an area more than one day," she said.