An Emmy award-winning writer-producer-director-videographer-editor, Julie Speer Jackson has been creating digital film and documentary-style video productions since 1998. She has produced and directed thousands of video and radio productions on countless social issues (from HIV in Africa and HEP C in the United States to homelessness, abused children, and poverty), to long-form radio and TV shows and commercials. She is the Vice President of Culture Content at Rocky Mountain PBS where she oversees several TV shows including Arts District and In Short. She is the creator of the Emmy award-winning TV series Colorado Experience (that she also writes, shoots and edits). She has written, produced and directed numerous documentaries, including the Emmy award-winning Sand Creek Massacre and Standing in the Gap, as well as the Emmy-nominated Sweet Ambition and Haiti's Small Miracles, both of which premiered at The Denver International Film Festival, aired on PBS, and are used in classrooms around the country.
CC: When did your involvement with RMPBS begin?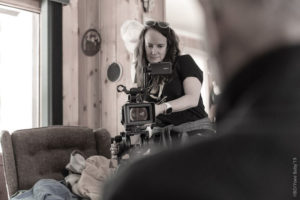 JS: I have been a documentary filmmaker most of my career and RMPBS has always aired my work. My first film, Emmy-nominated Sweet Ambition, aired on Rocky Mountain PBS in 2004. It profiled the struggles of several Latino teens in urban Denver.
When the recession hit, I started doing contract production work for the station in 2009. They offered me a job in 2011 and I've been working there ever since. Working at PBS is the "holy grail" for documentary filmmakers and I count my blessings every day!
CC: Could you give us a little background on the program, Colorado Experience?
JS: Colorado Experience was born in 2013. It was modeled after the hit PBS show American Experience. We profile the significant people, places and events from Colorado's past. The seventh season will premiere this fall and we're already working on season eight. Most episodes are 26 minutes long, but some are 56 minutes. All past 80 episodes are available for folks to watch online, for free, anytime.
The show airs on Rocky Mountain PBS Thursday nights at 7:30. We also turn the shows into Podcasts and we distribute the show nationally on WGBH's The World Channel – so it airs on PBS stations across the country.
CC: How are the topics chosen for the program?
JS: As the show's Executive Producer, this is one of my favorite tasks – crafting each season.
In the beginning I just chose the topics that I wanted to learn about! Now we tackle this in a more formal way, covering all parts of the state and looking at various timeframes. I oversee RMPBS producers in Denver, Grand Junction, Durango, Pueblo and Colorado Springs who all pitch ideas from their region. Because I live in Salida part time, I'm constantly telling stories from Central Colorado! Also, each spring we do a "Viewer's Choice Contest" where hundreds of story ideas are submitted by the public, and we narrow those down to six finalists and then the public votes. It's a very exciting few weeks, watching which episode will win!
CC: What do you like best about working on this particular program? Have you been with it since its inception?
JS: Yes. I started this show back in 2012. Its my second child! I am so proud that it is still going strong. We're even planning a special for our 100th episode! There are so many things that I love about working on this show – but the best thing is that we get access to some of Colorado's coolest places. From Cheyenne Mountain for our episode on NORAD, to remote mountain tops and roof tops – everyone is so accommodating, letting our crew and cameras have access (seriously, people let us on their roofs to film all of the time.)
     I've gotten to see so much of our great state – all four corners and everything in between! I also love the people that I get to meet and that I'm always learning something new. I've met centennial farmers, kayak champions, artists, billionaires … and conducted hundreds of interviews. If I could just be out filming everyday that would be amazing!
CC: Which are some of the Emmy-winning shows you have created?
JS: The two award-winning Colorado Experience episodes are Fly Girl, on a World War II pilot from Grand Junction, and The Sand Creek Massacre, where we interviewed many Cheyenne and Arapahoe descendents who shared their oral histories with us for the 150th anniversary of this horrific event. This is one of those projects that I am so honored to have worked on. My co-producer Mariel Rodriguez McGill (who is now the deputy film commissioner for Colorado) and I went to the massacre site and asked the tribes for permission to tell the story. They agreed and we worked on the show for over a year. I feel like I was a very small part in the healing process, acknowledging and honoring what happened 150 years ago.
I produce other films and promotional campaigns for RMPBS too, so those have won in the past. Standing in the Gap, which profiled the educational achievement gap between students of different ethnicities was another project I'm really proud of.
CC: Which were nominated for this year's Emmys?
JS: Colorado Experience had four nominations this year, and RMPBS had 25 total. Unfortunately, Colorado Experience didn't win any this year, but the station took home eight for other shows, including two for the work of Alexis Kikoen and Arts District, another series I oversee.
CC: What are some of the challenges in producing a program such as Colorado Experience?
JS: There are so many stories to tell. I wish we could tell all of the stories that people bring to us. But we only do 13 or 14 each year and they take quite a bit of time to make. We are working about two years in advance.
     One of the fun challenges in producing a historical series is finding enough old photos and footage to bring the stories to life. We use about 100 photos in each half hour show. Sometimes there's amazing archival footage and that's so exciting every time old footage is found. Last year we profiled FIBARK and there was amazing footage from the 1940s!
CC: Does one particularly challenging event stand out?
JS: The biggest challenges have been human error. One time I accidentally locked the keys in the station vehicle when we stopped for a shot at a scenic viewpoint near Telluride. It took several hours to get a professional locksmith's help (luckily we had cell service!), but it was a great way to meet people. I've learned to drive 4×4 thanks to this show and several times we've found ourselves on very sketchy "roads." I remember a particularly daunting and boulder strewn road above Animas Forks – so often times GETTING THERE to get the shot is challenging!
CC: Can you tell us about the upcoming episode about Monarch ski area?
JS: Monarch Mountain will celebrate its 80th birthday during the 2019-2020 ski season, and anniversary years often give us a good reason to tell a story. We've interviewed several members of their owner's group and spent about a year gathering some amazing photos and footage. The half hour show will air November 21 at 7:30 p.m. and we'll likely premiere it at the SteamPlant in November.
CC: Can readers access the video catalog online?
JS: Yes! www.rmpbs.org/coex. We're also on Facebook and Instagram, constantly posting fun photos and video. Look for Colorado Experience and Arts District.
CC: What first got you interested in filmmaking? Did you study it in college?
JS: Oh I wish I had! My bachelors degree is International Affairs and Economics. I studied then lived in Brussels, Belgium for seven years. I was working for an international headhunter, then for an international data processing company. I thought I wanted to work for a multinational corporation, but I am a storyteller and needed to tell stories. I did start a theatre troupe in college and wrote and directed several One-Act Plays, but I didn't get into film/TV until I moved to San Francisco in the late '90s. Then I started a non-profit film company, Little Voice Productions, in Denver in 1999. Once I was behind the camera, I found my calling.
CC: Do you have any favorite film directors?
JS: My favorites are female directors; Gurinder Chadha, Shonda Rhimes, Deepa Mehta, to name a few. Of course PBS's Ken Burns is an inspiration as well.
CC: You are a fourth-generation Coloradan. Could tell us a little about your ancestors?
JS: My great, great grandparent's homesteaded in Holly, Colorado in the late 1910s. That's very near the Kansas border on the Eastern Plains. They came from Nebraska. My great grandparents set up a small farm in what was an 1880s stone school house in 1920. The building still stands and everyone in the family has carved their names in the "old rock house."
     They tried ranching, then dairy farming. Eventually my grandfather moved to Lamar where my dad was born. In 1931 my great aunt Clara was the oldest girl on the Pleasant Hill School Bus Tragedy, and we told that story a few years ago. One of the outcomes of this tragedy is that school buses were then painted orange so that they could easily be found. It was great being able to interview my cousin and aunt for that episode! I grew up hearing the story, so being able to bring it to life on TV was really special.
CC: You are currently splitting your residences between Denver and Salida. How did you come to choose Salida?
JS: I chose Salida for love! My husband moved to Salida in 2012 and set up Orion Integration Services, a systems integration and cyber security business. We love the Arkansas Valley and the lifestyle it offers – we hike, raft, golf, mountain bike, ski – and it's the best place on the planet to call home! Plus it is very conducive for focused writing or editing work!
CC: Do you think the Internet, and specifically, YouTube and Netflix have impacted the way people watch films?
JS: 100 percent. But there is still a place for good, LOCAL stories. Public media fills a void and niche that Netflix can't fill and so we'll continue to take our cameras across the state and tell Colorado stories.
CC: What can RMPBS viewers have to look forward to in the next year or so?
JS: Coming this fall: Colorado Experience Monarch Mountain and Hutchinson Homestead & Ranch, both Central Colorado stories. We're also covering the State Fair, Glen Eyrie Castle, Colorado forests, and the Fairy Caves of Glenwood Caverns. I'm also very excited to tell the story of the cable industry. Did you know that Denver was the cable capitol back in the day and is still a big player thanks to places like Cable Labs and the Cable Center?
     There will also be increased coverage on our magazine show Arts District and this fall we're launching a Culture Hub and magazine. We're covering everything from performing and visual arts to music, food, fashion, design and so much more. Check out www.rmpbs.org/arts – Colorado is such a great place and there are so many stories to tell!
CC: Thank you, Julie!