by Cailey McDermott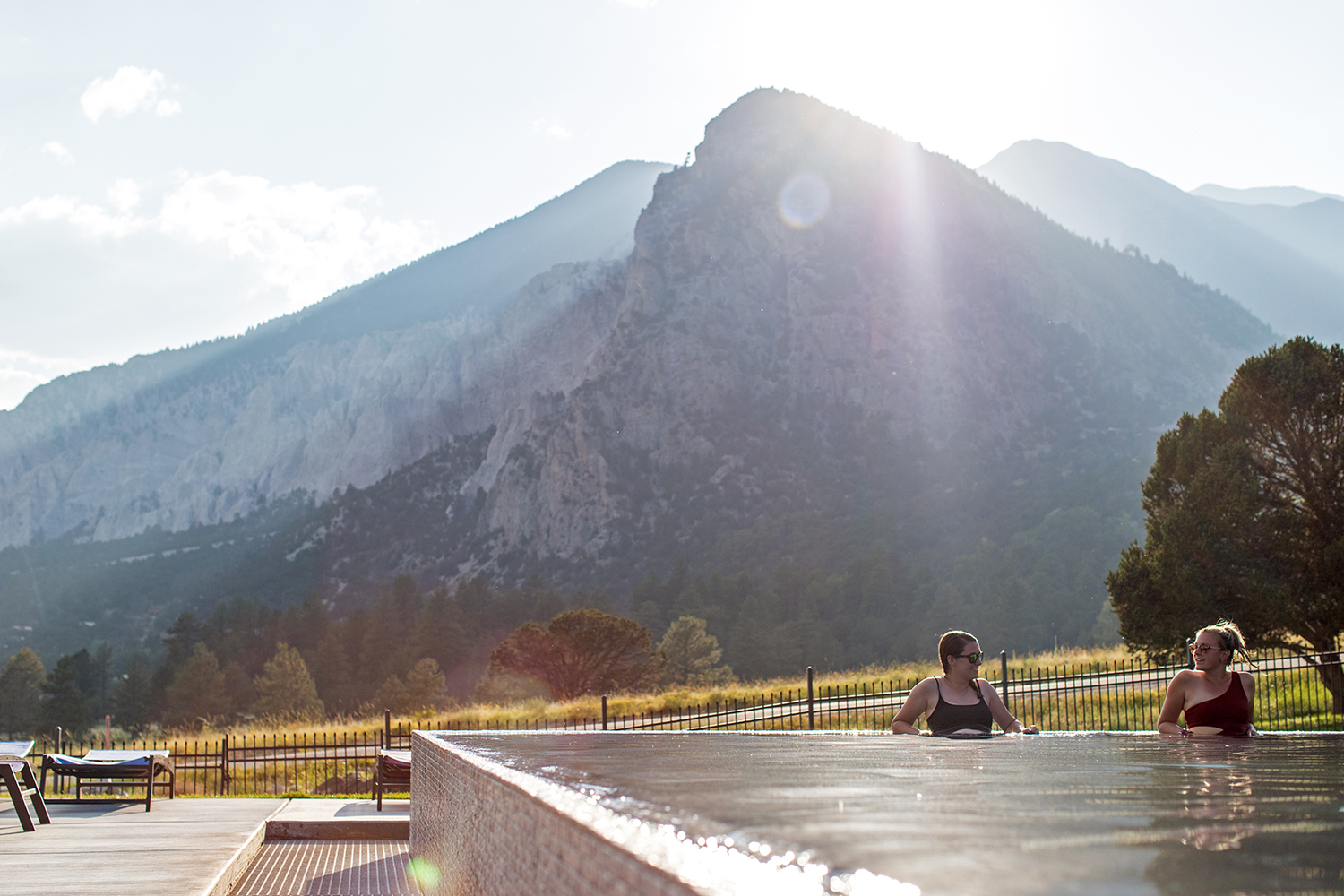 There are roughly 28 public hot springs in Colorado. Mount Princeton in Nathrop touts five different soaking styles — the newest is the infinity pool.
In addition to the public soaking, the infinity pool is open to private soaking experiences. You can reserve the entire pool for a romantic date, for a few friends or for an adult pool party. The nearby slide can also be rented for an additional fee.
The pool is quite large, with plenty of lounge chairs and of course beautiful, uninterrupted views of the Chalk Cliffs.
In preparation for this article I booked the infinity pool with four lady friends. It felt extremely luxurious and fancy. The snootiest moment was when, walking to the entrance, we passed three disgruntled people upset that the upper pools were "closed for a private party." We held back our giggles knowing that we were that private party.
Spending time with friends, sans children, was reward enough. Throw in the soft towels, bottled water and the snacks we brought. It was near perfection.
If bedtimes weren't an issue I would have booked a later reservation. The pool can be booked 5-midnight. A nighttime private soak would be delightful. I get overheated easily (that damn northern blood) and I did a lot of sitting on the edge. There is a welcomed bench around most of the pool­—not the infinity edge. Some of the pools at Princeton lack proper under-water seating.
I hadn't realized that the upper pool and slide would also be closed. We didn't see or hear anyone the whole time we were there, and if anyone has been to Mount Princeton in the summer, that's impressive.
Hands down our collective favorite part was when the lifeguard "Chase" offered to turn on the slide for us. I can't promise you'll get the same hook up — my friend Chelsey is very persuasive—but we each took a turn, laughing the whole way. So thank you, Chase! (I really hope this shoutout doesn't get you in trouble.)
Private soakings start at 1.5 hours and go to 3 hours. For 2 or more hours you can have 25 plus people. The waterslide is an additional $200. Additional hours range from $50-100 depending on the number of people.
For two people to soak for 1.5 hours is $125. For 25 plus people for 3 hours is $800. Catering and a bartender can also be added to your pool party.
In addition to the infinity pool, you can reserve private soaking at the spa pools and in the creekside hot springs. The creekside is a local favorite for sure, and is a great option for the hot-blooded.
It's a nice feature to add these private options. A great idea for a milestone anniversary or major birthday, a bit over-the-top for a regular Monday. For more information visit Mtprinceton.com/private.
Cailey McDermott is digging the trade deals. Wine and dine me? Sure. Getting the royal treatment at Princeton felt real nice for this two-business owning, running on fumes, overwhelmed, totally fine, toddler mom.