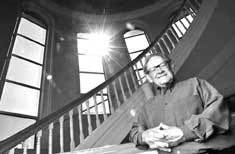 Revenant
By Joseph Hutchison
Colorado Poet Laureate
Thin fire flickers in the nest of old news
and skeletal sticks in the grate's cradle,
wrestling its own torpor as it strains
to lift the flue's load of year-end cold.
You ponder how it dozed in the starter's
flint, then sparked out, unfurling a plume
on the gas's blue flowing silk. Look
how fiercely it struggles not to fail
at enlightenment! Now that a chance
has finally found it here in this hearth.
Your hearth … so you pour breath
into the stubborn core again and again,
breath the fire at first pecks at, but soon
rips apart and gobbles up in a whoosh
of fresh existence. The kindling catches
and, as always, intimations of renewal
flare in your eyes, glowing briefly
before being borne off on a blackish
updraft. You blink, and the glints spiral
into the dark … are, in fact, already gone,
scattering toward the unreachable stars.
Joseph Hutchison, a poet and author of more than 15 books, lives with his wife, Melody Madonna, in the mountains southwest of Denver, Colorado, the city where he was born. He teaches at the University of Denver's University College, where he currently directs two programs: Arts & Culture and Global Affairs. In September 2014, he was appointed Colorado Poet Laureate by Governor John Hickenlooper. He graduated from the University of Northern Colorado in 1972 and received an M.F.A. from the University of British Columbia in 1974. Photo by Helen H. Richardson.