by Central Staff
When Dave and Kerry Nelson discovered Salida while traveling around the country in 2008, they knew they'd found their new home. Soon after, they purchased a commercial building downtown. They just had to decide what to do with it.
A graduate of the Pennsylvania Academy of Fine Art, Dave's first inclination was to open an art gallery and studios, a seemingly natural fit given Salida's arts reputation.
Kerry considered the location's proximity to Safeway across the street and thought, why not provide an alternative to those imported and processed foods and open a local foods market? They began researching the concept and found there were no strictly local foods markets in Colorado.
"In '08, local foods, to our knowledge, was a newer concept. Now it seems like it's been around forever," said Dave, during a recent visit to the store. "The neophytes that we were, we started out thinking a 100-mile market might be a good idea, but we quickly realized if we expanded to 150 miles, that cornucopia became a lot bigger."
Now Ploughboy features Colorado-based products only, which, up until recently, have all been personally picked up by Dave who estimates he's put over 40,000 miles on his truck in two years. But recently, the trend towards local foods has created a new business statewide – distribution – and Ploughboy is now working with a new foods distribution company out of Broomfield, Source Local.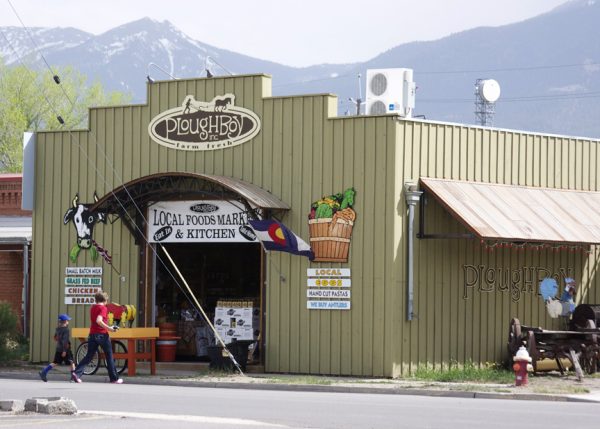 Dave is still racking up the miles, though, with trips to both Pueblo and Durango in the same week we interviewed him. One of the Pueblo stops is Milberger Farms, which Dave considers one of the best chile growers in Colorado. While in Durango, he loaded up on Zuberfizz from the Durango Soda Company and honey products from Honeyville.
At first, Kerry and Dave had to "pound the asphalt" to find products for their store, but as they become known, producers are beginning to find them.
"Now it seems there is hardly any place in Colorado that hasn't heard of our store," said Dave. "A few growers have stopped by to pick our brains as to how this model works."
Along with the market, a commercial kitchen was installed with the idea to make it available to small home businesses who wanted to create their own food products. The only taker was Salida Bread Company, whose products are still available at Ploughboy. Dave and Kerry also began to prepare and serve their own foods and suddenly were getting a lot of publicity. In October 2013 they won the Nature's Plate Award by The Nature Conservancy, an annual people's choice contest to find consumers' top green restaurants in Colorado. From the Nature Conservancy's website: "A restaurant that is seeking a new paradigm in restaurant sustainability. From pastured meats, to low-impact transportation, to bio-pest control, Ploughboy's way forward springs from consideration of four aspects of sustainability – economy, community, self, planet."
Ploughboy was also on the Denver magazine 5280's list of "Foodie Road Trips 2013." They also got a glowing writeup on the website Serious Eats in its Market Tour column, and were very excited about a short film produced by Respectful Revolution and filmmaker Gerard Ungerman, who has been filming what are described as "positive actions" in short films all around the western U.S.
Among the many products found on the store's shelves are meats, cheeses, vegetables, chips, tortillas, flour, yoghurt, juices, tamales and much more. The deli offers dishes such as Green Chile Mac-n-Cheese, Panini Sandwiches, Anaheim Chile and Kale Fritatta, plus Dave's Homemade Baked Beans. Another unique aspect of the operation is their billing system; they take cash or checks only and if you try to use a credit card, they will instead email you an IOU.
In 2013, they teamed up with North Fork Cellars in Paonia to open a tasting room and patio for its Colorado ciders and are offering tastings of Colorado wines as well. This year they are applying for a beer and wine license so those beverages can be served to complement their homemade dishes. A remodel of the entryway patio is also under way, with completion expected sometime in June.
They are definitely giving their big-box neighbor across the street a run for their money, and as the only strictly Colorado-made market in the state, the Nelsons are pioneering a concept whose time has come.
311 H Street, (719) 539-5292 , Mon.-Sat. 10 a.m. – 6 p.m. and Sun. 12 p.m. – 6 p.m. www.ploughboyinc.com
Respectful Revolution video: www.vimeo.com/84915457