By Ericka Kastner
The Rocky Mountains are scattered with high mountain lakes, and Central Colorado is no exception. One of the best lakes I've seen yet lies at about 11,800 feet in elevation just east of Crestone. While the Willow Lake Trail is wildly popular with visitors on weekends, it still makes for a spectacular overnight adventure or a long day hike. Travel the trail on a weekday, and you'll nearly have the place to yourself.
I first learned of this gem after admiring a painting by Salida artist Joshua Been. He'd just returned from an annual backpacking trip to the area and had captured Willow Lake in an oil painting. I was struck by the lake's beauty as portrayed in his work and vowed to make the journey later that summer to see it for myself.
In reality, it wasn't until the next summer, in late August under a blue moon, that I managed to get in a trip up to Willow Lake. My then 8-month-old pup and I thoroughly enjoyed the steep yet magnificent 4.5-mile backpack trip up to the high mountain basin.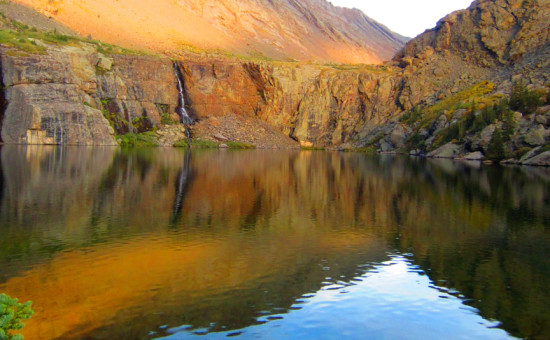 Local legend has it that a couple of well-oiled Crestonians shouldered a canoe up to the lake years ago. It remained there for the enjoyment of many until the unfortunate drowning death of an Alma man in 2012.
The trail begins on gentle singletrack through a pine forest, but it quickly becomes a series of switchbacks necessary to enable hikers to travel the approximately 3,000 feet in elevation gain required to reach the lake. Along the way, hikers encounter stream crossings, a bit of rock scrambling, flowers, and if the timing is right, a wild raspberry feast beside a creek.
Not only is the lake itself extraordinary, its beauty is magnified by a stunning waterfall with a tremendous vertical drop flowing from the rocks above Willow Lake at the east end. Additionally, the area is a base camp for access to nearby fourteeners Kit Carson Peak and Challenger Point.
Backpackers staying at Willow Lake for a couple of nights can also enjoy an additional day hike to an upper lake located along a trail just past the falls. Since I was there on a full moon, I was treated to a lunar reflection in the lake as I enjoyed my campfire after sunset. Large flat rocks surrounding the lake make ideal spots for morning yoga or sipping a cup of hot coffee at daybreak.
Wilderness lovers should definitely add Willow Lake to their backpacking bucket list. I'm certain it's a spot I'll be returning to for years to come.
Getting there: On Hwy. 17, at Moffat, turn east on the Crestone Road (C.R. T) and follow it into Crestone, continuing past the first stop sign. At the second stop sign, turn right onto Galena. Follow the gravel road 1.5 miles, where 2WD vehicles should park. 4WD vehicles can go another .75 miles up the road to the trailhead. South Crestone Lake Trail #860 is straight ahead, but Willow Lake Trail #865 veers to the right and crosses the creek.
Logophile and wordsmith Ericka Kastner has chosen writing as her primary art form since she was stricken with a fondness for her first thesaurus at age 10. Her backpack is her most valued possession, and as this story went to press she was heading out to wander the 100-plus miles of central Colorado's Rainbow Trail. View her work at erickakastner.com.