By Forrest Whitman
One of Colorado's most spectacular train trips is back after three and a half years of rehabilitation. It's a good time to board the Cog Railway from Manitou Springs to Pike's Peak. The day we went, the weather was fine and the snow mostly gone. We did see moisture on the new bright red snow plow car.
Started in 1891, the hour and ten minute trip each way has become an icon. Up the steepest ruling grade in North America, the whole line is an engineering marvel. It's nine miles of unforgettable scenery is now a better ride. The new ties and ballast level the cars nicely. Those new Swiss cogs themselves definitely ratchet you along more smoothly than the old ones did. The Swiss engineer Martin Frick and his team should be pleased.
This is the mountain where the poem "America the Beautiful" was penned by Katherine Lee Bates in 1893. (She rode up on a mule). Bates wrote, as she said, praying for less strife in America and hope that our fragile democracy would survive.
When we reached the summit, some female passenger broke into song. Despite plenty of racket from earth moving equipment, her voice was moving. That contralto rendition of "America the Beautiful" stopped most of us mid-stride.
The poem's lines are immortal and you can follow her views as you ratchet along. Maybe even share her hope for America. "Oh beautiful for spacious skies, for amber fields of grain/for purple mountain majesties, above the fruited plain/America, America, God shed his grace on thee/and crown thy good with brotherhood/from sea to shining sea."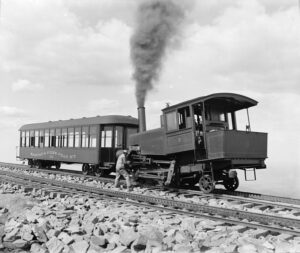 We did marvel at the famous summit view from the (officially-named) Broadmoor, Manitou and Pike's Peak Cog Railway. This year, 240 to 260 passengers board at least three times each day. For now there's nothing up top but fumes, porta potties, noise and earth-moving equipment, but not even a bench. It might be better to wait for next season when the visitor's center will open. It's promised for this year, but doubts abound. For me anyway, the summit still has magic. Who really needs a visitor's center?
Well, one more complaint. The public address. in our car was out. Had it been an average AMTRAK crew on board they'd have made an effort at interpretation (P. A. or no).
The current fare seems moderate. Also, the train is better than in the old days. The new windows are "picture window style." They can easily be pushed up and down. There were plenty of unobstructed views making it possible to see lots of wildlife; including marmots and two circling eagles on our trip. We all gave the ride a thumbs up, with only a little grousing about the hard non-reclineable seats.
The trip was obviously a family ritual the day we went. Many three-generational groups were riding with lots of kids. Detraining at the historical gem of Manitou Springs was neat. Much of the architecture is circa 1890s. The blue and white restored station of the Cog Railway hasn't changed much in exterior since it was built. Even the ice cream stores look original. We ate at the "loop" restaurant, one of several good choices in Manitou Springs.
Rail fans might want to glance at the exterior of the remodeled round house of the Colorado Midland Railroad (now a pizza place). A latecomer, the Midland still competed for the Leadville and Aspen dollars till the First World War.
You can imagine the tourists getting off the Midland to board the cog. Horse-drawn wagons took tourists up to the station. Today, free shuttle buses run to the Hiawatha Gardens lot every 15 to 25 minutes. We just made it for our noon departure. Building in a little time for all things railroad is always a good idea.
Maybe you'll be on board this summer. This is a Colorado place well worth visiting. www.cograilway.com
GETTING THERE: The base station is at 515 Ruxton Ave, Manitou Springs, CO. Ruxton Ave. is west off Manitou Ave. (Colorado Hwy. 24).
The Places column is sponsored by Mark Zander and Leslie Champ.