By Forrest Whitman
The two steps up to the front door of the Victoria Tavern in Salida deserve a moment's pause. Look around and you'll notice, just to the right, a plaque dedicated to Mildred "Millie" Ohmertz Johnson. Before you go in for an adult beverage, think about Millie.
Millie made Colorado history as its first female real estate developer. She was owner and builder of the present building. She completed it in late spring of 1900 and she was on site every day. Millie broke ground for women in a day when they were definitely not real estate developers.
Think of what a pioneer for women she was. Women were not expected to be in business at that time and especially in that rough part of Salida. She may have been backed by the famous Alexander Cameron Hunt in her building plan, but it was her plan.
Hunt was the builder of several towns along the Denver and Rio Grande Railroad (D&RG). Mildred was a sales agent for him (though their arrangement is not clear). She may have had enough money of her own to begin construction.
The alliance between Millie and Hunt ended up in a spectacular court fight. Again, that was not something women did. She took on one of the richest men in the state, a former governor, and won. In the end it was decided that he had no right to her building. That was an amazing development.
The part of town she chose as a site was not frequented by "respectable women," especially after dark. What sort of woman was she anyhow? There's quite a bit of mystery and quite a bit of historical gossip about her.
As the plaque points out, her building was a fine hotel and she supervised every step of its building. In 1906 it was probably the first building in town to have steam-heated rooms. The whole block was influenced by her desire for an upstanding business center.
Probably the upper stories were the hotel and the lower was for business including an early movie theater.
The many bars and brothels up and down Front Street (Sackett Ave. today) were still home to some pretty seedy clients in that period. The era of big bar fights and shootings was mostly over, but there were still some rather lawless individuals around. She had guts to build there. It was railroad man's territory and catered to a rough male crowd.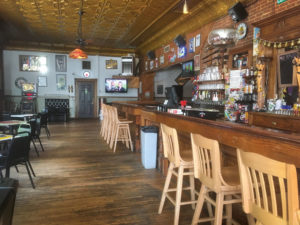 The railroad supplied the life blood of Salida and Millie's clientele. At its peak the D&RG ran a hundred trains a day though town. It was clearly the most import railroad division point. Trains for Santa Fe over Poncha Pass started here. Trains for Gunnison and the West made up and went over the bridge beside F Street. A fine hotel (eventually named the Monte Cristo) was built by the railroad at the end of the F Street bridge.
Millie knew what she was doing with her location right at the corner of F Street. She got her share of the railroad business before the workers and tourists saw anything else.
The questions about Millie are worth contemplating while standing on the front steps she built. What happened to her alliance with Alexander Cameron Hunt? Why did they end up suing each other in court and in a bitter adversarial relationship? He trusted her enough to give her properties to sell as he sold the whole town site. Hunt clearly benefited from her sales ability. This man was no dupe. Rather he was a truly remarkable town builder for the D&RGW railroad. He "dealt her in" with full knowledge of her abilities and determination.
There are two theories about their falling out. One is that Millie and Hunt were involved romantically. Many of the histories hint at that romance. That's not out of the question. Hunt had quite a reputation along those lines in the towns he developed. From what we know of Millie, she wouldn't walk away quietly. That may have added fuel to the fire which ended up in a long and bitter court fight.
The other theory is more mundane; that real estate deals often go south when partners no longer trust each other. Hunt had entrusted her with property to sell and now he wanted it back, or at least the money which had gone into the building. Perhaps she felt her cut was too small. Which ever theory we pick, Millie deserves the title of first woman real estate developer in Colorado.
It's worth pausing before heading inside the Vic just to read the plaque. Plaques like that were erected on historic sites around Colorado by "E Clampus Vitus" (the Al Packer Outpost #100 of Matt Warner chapter # 1900). Peter Simonson, owner of the Vic, tells me they were a light-hearted drinking club with an interest in Western history and chapters around the West.
Millie's steps can be tricky as you pause to contemplate her history. Those two steps are easier negotiated before a couple of beers are had. Remember, the doors open in.