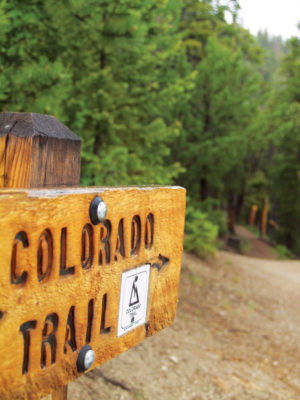 Story and photo by Ericka Kastner
I'd forgotten how much I love this trail.

While living in Buena Vista many years ago, I probably hiked, biked or ran portions of Section 13 of the Colorado Trail, Chalk Creek #1776, twice a month. Since moving to Salida, I've been exploring other areas and completely forgot about the area until I revisited the trail this past June.
Barring recent high school or college graduates, not many outdoor enthusiasts have the kind of schedule that allows them to set aside three months or more to wander the nearly 500 mile-long Colorado Trail (CT), extending across the state from Denver to Durango. The trail spans six wilderness areas and eight mountain ranges.
It's on my radar for the summer after my youngest graduates high school, but in the meantime I've contented myself with wandering along stretches of the CT in the form of day hikes and an occasional overnight backpacking trip. We are fortunate to have a number of access points to the CT in Central Colorado.
What I've found during my explorations is that the CT delivers extreme, unparalleled classic Colorado beauty, and Chalk Creek #1776 is no exception. The trailhead is situated partway up the route to hike Mount Princeton, and allows for one or two cars to park along the steep mountain road. Those who can't fit their vehicle, desire some extra climbing or don't think their cars can make it, may park .9-mile lower in a parking lot near privately-owned Frontier Ranch.
Beginning at the trailhead and heading to the northwest, every step of the lush, green, rolling nearly 10-mile long trail (from Chalk Cliffs to South Cottonwood TH) is dotted with Lodgepole pines, aspen trees and wildflowers in the summer. The first .7-mile passes through private property, so staying on the trail is required. Throughout this section, a glance to the east treats trail users to spectacular views of the Upper Arkansas River Valley below. Farther along the trail, you will find a footbridge crossing Dry Creek and likely a tent village of CT through-hikers. Not long after the footbridge, CR 327 crosses the singletrack, so be on the lookout for cairns in order to stay on the trail.
My favorite season for this trail is autumn, when the singletrack is littered with golden leaves. Time your hike perfectly for a rainstorm in any season (as I inadvertently did) and your senses will be overwhelmed with the scent of wet pines and damp earth. Hikers and mountain bikers alike will enjoy the trail, as it's not technical for pedaling and many portions of the trail are buttery smooth. The expansive views of the valley along the route to the trailhead alone are worth the drive for less active nature lovers.
Getting there: Turn west onto CR 162 off U.S. 24/285, eight miles south of Buena Vista. Drive approximately five miles and turn north onto CR 321, travelling up a steep hill for one mile until reaching the intersection for Frontier Ranch and CR 322. Turn west and drive .7 mile until reaching private property for the ranch. Either park here or follow the right turn at the "Y" towards Mount Princeton Trail and continue .9 mile on the steep, rutted and rolling road to a well-marked trailhead for CT #1776. Keep in mind, while the road is not rocky, it is extremely narrow and doesn't allow much room for passing.
Places columnist and logophile Ericka Kastner explores trails in the Rocky Mountains every chance she gets. View her work online at erickakastner.com