By Mike Rosso
November may seem an odd time to feature a small town nestled in the mountains for this column, but since I recently had a mini-vacation there with my friend Ellen, I thought it would be worth a write-up for readers to put on their lists.
When we arrived in Lake City in mid-October, the aspens had already shed their canopy of yellow and gold, but the cottonwoods in town were at their peak fall color. It was also during a break in hunting season, so there weren't many orange hats and vests to be seen. If fact, we were only one of two cabins occupied in the retro lodge we found right in town.
Many of the restaurants and shops had closed for the season and most of the local activity was centered around the Lake City Brewing Company, near the beginning (or end) of Engineer Pass. The year-round population hovers around 400, but swells in summer with the influx of tourists.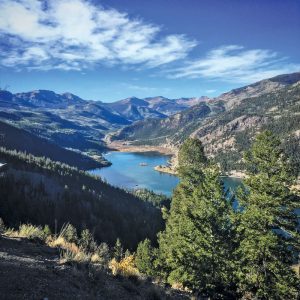 The town, the only one in all of Hinsdale County, is a major destination for Texans who bring their ATVs and other off-road vehicles to recreate at the crossroads of two major scenic byways: the Silver Thread Scenic Byway and the Alpine Loop Backcountry Byway, which includes both Engineer and Cinnamon Passes.
96% of Hinsdale County is made up of public lands, so there are unlimited outdoor activities available: Peak-bagging, ice climbing, snowshoeing, hunting, camping, mountain biking, hiking and fishing. Lake City has been a designated National Historic District since 1978, with over 200 historic structures and over 500 feet of original reconstructed boardwalks. It was incorporated in 1875 as a supply hub for the silver and gold mining boom of the time.
The town is also infamous for its resident foodie, er, cannibal, Alferd Griner Packer, who confessed to consuming dead members of his exploration party during the harsh winter of 1874. His trial took place at the Hinsdale County Courthouse, Colorado's oldest courthouse still in use sfor its original purpose. The Hinsdale County Museum, located downtown, hosts the most extensive collection of Packer memorabilia known.
For me, the biggest draw is the lake itself. Lake San Cristobal is the second largest natural lake in the state and sits at the bottom of Cinnamon Pass, surrounded by glorious peaks of the San Juan range. There are some great camping sites above the lake on its eastern side, where I first camped nearly 25 years ago. It sits at 9,003 feet and is 2.1 miles long. By the time we arrived, the boat dock on the western side had been brought ashore and only self-propelled craft were able to navigate its luminous waters at that time.
Lake City does offer plenty of winter recreation as well. There is a town ski hill and terrain park just south of town which employs a single Poma lift, the oldest operation lift in the state, as well as a town ice rink and ice climbing park. For cross-country skiers, there are more than 100 miles of groomed trails on Slumgullion Pass and the Spring Creek Pass Area. The lake is also popular for cross-county skiing and ice fishing. Just make sure you've packed plenty of food for your winter adventure—your outdoor companions will appreciate it.
GETTING THERE:
From U.S. Hwy. 160, turn north at South Fork on Colo. 149 north through Creede and over Slumgullion Pass. From U.S. Hwy. 50, turn south on Colo. 149 at the mouth of Blue Mesa Reservoir.
The Places column is sponsored by Mark Zander and Leslie Champ.