By Ericka Kastner
During this time of uncertainty in our country, it can be helpful to focus on the good things that are still alive and well and happening in towns and cities across the nation; community gardens are one such place. Recently I did a little research and I learned that there are at least a dozen community gardens in Central Colorado alone.
Last spring I left my comfort zone and signed up for a plot at the Greater Arkansas River Nature Association's Salida Community Garden at Second Avenue and I Street. My family's move from the woods to downtown precipitated the decision – as our current yard doesn't have any established spots for growing. Beyond that, I was hopeful that I might glean a little wisdom from seasoned gardeners sharing the space; and I was curious as to what it might be like to pull weeds alongside other dirt-loving, seed-planting aficionados.
My spring got a little busy and then a 16-day trip to Panama for my daughter's 16th birthday basically put the planting on hold until mid June. I came to see that having an off-site garden was going to require a little more effort on my part to make things happen. Daily walks to the plot – the Salida garden is a mere four blocks from my house – were somehow put on the back burner in lieu of more "urgent" matters at home.
In my 20-plus years of growing food, I'd never once waited until the start of summer to begin. It was more likely that I'd be salivating over seed catalogues in January and planting in yogurt containers in March. Seeing other gardens in June already flourishing with seedlings and overwintered crops alongside my sadly empty plot when I returned from Central America stirred up my perfectionism – and as a result, my procrastination.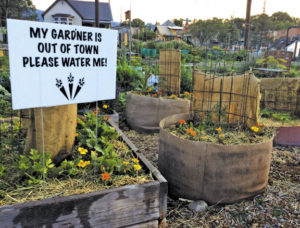 Earlier, I referenced stepping out of my comfort zone; here's where we return to that. Initially I was speaking of my tendency to go it alone – in life and in the dirt – and of needing to intentionally create sacred space for quietness. Typically the garden is a place where I clear my head, hear my voice and find my center again; so I was anxious about having to "small talk" with other gardeners every time I went to tend the garden. But another way I had to step out of my comfort zone is that in my self-judgmental scheme of reference, a true green thumb would NEVER purchase a garden start – but would, of course! ALWAYS plant from seed.
As it turns out, gardening is all the same regardless of how you start. Due to the lateness of the season I ended up purchasing cauliflower, broccoli, sage, cucumber, pepper and tomato starts; I only planted beets, beans, leaf lettuce, basil and cilantro from seed. In the end, I still had the satisfaction of growing food, silent moments with the soil, and the pleasure of pulling weeds.
Being part of a community garden, I found it was easier to leave the plants when I had to go out of town for surgery in July as other gardeners took over the watering and I was able to eventually return the favor. I also found myself inspired and challenged by the arrangements and plantings in other plots.
Over the years, I've seen community gardens forge connection, promote healthy living practices and change within communities, reconnect citizens with their roots, and feed people; I experienced many of these things in the Salida Community Garden. Beyond that, school-specific gardens within communities promote literacy and empower children.
I'll leave you with a few lessons learned at the community garden; and afterwards, a (not exhaustive) list of the plots you might find in your Central Colorado neck of the woods. ¡Viva kale!
1. Perfectionism is NOT next to godliness. Rather, it is the thief of joy.
2. If there's something you love doing, doing it next to someone who loves it too makes it twice as delicious.
3. It's okay – even juicy – to need a little help from time to time.
4. Community gardens might well be written with a capital "C" as a rule of thumb – a little community is something we all need more of.
5. Better late than never = truth.
Logophile Ericka Kastner literally learned to walk while toddling around behind her grandfather amidst Minnesota-grown tomato plants many years ago. Today she still believes the aromatic scent of a pruned tomato plant is the best calming agent there is. View more of her work online at erickakastner.com.